Falcon runners earn trophies in Park City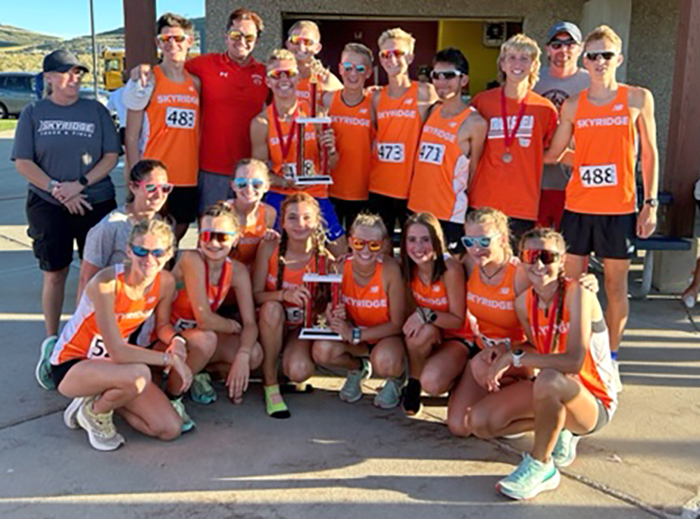 The Skyridge cross country team captured first place in the boysvarsity race and came in second in the girls varsity division at the Park City Invitational on Sept. 8 at Quinns Junction.
The Falcon boys earned 75 points to outpace Layton at 80 and American Fork at 110. The scoring runners all finished in the top 30. Leading the way was senior Devan Greene, who came in fourth.
Sophomore Taylor Kjar was next with eight points, followed by junior Cooper Tripp with 10 points, junior Edward Fuller with 25 points and senior Aaron Caldwell with 28 points. The field also included seniors Grant Welsh and Alex Daniels.
The girls team posted 90 points to finish just barely behind Springville at 86 points and ahead of Timpanogos at 101. Sophomore Lucy Hawkins came across first for the Falcons in fourth place.
The other scoring runners included junior Ava Talbott with nine points, junior Macie Wakely with 13 points, sophomore Claire Wallgren with 31 points and sophomore Ava Carter with 32 points, just outpacing junior teammates Eliza Bodine and Reese Mehr.
The week before on Sept. 1, the Falcons competed in the morning session of the Timpanogos Invitational, run at the Lakeside Sports Park in Orem. The boys finished a distant fourth at this meet and the girls came in 13th.
In the boys varsity race, Herriman and American Fork tied with 49 points but the Mustangs got first with a tiebreaker. Lone Peak was third at 123 and Skyridge followed with 197 points.
Greene was again the top finisher for the Falcons but this time he claimed 19th place. Next in was Tripp with 28 points, then Kjar with 31 points, Caldwell with 36 points and senior Ezra Nelson with 83 points. Junior Lincoln Tuckett also competed here.
Lone Peak won the varsity girls event with 39 points and American Fork was second with 57 points. No one else was close. Skyridge totaled 374 points.
Hawkins came in 24th to lead the way for the Falcons. After her, the tally included sophomore Clara Madsen with 76 points, Talbott with 83 points, Wakely with 92 points and senior Avery Gonzalez with 99 points. Bodine and Mehr ran as well.