Lehi-based 13U golf team wins Regional for 3rd year in a row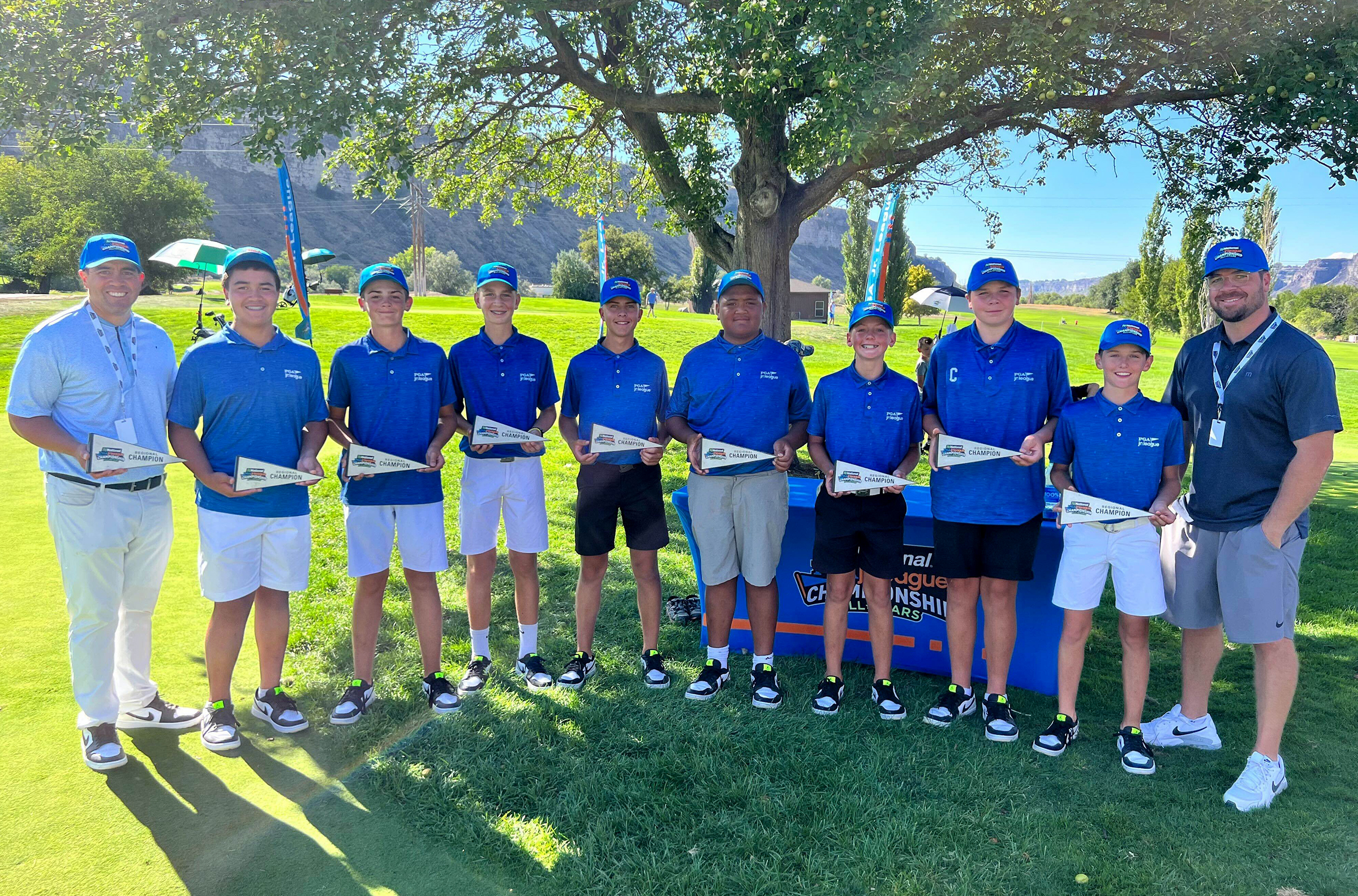 A 13U boys all-star golf team based at Thanksgiving Point has qualified to advance to the 2023 National Car Rental PGA Jr. League Championship Oct. 4-8 at PGA Frisco Fields Ranch West in Dallas-Ft. Worth, Texas., which will be televised live on ESPN networks on Friday, Saturday and Sunday.
The same Lehi team won the national championship in 2021 in the 12U age group and qualified to play at Nationals again in 2022.
At this year's Region 11 competition last weekend at Canyon Springs Golf Course in Twin Falls, Idaho, the squad came out on top of 15 all-star teams from Idaho, Washington and Utah.
In Saturday's qualifying round (stroke play) the Thanksgiving Point A (TPA) 13u All-Stars finished first, with an impressive 42-under-par performance. Blake Brown helped to make the qualifying round even more special for his team by hitting a 140-yard hole-in-one on hole No. 8.
The Thanksgiving Point Underdawgs 13u All-Stars were seeded second (-26) with the Seattle Metro 13u All-Stars (-22) following just four strokes behind at third. The Spokane 13u All-Stars rounded up the top four seeds, shooting 16-under-par to advance to semifinal play on Sunday.
Chambers Bay 13u Team 1 finished fifth (-11); the Idaho-based Canyon Springs 13u All-Stars were tied for sixth with Utah's Glenmoor Gators (-10); and the Glenmoor Masters 13u were seeded eighth (16).
In Sunday's semifinal match play, the top-seeded TPA 13u All-Stars faced off against the fourth-seed Spokane, defeating them 11-1. The second-seed Underdawgs defeated the third seed, Seattle Metro, 8.5-3.5, setting up a championship match between the two Thanksgiving Point All-Star teams.
The TPA 13u All-Stars, led by PGA Coach Tele Wightman, defeated the Underdawgs (also coached by Wightman) 7.5-4.5, to advance to the National Car Rental PGA Jr. League Championship.
The Utah TPA squad includes Lehi residents Jordan Ofahengaue, 13, son of Kelepi and Sara Ofahengaue; Crue Harward, 12, son of Josh and Cyndi Harward; and Jraice Finau, 11, son of Tony and Alayna Finau.
Other golfers in the group are Blake Brown, 13, of Alpine; Cove Cummings, 12, of Gantsville; Jace Benson, 13, of Morgan; ​Mack Herzog, 13, of Ogden; and Ryder Huish, 13, of Highland.
The Underdawgs team also includes two players from Lehi: Adam Deng, 11, and Maximus Monson, 10. Trey Wightman, 13, son of the coach and his wife Erin, is on this squad as well. The Wightmans live in Eagle Mountain.
"It was a great tournament and fierce battle between the Thanksgiving Point All-Stars and Thanksgiving Point Underdawgs in the finals," said Coach Tele Wightman. "I'm really proud of each team for making it to the end.
"I knew it was going to be a really close match. The Underdawgs had already beaten the A squad to win the Utah sectional tournament," he continued.
Wightman said the Underdawgs got off to a quick start and were leading the match right off the bat. It was looking like it could be a repeat of what happened at sectionals. However, the TPA group really showed some fight and grit and made some really timely shots.
"Jraice Finau made a huge putt on hole 6 for birdie, Jace Benson made a birdie putt on hole 8, and Crue Harward made an eagle putt on 9 to change momentum and flip the match," the coach said. "The final score of 7.5 to 4.5 doesn't reflect how close the match really was.
"Utah has some outstanding junior golfers, and they were on full display in Idaho," Wightman said. "It was incredible golf to watch. Blake Brown and Jordan Ofahengaue led the team in stroke play qualifying by shooting minus-17 for the 18 holes, with Blake getting a hole in one.
"It was an unbelievable performance. We are excited to head back to Nationals for the third year in a row. This team really has a chance to bring home another title," the coach concluded.