Lehi and Skyridge runners earn slots in state races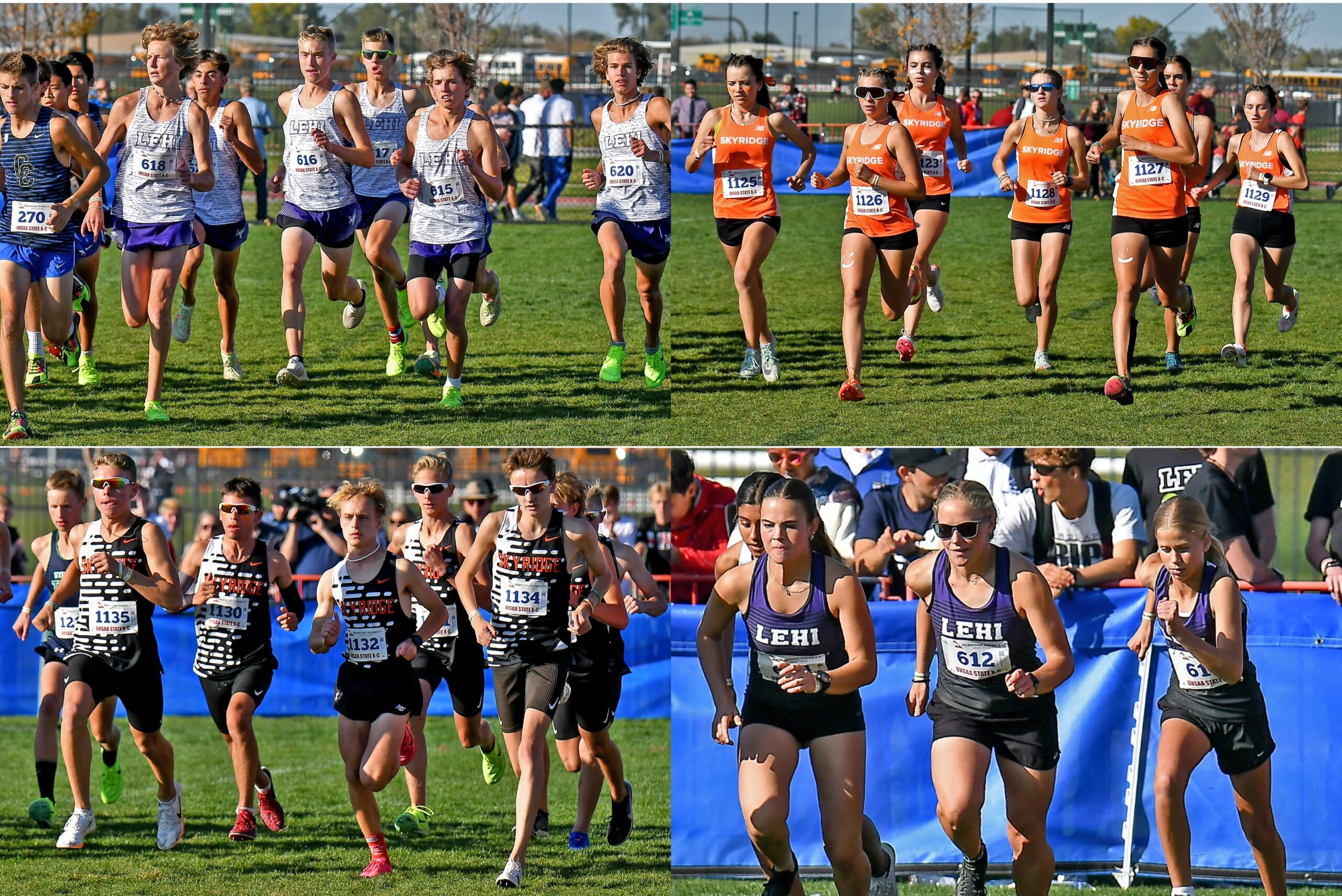 Megan Wallgren | Lehi Free Press
Cross country athletes from Lehi and Skyridge high schools ran in the 6A State Cross Country Championship races on October 24 at the Regional Athletic Complex in Salt Lake City. Fourteen boys and 14 girls teams from across Utah competed in the 5Kevents.
The Falcon boys team finished sixth and the Pioneer boys were11th. The Skyridge girls team also finished sixth. Though they didn't earn a team entry in the race, several Lehi girls competedas individuals after qualifying at Divisionals.
The 6A boys championship race was a duel between American Fork and Herriman, currently ranked number one and number two in the nation respectively. In the close race, both teams placed four runners in the top 10.
American Fork earned the victory led by Daniel Simmons, who is currently ranked as the top runner in the country. Simmons finished the 5K course in 14:44.0. The Cavemen boys swept the top three places on the podium and earned just 33 points. The Herriman boys team took a close second with 39 points.
The 6A girls race was dominated by Lone Peak, which easily claimed the title with runners finishing in first, third, fourth, fifth and sixth place for a total score of just 19 points.
The Knight effort set the record for the lowest score in Class 6A history. The gold medalist was Lone Peak senior Andie Aagard,who finished with a time of 17:25.9. Lone Peak's chance at a perfect score was broken by American Fork's Avalon Mecham,who finished in second place with a time of 17:38.4.
The Skyridge boys finished sixth with 167 points. The Falcons were led by junior Cooper Tripp, who came in 15th overall with a time of 15:34.1.
He was followed by junior Tylor Kjar 32nd, senior Aaron Caldwell 34th, senior Devan Greene 40th and senior Ezra Nelson finishing 59th. Grant Welsh and Edward Fuller also ran in the state race.
The Lehi boys took 11th place with a team score of 282. Leading the Pioneers was senior Benson Quist, who finished 41stoverall with a time of 16:14.3.
Also scoring for Lehi were senior Benjamin Knighton at 55th, junior Parker Allred 58th, sophomore Austin Sorensen 74th and junior Carter Lanenga at 75th. Derek Sorenson and Jaxten Wiltbank rounded out the Lehi team.
Like the boys, the Skyridge girls finished in sixth place overall. Leading the pack was sophomore Lucy Hawkins, who came in27th with a time of 19:22.2
Others scoring for the Falcons were junior Ava Talbot 40th, sophomore Clara Madsen 43rd, sophomore Claire Wallgren 51stand junior Macie Wakely in 60th place. Ava Carter and Avery Gonzalez rounded out the Falcon team.
Lehi freshman Remy McAdams finished 42nd with a time of 19:38.5. Also competing individually were Lehi senior Camree Kenison finishing 83rd and senior Mia Richards coming in 92nd.