Season Preview: Falcon boys hoops expects to build on success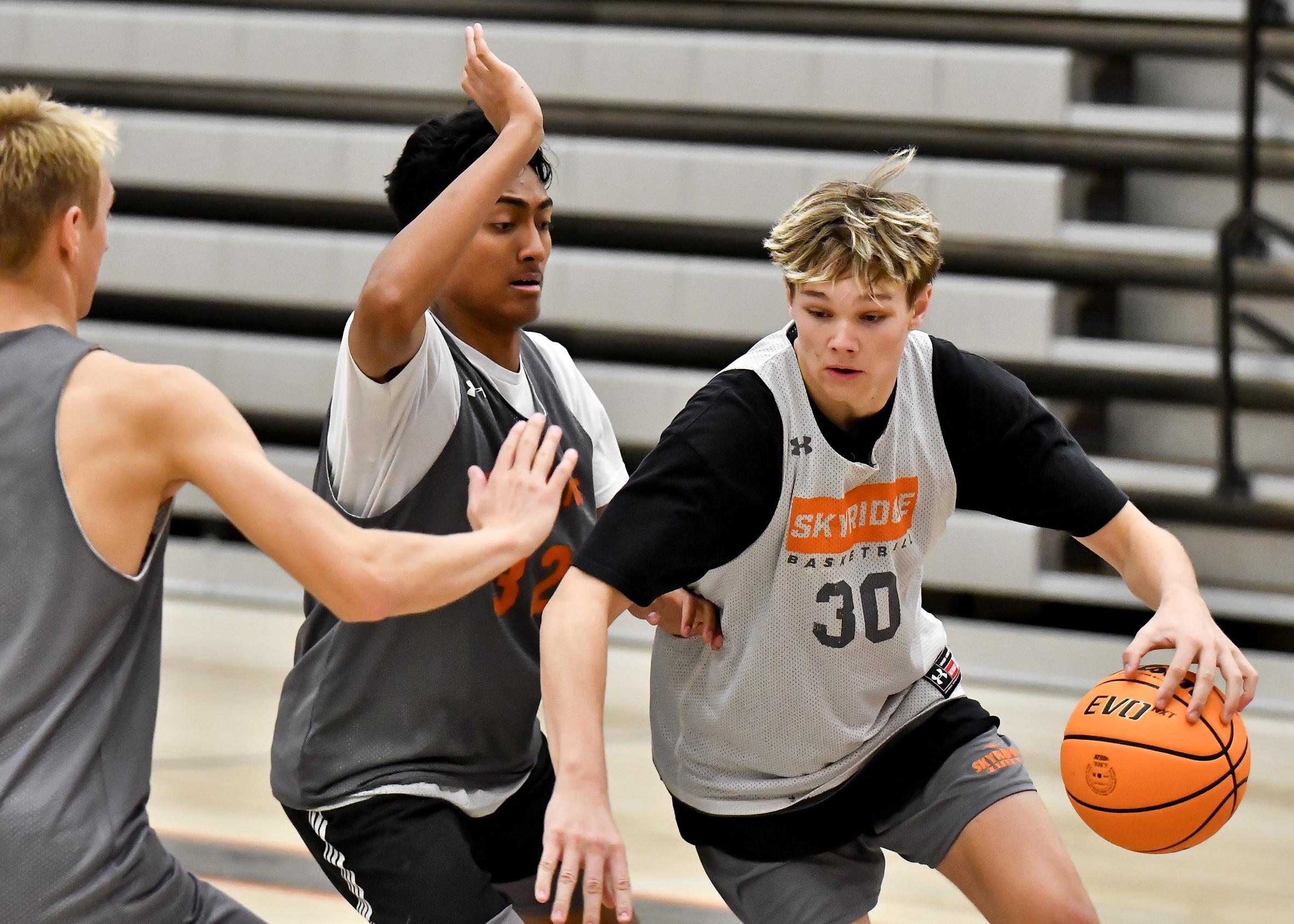 The Skyridge boys basketball team fields a group this season that has competed very well in the past and looks to continue its winning ways at the varsity level this year.
"This team has always been successful," said Coach Jeff Gardner. "They won the freshman championship and last year they were 16-4 in junior varsity play.
"They have a good winner's mentality and good chemistry," he continued. "They like each other and have played up in our system so they have some familiarity with what we're trying to do. I'm excited about their potential."
A pair of seniors who earned starting roles partway through the season last year are the key returners for the Falcons: Dane Housley, a 6-foot-1 point guard, and Jackson Mosteller, a 6-6 forward.
"Historically, I usually use six or seven guys as my primary rotation, but these two played a lot and were strong contributors by the end of the year," Gardner said.
Other returning players with varsity minutes include senior Tate Larson (G, 5-10), senior Ethan Gagon (F, 6-3) and junior Jordan Kohler (F, 6-6). "Jordan can play inside and out, and he has good physical talent," said Gardner. "If he has a big year, he's probably going to be our leading scorer."
Other players expected to have an impact include senior Cohen Fountaine (G, 5-10), senior James Ducker (G, 6-0) and sophomore Davis Fyans (G, 5-9). Sophomore Ryder Gentry may also see some varsity minutes.
"We'll give them all a chance to get out on the big court and see what they can do," Gardner said.
The Falcons will open the season Tuesday (Nov. 21) at Salem Hills with a 7 p.m. start time. They will then welcome Bountiful Dec. 1 before playing three games as the host school in the Falcon Classic Dec. 7-9.
Skyridge will visit West Jordan and Kearns in December before heading west to The 2023 Classic At Damien in La Verne, California, located in the greater Los Angeles area, during the holiday break.
"We will compete in the Silver bracket as we did last year," Gardner said. "This is one of the top tournaments in the west and gives us a chance to get out of the state and play other regional teams."
The Falcons missed their first game at last year's event because of flight cancellations. "The three games we played were good competitive games," the coach said. "It was a great opportunityto go and play there. They group the teams well.
"Besides that, trips like this give us extra time to build relationships. It should be a fun time," he added. "We'll take on some of the top non-region teams in 6A to test ourselves before region play begins."
The Falcons will open league play at Westlake on Jan. 12. The girls varsity game is scheduled for 6 p.m. with the boys game to immediately follow.
"Region 3 is going to be really strong again," Gardner said. "Every team will be tough opponents and the region is going to show really well in 6A." The preseason coaches poll tabbed Corner Canyon, a former league foe, as No. 1 followed by American Fork, Lone Peak, Lehi and Herriman.
"The quality of coaching and the programs are really good top to bottom and it's going to be a challenge," the coach said. "Weunderstand that you've got to be good to play in this league day in and day out. It's everything it's been through the years.
"Our goal is to win the region championship, but we know it's going to take a lot of hard work to do this," Gardner said. "These are programs you expect to be contenders at the state level.
"It's a great opportunity for us to compete," he added. "I'mexcited about the quality of the kids we have in our program. This should be a fun team to follow and watch."