River Rock Elementary students learn and play in school band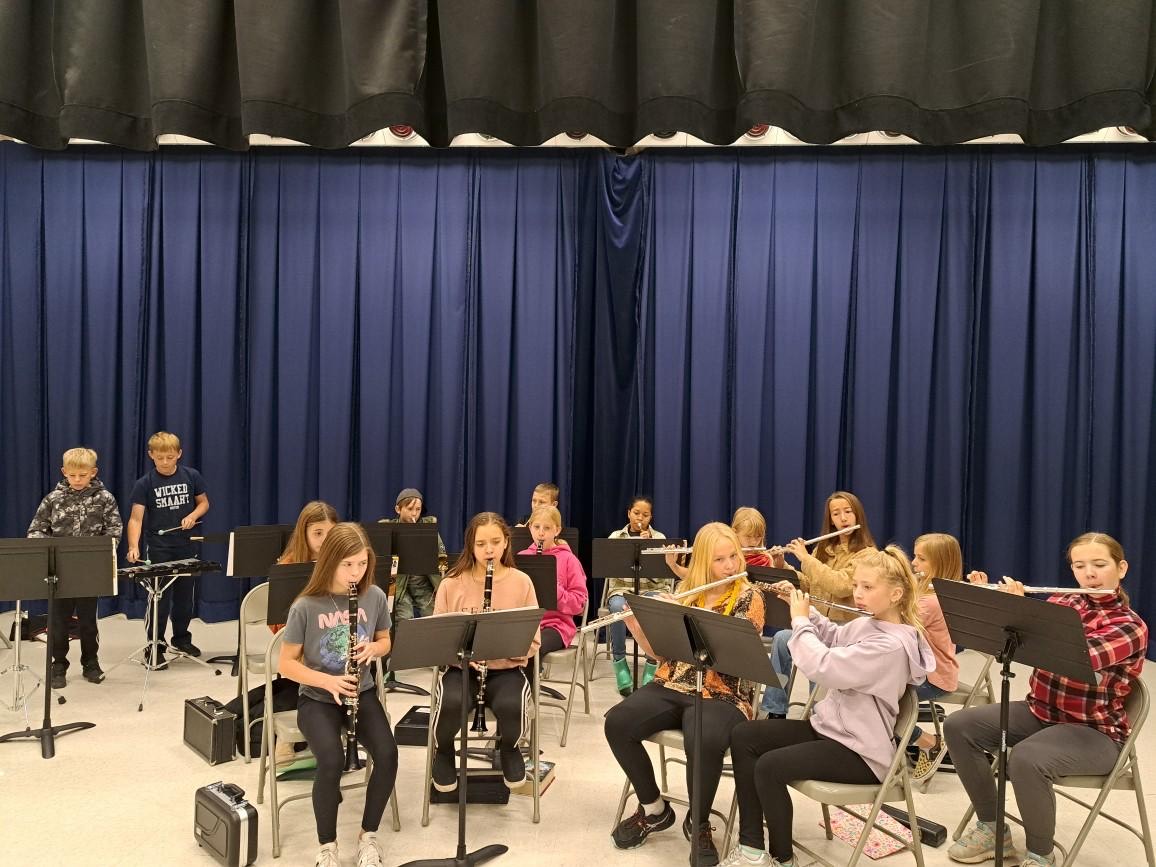 Megan Wallgren | Lehi Free Press

Two mornings a week, music fills the halls at River Rock Elementary in Lehi as students in the school's band attend morning practice sessions. Students are gaining new talents, increasing their brain power and learning skills that spill over into other academic areas. Their enthusiasm for music overtakes their desire to sleep in.
The River Rock band is made up of fifth- and sixth-grade students and is led by Vange Jones. The program is a yearlong commitment, but she hasn't had any problems finding students who want to participate. In its second year, the band has 20 student musicians. They meet twice a week before school to learn and practice.
"I love teaching band to these kids! It's so fun to see how much progress they make in their first years playing an instrument," Jones said. "It builds confidence and leadership. And who doesn't need a little more confidence going into Junior High?"
Jones asks students to choose the flute, clarinet or trumpet for ease of training. If there are too many instruments, she finds the instruction minutes are spread too thin. Participating students usually find their own instruments, but there are a few donated instruments that she can lend to children who need one.
This is the second year playing clarinet for sixth-grader Natalee Patlan. She enjoys playing in the band and attending festivals to meet other musicians.
"I love how Mrs. Jones lets us go to concerts. It's fun that not only do we get to play, but we get to watch others play," she said.
The River Rock band is one of only a few elementary school bands in the area. Jones, however, feels music provides incalculable benefits to student learning and getting an early start is very beneficial.
"When I was in school, every fifth- and sixth-grade kid could join a band," she said. "There are piles and piles of studies. There are so many benefits to a student from being involved in music."
Some of the benefits Jones sees are better access to reading and math skills, learning how to work as a team, putting in the effort to really work at something hard and gaining leadership qualities.
"The hardest part is at the beginning when they are just learning something new, but when they work hard they can see the progress and that does a lot for them," Jones said. "I give the second-year band members the opportunity to help the others, and they develop leadership skills and learn more because they are teaching."
Natalee's mother, Phyllis Patlan, is a teacher at the school. She played the clarinet when she was younger and wanted her daughter to have the same experience.
"As a teacher, I know that music is very important for brain development," she said. "It helps you see patterns, and there are patterns in math, patterns in literature, patterns are everywhere. It really helps you academically."
Though the River Rock band is only in its second year, Jones has been teaching elementary bands for 17 years. She started at another school when her son was in fifth grade because he really wanted to play an instrument. Over the years, she's seen the positive benefits of an elementary band program. 
"I've seen students fall in love with music. It becomes a part of their life. It's been a place where they can make friends and it's made them feel safe," she said.