Lehi Area Chamber of Commerce Awards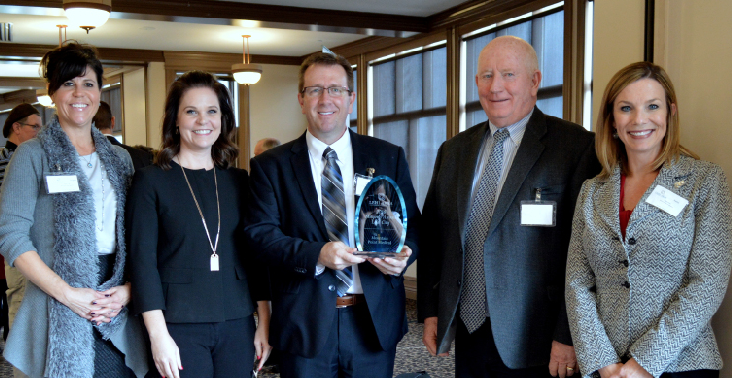 The Lehi Area Chamber of Commerce held a luncheon at Thanksgiving Point last Tuesday, January 10, to introduce the 2017 Chamber Board and to present 2016 awards.
Mountain Point Medical received the Mayor's Award from Lehi's Mayor Wilson. Wilson pointed out that Mountain Point Medical has already served thousands of Lehi residents since they opened their doors last year. The hospital sponsored Lehi's Family Week in November as well.
Chamber President Mark R. Welcker gave the President's Award to Kevin Chacon from the Costco Marketing Department. Chacon is a member of the Chamber Board, but often goes above and beyond in his service hours. He was recognized especially for his outstanding contribution to the golf tournament, a major fundraiser for the Chamber. Chacon is at every meeting with a smile on his face.
Nothing Bundt Cakes received the award for New Business of the Year. Tamara Morrison accepted the award and encouraged Chamber members to celebrate the win with cake. Carmen Zapata, Director of Sales for Home2Suites by Hilton in Lehi, received the Marie Hutchings Business Person of the Year Award. Zapata almost postponed a trip to her home city of Managua, Nicaragua to pick up her award in person. She is also a member of the Chamber Board and donates many of her hours in support of Lehi businesses. The Business of the Year Award was given to Lon Sorenson Insurance. Sorenson humbly accepted the award and shared it with his staff.
The Lehi Area Chamber of Commerce Chair for 2017 is Andrew Badger, Marketing Director for SERVPRO of Provo/North Utah County. He encouraged members of the Chamber to, "Be involved! The Chamber is only as successful as we make it."