Skyridge Loses Heartbreaker to Timpanogos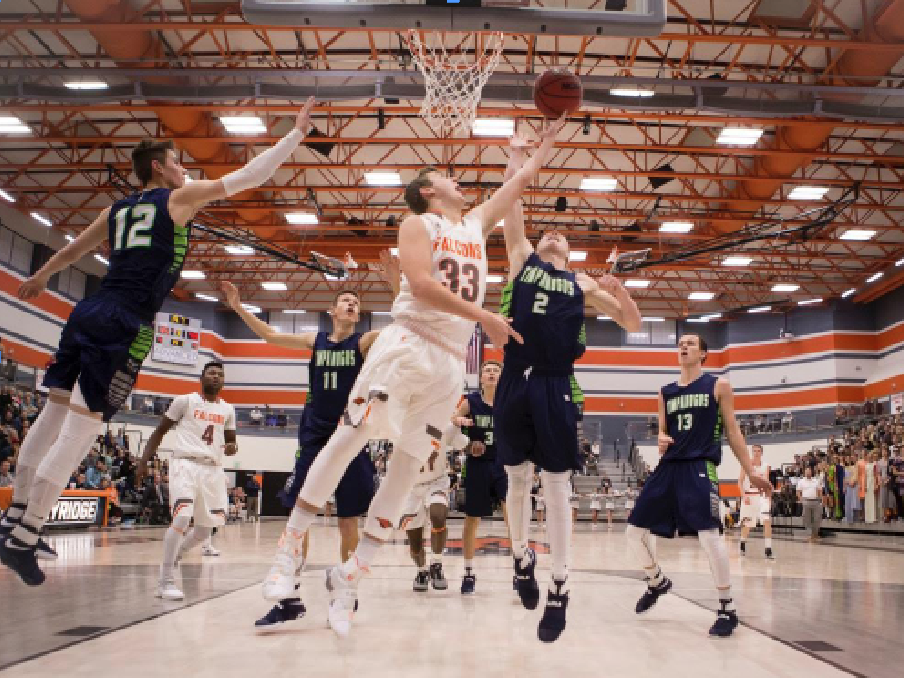 Playing in front of a near capacity crowd on Friday, January 13, Skyridge lost in the last few seconds to a tenacious Timpanogos defense.
The Falcons jumped out to a 10-point lead in the first quarter with exceptional ball movement and team play. At the end of the first quarter Skyridge led 16-9.
During the second quarter Timpanogos' interior play chipped away at the Skyridge lead. With a minute left to play in the half, Charley Robbins, center for Timpanogos, made two quick lay-ups to put them within one point of Skyridge. At half time the score was Skyridge 29 Timpanogos 27.
Brayden Cuff hit a quick layup seconds into the second half, but a 3 point shot by Timpanogos put them up by one. For a time, the zone defense of the Timberwolves seemed to stop the aggressive play of the Falcons. It was a see-saw battle for most of the 3rd quarter. Timpanogos was up 48-46 when the buzzer sounded ending the quarter.
The 4th quarter saw the lead change six times. The student sections of both teams rocked the gymnasium. Several times both coaches jumped off the bench to complain about calls by the officials. In the last minute of the game with the Falcons up by one, Timpanogos was forced to foul. The front end of the one and one was missed. Timpanogos' Dalten Stewart scored to put the Timberwolves up by one. Timpanogos won in a ragtag finish by both teams.
Three Skyridge players scored in double figures. Marcus Draney had a game high 22 points, Brayden Cuff with 19 and Chase Berry added 10.