Restaurant Review: Great food and music at Blues Street BBQ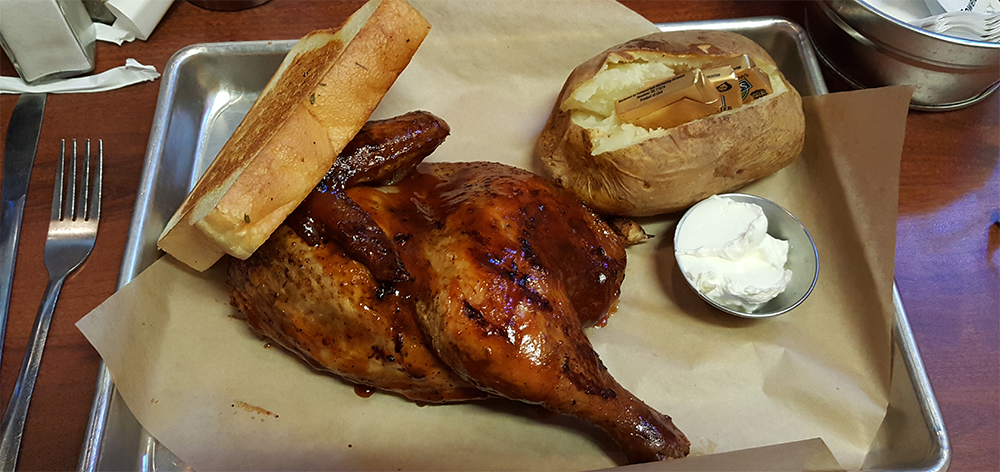 Last Friday night Kevin and I were looking for a dinner spot and ended up at Pig City BBQ – soon to be Blues Street Barbeque – in American Fork at 650 E. State. Trust me, we are barbeque snobs. My husband Kevin built our own little smoke house in the back yard and we are currently smoking a batch of elk jerky. As for me, I've had barbeque from Texas to Tennessee.
At Pig City BBQ we were treated to a musical and culinary delight. Oh, and the service was great too. Sarah Epperson, the owner of the establishment, seated us. We ordered drinks while we studied the menu, which features barbeque and Southern style sandwiches. Kevin had the half rack of baby back ribs, which he said were juicy and tender, with meat that "fell off the bone."  I order smoked chicken and got a half chicken, smoked well. At each table are three bottles of various types of barbeque sauce, so you can dress your dish with as much sweet or spicy sauce as you wish.
Entrees come served on a metal tray with two sides. Kevin enjoyed the baked beans and potato salad, each with a "made from scratch" taste. I ordered a side salad with a baked potato, both of which were good. We also splurged and ordered the homemade coconut cream pie just so we could taste it. Of course, we ate it all. It was creamy and delicious.
The highlight of the evening, in addition to the tasty meal, was the live music. A band of four, including Mike and April Hamm of a band called "Seebus Pruett," play every Friday night. Mike is a personable, bluesy singer/guitar player. Mike's wife, April, plays keyboard and provides back-up vocals. The group was rounded out by two more musicians – a bass player and a CRAZY good lead guitar player who played entirely by ear. Honestly, I haven't heard live music this good since I left the Bay Area. They even played "Mustang Sally" just for me as we were leaving.
The band played music from Bob Dylan, Bob Seger, Jackson Browne, and of course, Marc Cohn's "Walkin' in Memphis."  Most of the tunes were country, blues, or pop acoustic hits from the seventies and eighties. Trust me, the band earned the $20 tip they got from us.
Epperson is a seasoned food service veteran. She's been in the catering or restaurant management business for many years. She grew up in Cedar Hills, but travelled to Tennessee to earn her barbeque "chops." She's friendly, approachable, and knows that great music just goes with great food. The last is the secret that will keep customers coming back for more.
In the coming weeks we'll be visiting Blues Street Barbeque on many Friday nights for mouthwatering barbeque, and to revel in the talent of the band. This little spot in American Fork won't remain a dining secret for long.