Maria Bonita's serves authentic Mexican food with genuine hospitality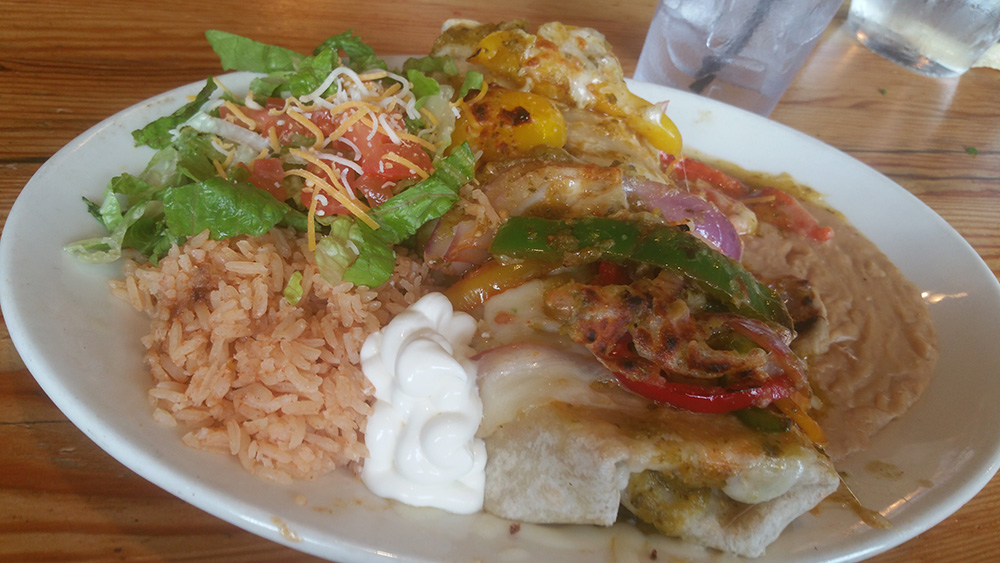 If you like taco salads the size of punch bowls, and pina coladas bigger than your head, then you will like Maria Bonita's. If you enjoy being greeted at the door with hugs, kisses and high fives from a tiny Spanish grandma named Maria, who also calls you beautiful names like Champion and Queen, then this is your place. And if you are in the mood for Mexican food–you actually want to eat REAL Mexican food, (cough, Café Rio isn't real Mexican, cough) then Maria Bonita's is the place for you.
Maria Bonita's serves delicious Mexican food and is conveniently located in on 800 North in Orem. Today I was blessed enough to sample the chicken taco salad, the veggie burrito, and the grand Mexican Molcajete!  I'm sure you've heard of a taco salad and veggie burrito before, so when you finally get the pleasure of going to Bonita's, give the Molcajete a try.
Your mouth will enjoy savory shrimp, sizzling steak, and slices of grilled chicken alongside cactus, fried cheese, and roasted peppers, all of which are served in a large, three legged, piping hot stone called a Molcajete.
If that seems a little too adventurous for you to try, don't fret, all the dishes I tried were scrumptious. In fact, they were all so incredible that if I had to make a choice between the three, I would choose a veggie burrito stuffed Molcajete with a side of taco salad. Seriously, they were all that good.
The complimentary chips and salsa pack the perfect amount of heat. The meat, shrimp and vegetables are all fresh and crisp, and their menu is friendly enough for even my irritatingly vegan sister in law to enjoy. Oh, trust me, she does enjoy it considering we come here for every family birthday, baby blessing, graduation, half birthday, anniversary, 2nd Wednesday… you get the picture.  Everybody loves Maria's, and you will too. Just pop on over to their location at 800 N and 171 W in Orem and give them a try. A warning, you may have to wait if you go on a weekend, the word is out—this place is Muy Rico!