Bump, set, spike: Annual JFK classic a success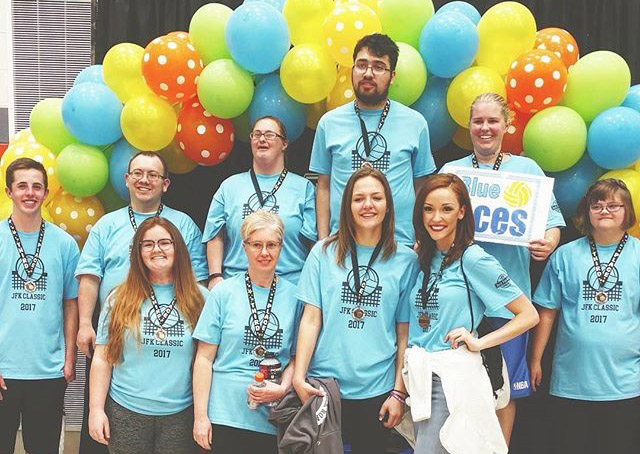 The Annual JFK Classic was held on Saturday, March 25, at Skyridge High School. There were 15 total teams comprised of special needs students from schools and programs surrounding Lehi who participated. The teams included the Pleasant Grove Vikings, Lehi Pioneers, Skyridge Falcons American Fork Cavemen, Westlake Thunder, ATEC West, ATEC East, Orem Tigers, Lone Peak Knights, Mountain View Bruins, Timpanogos Timberwolves, Yellow Bay Packers, Blue Aces, and the Hive Killer Bees.
The JFK Classic is a volleyball tournament created for those students involved in the "Just for Kids" program. This program focuses on helping special needs students find independence while helping them learn and grow.
The tournament was held in the main and auxiliary gyms of Skyridge High School. The teams, comprised of both special needs students and peer tutor students from surrounding schools, were placed in a bracket and played anywhere from 5-10 games. The top three placing teams were awarded with trophies and all participants were given a medal.
Both Lehi and Skyridge dance companies, cheer teams, and ballroom teams provided entertainment in between matches, and both schools' student council groups made sure the event ran smoothly. Chick-fil-A and doTerra sponsored the event.
Michelle Holbrook, the creator of the JFK Classic, said, "My son Curtis has special needs and about 12 years ago I started to notice that he just didn't have much to do. I created this program for the special needs students to have fun." Michelle started the JFK Classic with just 8 participants, and today, 12 years later, there are over 360 participants and volunteers.
Michelle also said, "The Just for Kids program is really just trying to make a difference in the lives of those with disabilities. The JFK Classic is a great way to get those students involved and excited about something."