Lehi Fire teaches lessons to locals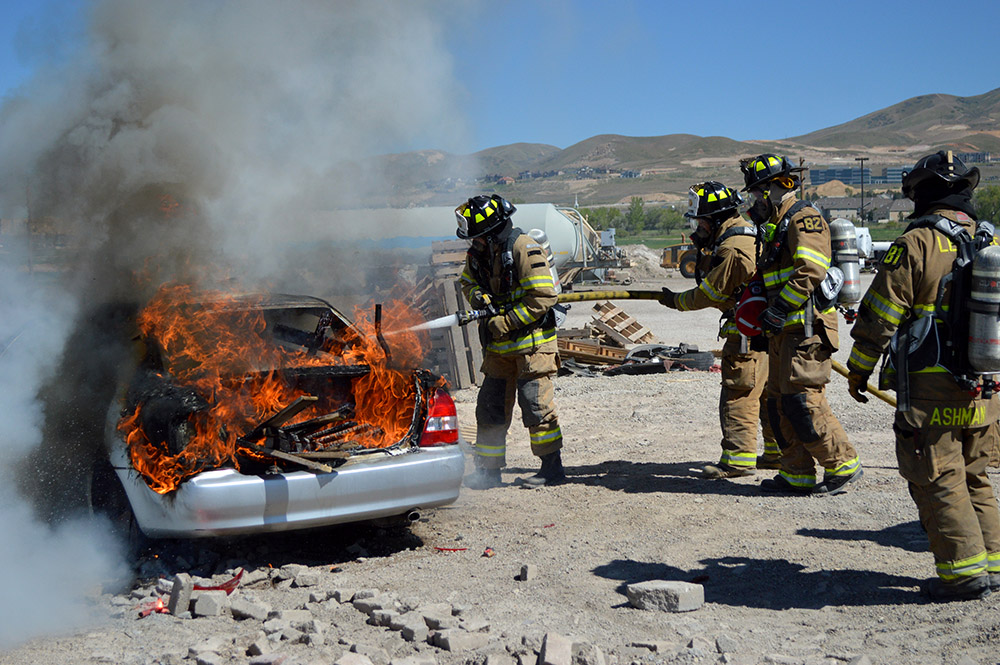 The Lehi Fire Department gave some willing participants a sample of what it's like to be a firefighter last Friday, May 5, by suiting them up and putting them in some everyday firefighter scenarios.
"We put this event together to answer what it's really like to be a firefighter," said Lehi firefighter Randy Harding. "We don't just respond to calls, there are things we do every day that increase the safety rating of Lehi City and that decreases home owner premiums for our residents."
To get participants for the Fire Ops 101, the Lehi Fire Department held a contest on Facebook.  The "winners" included; Drew Manning, owner of Fit-to-Fat-to-Fit, Jason Walker, Lehi City Manager, Paul Hancock, Lehi City Council, and Phil Wasden, Lehi Fire Department Chaplain. Lehi Block hosted the bulk of the simulated scenarios at their plant just off the 2100 North freeway exit.
Wearing all the gear of actual firefighters, participants used real equipment in the vehicle extrication scenario. "They were surprised that the new technology in vehicles poses a problem for firefighters. We don't want to cut into airbags or other electronics that will make the situation worse," said Lehi firefighter Jeff Smith. The weight of the equipment also came as a surprise to some of the participants.
One of the hotter situations was putting out a real car fire. Several Lehi firefighters, all volunteering their time for the event, were on hand to create the car fire with broken up wood pallets inside a totaled vehicle. The firefighters then supervised participants as they put out the fire properly. The flames and the smoke from the car fires were visible from the freeway.
The brick kiln at Lehi Block was used for the search and rescue simulation. "The temperature in there is about a third of the temperature we're exposed to, but the darkness is the same," said Randy Harding. "In the 1950s homes were made of natural fibers and it was pretty simple to go in and put out a fire. Homes today are mostly made with synthetic materials that burn at a much higher heat and the fumes are very toxic," said Jeff Smith.
The participants in Lehi's Fire Ops 101 were put to the test physically and mentally during the day-long challenge. "We want the community to understand how difficult this job really is and the manpower and resources we need to stay prepared for whatever happens," observed Randy Harding.