Skyridge student constructs new Museum of Ancient Life exhibit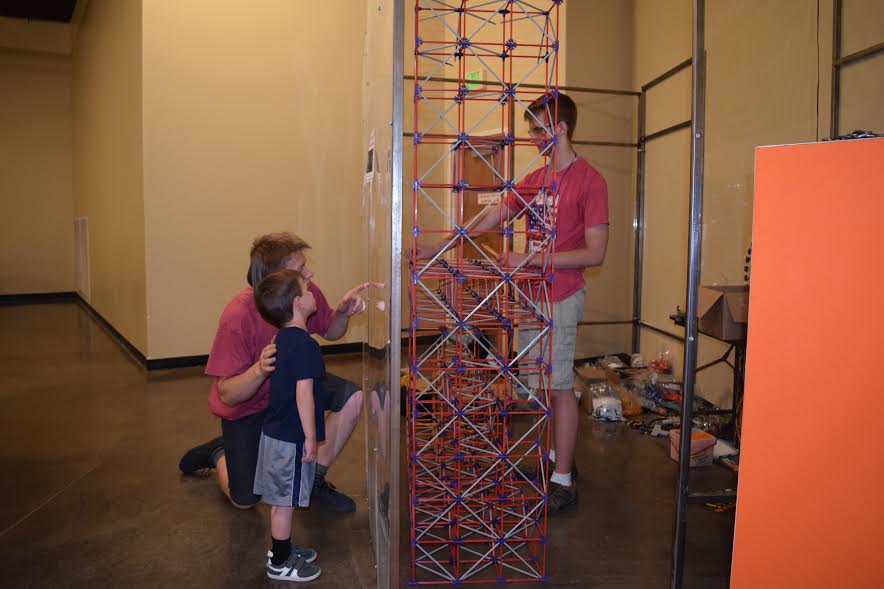 Skyridge sophomore robotics student William Whitehead is adding intrigue and creativity to the Geometry playground in Museum of Ancient Life's exhibit of natural Curiosity. Following a short conversation, Exhibit director Dave Stroud caught on to William's vision of a ball machine inspired by the structure in the lobby of the Clark Planetarium. Together they erected plexiglass walls in the geometry playground that allow for children and parents alike to witness the sorting, clicking, and designing process of the new K'nex structure.
Whitehead was inspired to make this creation after watching the ball machine at Clark Planetarium as child growing up. His desire is to add an eye-catching sculpture powered by electricity at Thanksgiving Point for local museum goers to enjoy.
The sculpture will be made from K'nex parts. William has been fidgeting with K'nex sets for almost 10 years. Additionally, the K'nex company discovered his Youtube channel, "FanPlastic", and featured Whitehead as "fan of the month" in September of 2016. By the time his invention is complete it will have over 10,00 parts. The creation will have ten balls that will simultaneously move up an eight-foot chain lift and then propel down various paths. Staircases, loops, and flippers are among the sculpture's many entrancing components.
Construction began on Saturday, April 29, 2017, and will continue for several weeks. The completed sculpture will be featured as part of the "Here to There" exhibit which launches June 12th.  However, the creator will be positioned visibly in Museum of Ancient Life during the entire construction process. Part of the intrigue of this exhibit is found in watching the construction evolve. The plexiglass walls allow for patrons of all ages to witness the many parts coming together. Visit Thanksgiving Point's Museum of Ancient Life to see the display come to life.