Kid entrepreneurs sell wares at Thanksgiving Point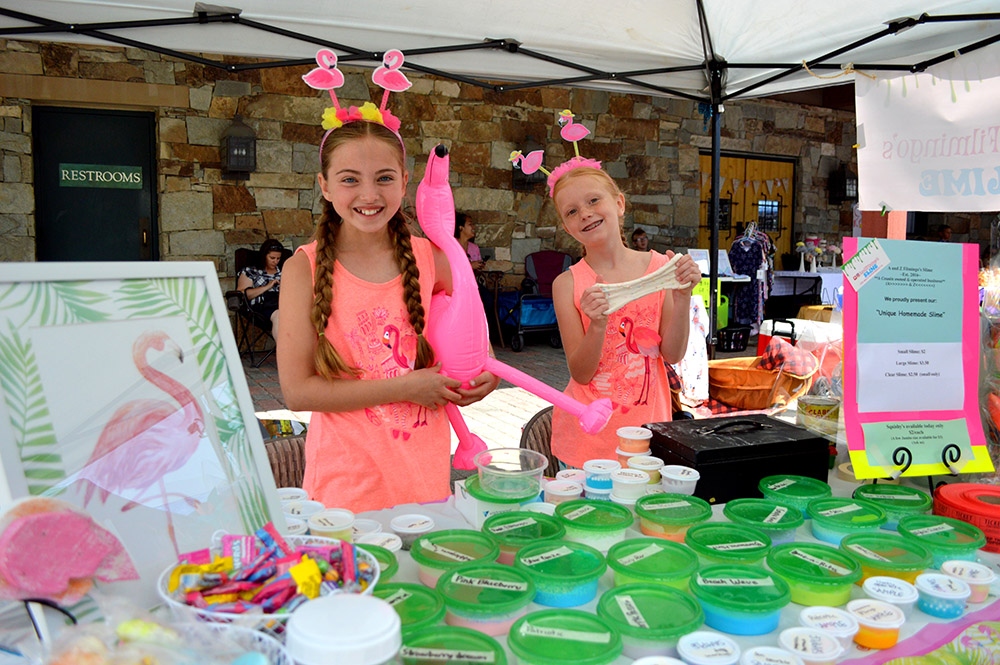 Last Saturday, June 17, the street and courtyard around the water tower at Thanksgiving Point were filled to capacity with vendor booths run by children. The little entrepreneurs were irresistible in their cheerful sales pitches.
Zoey Jacobson (11) and Ava Pugmire (9) had a booth for their homemade slime business called "AandZ Filmingo's." The girls have their own YouTube channel and Instagram account to drum up business. Ava said they spent hours and hours making the slime and they kept running out of supplies and making runs to the store for more. The girls had a colorful booth decorated with bright pink flamingos next to their containers of slime. When asked what they would do with the money they earned at the market, Zoey quickly answered, "We want to buy a GoPro to make underwater videos for our YouTube channel."
One of the youngest vendors at the fair was three year-old Gus Moore. He was selling magnets he'd made with Perler Beads. Gus said he made magnets "every day" to get ready for the market. He had a great team behind him in his booth, but selling the magnets was all up to Gus.
This slideshow requires JavaScript.
Several of the young entrepreneurs were part of the Children's Market in Provo in May. "Bug" and "Dude" learned from their booth in Provo that they needed to have a full-color example of their puppet paper dolls. They also added decorations to their booth and they sold water. Bug and Dude's father is a chef, so he helped make sure they followed the food handler permit guidelines when making their cookies and caramel popcorn. "There was a batch that was almost sneezed on and it didn't make the cut," their Mom explained.
Mark Payne used the Children's Entrepreneur Market to sell wooden puzzles and handmade earrings to raise money for his Eagle Scout project. For his project, Payne has teamed up with Sole Hope to provide shoes for children and adults in Uganda to keep insects from embedding themselves in villagers' feet. Mark was clearly passionate about his project and made a goal to sell enough of his puzzles and earrings to send 50 pairs of shoes to Uganda.
There were live animals like rabbits, guinea pigs, chickens, and gold fish at the market. Several vendors had jewelry, bath bombs, and yummy-looking treats. Three siblings even sold buttermilk syrup with a prominent display of pancakes and syrup on their table. Twin sisters, Aubri and Isabelle (11) spent days painting peg dolls and dying silks for their booth. Their goal is to make enough money to open an Etsy shop of their own.
All of the children at the market were smiling and excited about their products. They rose to the challenge of running their own business.