David Evans, Lehi's founding father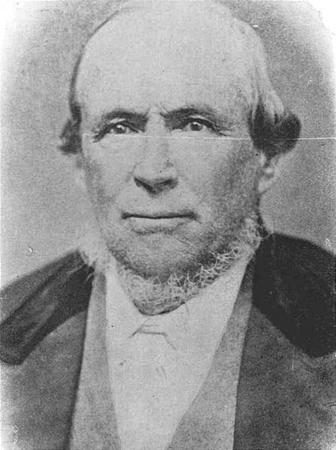 When Lehi consisted of eight families camping near a dry creek bed, it took a lot of courage to live here. The person who was able to keep the settlement going was David Evans, a man who had known unbelievable tragedy, but kept his faith in God and his humor as he and other stalwart pioneers built a new community.
David Evans was born in Maryland in 1804 to Israel Evans and Abigail Alexander. Soon after David was born, the family moved to Pennsylvania in hopes of finding better soil to farm. Israel Evans also ran a tavern. David Evans was raised working hard on a farm, but his parents also made sure he learned how to read and write.
David Evans married Mary Beck of Pennsylvania on July 25, 1826. They moved to Richland County, Ohio, where David broke ground on a new farm and the couple started their family. On April 6, 1833, David and his family joined the Church of Jesus Christ of Latter-day Saints. Evans was the epitome of Mormon Pioneer Stock, truly sacrificing everything he could in service to the Church.
One experience that would serve David Evans well when he was called upon to settle Dry Creek (the early name for the Lehi area) was his experience in Zion's Camp. Evans volunteered to go to Missouri and give aid to the "Saints" who were suffering there. The movement was called Zion's Camp. They marched over a thousand miles of rough terrain to bring supplies and relief materials to the congregations in Missouri. The men of Zion's Camp were gone for over two months and the endeavor was generally considered a failure. Many members of Zion's Camp left the LDS Church after going through such an ordeal. Those who remained faithful, including David Evans, went on to become part of the "School of the Elders," a group of LDS men who were taught by Joseph Smith in lectures that later became The Doctrine and Covenants, part of the LDS Church's scriptural canon.
David Evans was a gifted missionary, preaching and converting people in Missouri even during the time of the extermination order in that state when Mormons were extremely unpopular. Evans negotiated a treaty with a militia to try to get them to stop harassing residents of Haun's Mill. Days later Evans ran out to meet a mob of well over 200 men, waving his hat and crying for peace to no avail. Seventeen Latter-day Saints and one friendly non-Mormon were killed and another thirteen were wounded in the Haun's Mill Massacre on October 30, 1838. No Missouri militiamen were killed, though three were wounded.
Many Haun's Mill residents moved to Illinois following the massacre, including David Evans and his family. They continued to be faithful in the LDS Church, David taking assignments from the Prophet Joseph Smith. Mary Beck Evans died in June 1841 and David married Barbara Fauber Ewell in November 1841. After Joseph Smith was murdered on June 27, 1844, David and Barbara Evans were part of the migration of the Latter-day Saints to Utah under the direction of the Prophet Brigham Young.
David Evans was in charge of a company of 54 wagons. One young boy recalled seeing one of the Evans girls, Abigail, fall from a wagon and badly injure her back. David Evans, now a Bishop, wrapped Abigail in his coat and carried her in his arms from Kanesville to Salt Lake, over 30 miles.
Early in 1851 Brigham Young assigned Bishop David Evans to settle the Dry Creek area, which later became Lehi City. The small colony had a monumental task before them, the biggest being how to get water to their crops. In the book Bishop David Evans and His Family, one author said of Evans, "Possessing the same rugged qualities which distinguished his chief, Brigham Young, he was eminently fitted to direct the work of founding a community. Devoted to his Church, honest, upright, but determined and aggressive, and withal characterized by that rare gift of leadership which, above everything else, was imperative for a pioneer commander, he knew how to direct the colonists to obtain the best results. In his dealings with his fellows he was plain and outspoken, but always just and fair. Altogether Bishop Evans was precisely the kind of man needed to meet the situation."
The only water supply available near Dry Creek was a stream in American Fork. Under the direction of Bishop David Evans, men from the small settlement dug a seven mile ditch from American Fork to Lehi using primitive tools. The sunbaked soil was full of rocks and the progress was slow. From Bishop David Evans and His Family, "Under such hardships the men, poorly fed and scantily clothed, would undoubtedly have abandoned the enterprise but for the influence of the bishop. His good humor and witticisms never failed, and with rare tact and diplomacy he kept the men from brooding over their troubles, and inspired them with new hope and courage."
The cultural DNA of Lehi City has Bishop David Evans running through it. His tireless work, hopefulness and compassion built a unique community that continues to thrive.