Haws loved to obtain, share, and preserve stories of Lehi – John Knollin Haws Jr., 1954-2017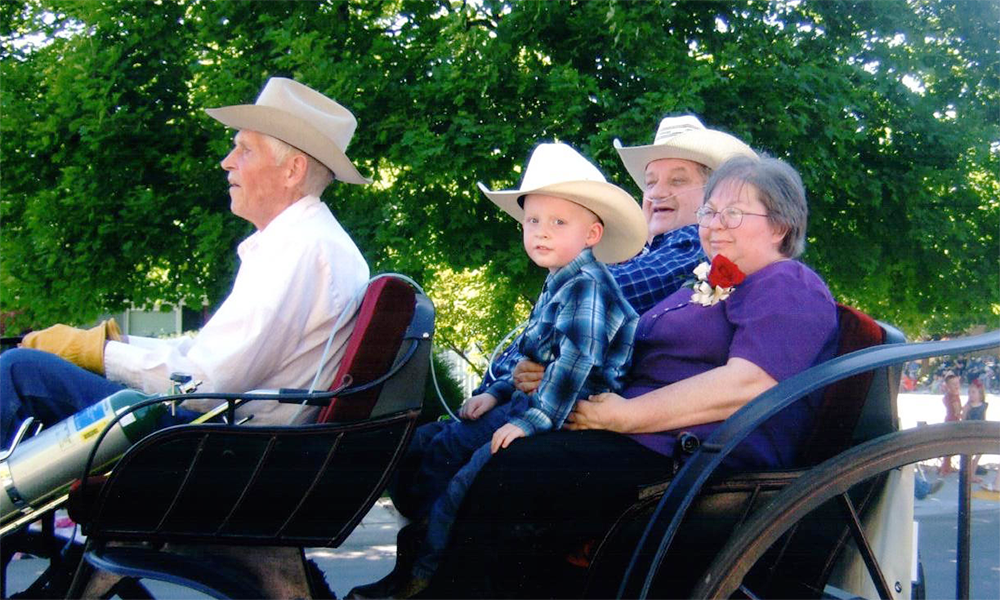 Lehi has lost a great man and friend.
John Knollin Haws Jr., also known as the Grand Marshal of the 2017 Round-Up Parade, passed away on Wednesday, June 28 after a courageous battle with cancer.
Whether you knew Haws as a city councilman, businessman, Kohler's grocer, Young Men leader, high school debate coach, husband and son, or historian of Lehi, you couldn't help but like him.
"John made everyone feel welcome," said Judy Hansen, vice president of the Lehi Historical Society and Archives of which Haws was founder and director. "His personality was like a magnet so people wanted to be here and to help."
Just four years ago, Haws was just a man with a dream. But armed with four boxes from Lehi historian Richard Van Wagoner, Haws invited Hansen, Rhea Lewis and Lynette Harris to help him form Friends of the Archives. "What started out with four members has grown to around 30 people wanting to preserve our city's histories," said Lewis.
Today, thanks to Haws and his vision, the Friends of the Archives has morphed into the Lehi Historical Society and Archives with its own building, located just south of the Lehi City Library. The society boasts more than 38,000 cataloged items, ranging in topics from biographical information, Lehi history, Lehi homes and police and servicemen to women of Lehi, newspaper collections, Lehi scouting and paintings from Lehi artists.
With an impressive memory and vast knowledge of Lehi, Haws has written much of what is in the archives. He was an expert on Camp Floyd, the Pony Express, Saratoga Resort, Utah Lake, the sugar factories and much more.
"He loves to share stories of Lehi," said Pat Bowser, archive volunteer, "and I love to be in the room to hear them… a lot of us like the old. Thank you for the memories is what I'm trying to say."
Born January 13, 1954, to John Knollin and Shirley Messersmith Haws, John loved the family and old Lehi he grew up in. His wife, Jeanette, said, "He participated in every club there was in high school and served as student body president of Lehi High School from 1973-74."
This was also when Haws developed his love for history and started collecting presidential pins and posters. When these items were displayed, they filled a gymnasium. Jeanette said he began collecting when his grandmother wanted to vote for John F. Kennedy for president, but grandpa did not agree so she felt like she couldn't vote for him. However, in defiance, she saved the newspaper announcing JFK's win and gave it to Haws, sparking a lifelong passion.
Haw's father, Knollin Haws, described John this way. "He was a fine boy. He was friendly, warm and courteous. He got his Eagle. He did very little wrong. He was a straight arrow. He was exemplary."
That exemplary boy grew up to go on a mission to England for the Church of Jesus Christ of Latter-day Saints. When he got back at age 21 he ran for the Lehi City Council as a Progressive Party candidate and ended up being the first non-Democrat to win since 1967. His platform was that his youth could bring a fresh new approach to city government. The city agreed with their votes and Haws served from 1975-84.
Over the years, Haws also worked for the Utah Associated Municipal Power Systems and Kohler's Food Stores.
But at age 56, Haws did what many might have thought was too late to endeavor. He went back to school, fulfilling a lifelong dream of obtaining a degree in history education and graduating magna cum laude from UVU. That degree helped him become the debate teacher at Lone Peak High School. During that time, his debate team was named School of the Year for the National Forensics League (NFL), won sweepstakes at the NFL National Qualifier Tournament and took second at State.
Haws was just as dedicated at church as well, said Jeanette. "He reached kids no one else could." Just recently a man drove by while Haws was walking outside. "He screeched his brakes, hopped out of the car and ran back to give John a hug," said Jeanette. "They loved him because he loved them."
Haws' contribution to preserving the history of Lehi cannot be overstated. Thousands of current and former residents of Lehi are grateful for his passionate work.
A viewing will be held at Wing Mortuary, 118 East Main on Sunday, July 2 from 6:00-8:00 p.m. Funeral services will be held at the LDS church located at 1680 West 700 South in Lehi on Monday, July 3 at 11 a.m. with a viewing prior to services starting at 10 a.m. Haws leaves behind his wife Jeanette and seven children: Wynter, Hayley, John Knollin Jr. (deceased), Heber, Bradley, James and Hayden.