Old tractor makes new memories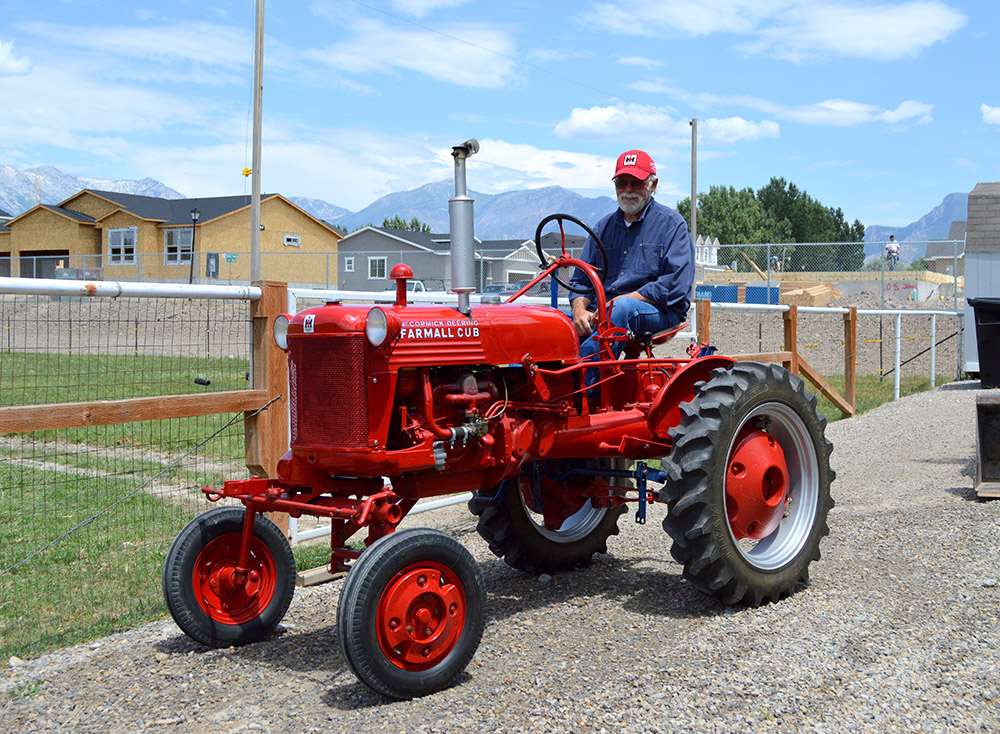 In 1949 Ernest Lynn Barnes bought his first tractor, a Farmall McCormick Cub. Barnes used the little tractor to mow hay on his farm in Lehi. He rigged up a seat on the mower and let his kids ride on it to add weight. Ernest Lynn Barnes's son Lee Barnes has restored the tractor and taken it on some pretty grand adventures.
Farmall McCormick tractors are distinctive for their bright red color. People could see the Cub in Ernest Lynn Barnes's yard and some would stop and ask him if he'd sell it to them in the years before Lee restored it. Lee convinced his Dad to let him restore the tractor instead of selling it. Lee Barnes did almost all of the work himself – he's especially proud (and protective) of the paint job. The Cub mostly stays in the garage until Barnes needs to get it out to give rides to his grandchildren or to show it off in the Lehi Round-Up Parade. One granddaughter in particular likes to ride the tractor to the gas station for a soda with her Grandpa Barnes. Lee had so much fun restoring his Dad's tractor that he's started his own little collection of tractor restoration projects.
In 2012 Lee Barnes saw an advertisement on TV asking for people to participate in the World's Largest Parade of Classic Tractors at the Nebraska State Fair. At the time, Lee and his wife, Janine, hadn't retired yet and their schedules were packed. However, they both really wanted to be a part of the record-making parade. They put the Farmall Cub in a trailer and drove to Nebraska. The Barnes's tractor was one of 964 restored tractors at a dirt track in Grand Island, Nebraska for the big parade. It had rained so much in the days leading up to the event that the track was full of puddles and mud. Organizers took a vote to see if all the participants wanted to continue with the parade and every one of them raised their hand to vote yes.
"The sound was incredible!" said Janine Barnes, who watched the three-hour parade from the stands. The track was completely filled with old tractors creeping along. Lee made friends with the tractor owners driving next to him. Like Lee, most people restore tractors like the ones their father's had. The vehicles bring back memories of being near dad and working with him. Lee's mother claims he even fell asleep sitting in the seat on the mower being pulled by the Cub. Both Lee and Janine are glad they made the trip to Nebraska for the once-in-a-lifetime, record-making sight of 964 tractors on parade.