Skyridge remains undefeated, takes down the Timberwolves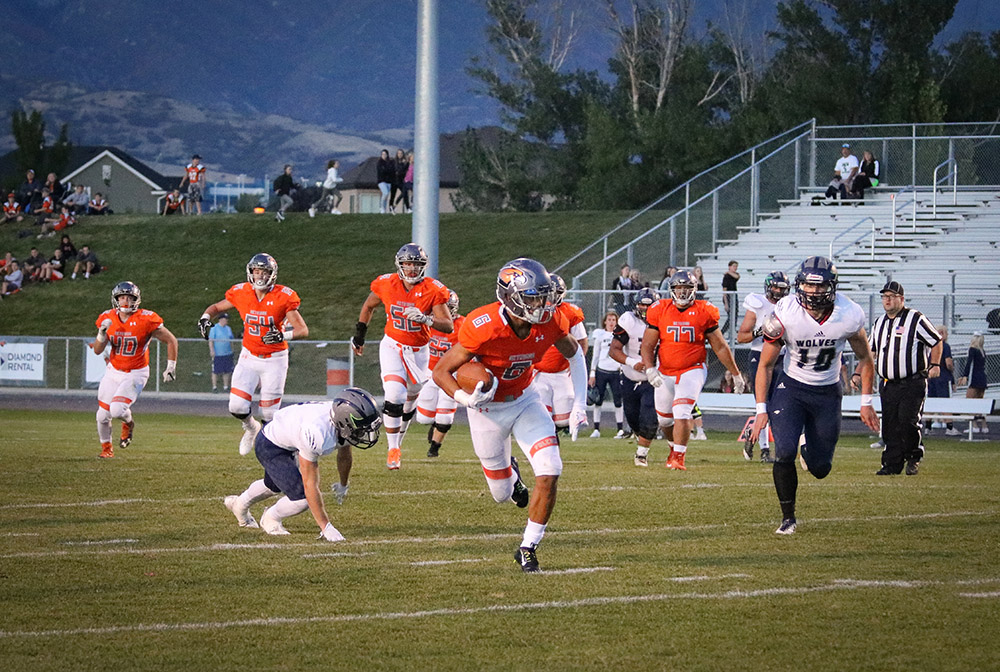 In a tight and evenly matched contest, Skyridge managed to pull a narrow victory away from the Timpanogos Timberwolves last Friday, September 29. It was a sloppy game for the Falcons, with 100 yards in penalties it wasn't easy for the defense or the offense to work efficiently. However, it didn't seem to slow the Falcons down too much in the first quarter. Skyridge struck first with a field-goal from Conner Harris to jump out to an early 3-0 lead. After a defensive stop, Quarterback Jayden Clemons marched the team down field and connected a pass to Nate Upham for a touchdown, giving Skyridge a 10-0 advantage.
The game was quiet in the second quarter. The only thing passed around seemed to be the referee's yellow flag. Neither team scored, keeping the score 10-0 going into the second half.
Starting the third quarter, the Timberwolves struck back with a rushing touchdown to close the Falcon lead to 3 points. It didn't take long, however, for Clemons to answer back with an impressive counter by connecting a 72-yard pass to Jai Satiu for a touchdown, making the score 17-7 in favor of Skyridge. The Timberwolves answered in the following drive, and scored again, making it 17-14 Skyridge.
Going into the fourth quarter, Skyridge scored their final touchdown of the night, giving them a 24-14 lead. Timpanogos scored a touchdown of their own on a rushing play to narrow the score by 3 points, but that didn't leave them with enough time to score again. Skyridge ended the night with a 24-21victory.
Skyridge is now 7-0 overall, with a 2-0 record in their region. Next up for the Falcons is a contest is against the tough Springville Red Devils this Friday at Skyridge, 7 p.m.