"Turning about to trust" Lee Caldwell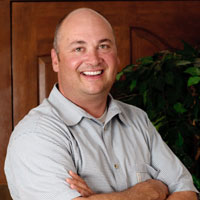 Lehi's Lee Caldwell can be described in one word, trusting. For 30 years he has been the Executive Director and CEO of Stillwater Academy, in South Jordan, a school that provides one of a kind treatment to students who have experienced traumatic life and family events and helps them to learn responsibility for their choices, actions, and decisions. The school, affectionately nicknamed "Turnabout," teaches troubled youth to turn around their unfortunate circumstances and learn how to create a bright and promising future.
Over 25 years ago, Lee and other therapists noticed that teenagers were developing destructive behaviors that were caused by problems such as ADHD, family trauma, and other disorders that would result in teenagers engaging in criminal behavior, drug/alcohol consumption, and other negative activities.
After witnessing the lack of resources available to troubled teenagers, the group set out to create a program to inspire teens to let go of their destructive habits and mold a future filled with hope and initiative. Through the hard work of Lee Caldwell, and other dedicated individuals, Stillwater Academy was created.
Stillwater's unique program provides teens and families with individualized attention, therapy, education, relationship strengthening strategies, fun and wholesome activities, and aftercare. When asked what the program was about, a resident said, "The program teaches troubled teenagers how to trust themselves, adults in their life, their choices, and how they can get others to trust them."
But Lee is more than the CEO of a successful program, according to Gordon Wilson, he is the "greatest guy in Lehi." A story about Lee's character depicted his genuine love for people and being an advocate to all. While his children were participating in high school rodeo, Lee looked after all the cowboys and cowgirls as if they were his own. Once a friend of Lee's son's horse came up lame just as the rodeo season started, which prevented this young cowboy from participating in the long 30 rodeo season. Without thinking twice, Lee bought a steer wrestling horse and allowed the young cowboy to ride the horse all season long.
"Lee does more good in this world in one day than most people do in a year," said a friend of Lee's. His heroic actions include creating a haven for troubled teens to thrive and develop essential life skills, being a terrific mentor and role model for the young cowboys and cowgirls in the UHSRA, and so many more. Above all, Lee has defined in all aspects of his life what it means to be a trustworthy and reliable friend who goes beyond the call of duty. Thank you, Lee, for being a local hero.