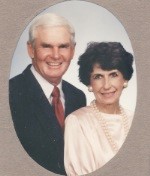 1931-2019
Earl Lee Peck, 87, passed away April 4, 2019, surrounded by his family. Earl was born December 17, 1931, in Lehi, Utah to Elisha Odell and Lileth Peterson Peck. Earl married his high school sweetheart, the love of his life, Carole Smith, in the Salt Lake Temple on August 20, 1952.
He grew up working on the family dairy farm, lettered in several sports, graduated from Lehi High, then graduated with his B.S. from Brigham Young University. Earl was called on an LDS mission to California but was drafted into service in the Korean War before he could serve. He was a pilot in the United States Airforce from 1954 to 1957. When Earl came home, he purchased the family farm and was a dedicated farmer for the rest of his life. He served faithfully in many church callings, at the temple, and served a mission with his wife at Welfare Square. He was an avid BYU sports fan, loved hunting, and spending time with family.
Earl is survived by his children: Ron (Debbie) Peck, Lori (Craig) Dean, Dian (Tom) Williams, Kevin (Alecia) Peck, Alecia (David) Willardson; 20 grandchildren, 29 great-grandchildren, and brother Lynn Peck. He was preceded in death by his beloved Carole, son Brian, grandson Joshua, brothers Dean and Bruce Peck.
Funeral services will be held Saturday, April 13, 2019, at 11 a.m. in the Lehi East Bench Church, 1631 East 900 North. A viewing will be held at the church Friday 6-8 p.m. and Saturday 9:30-10:30 a.m. Interment at Lehi City Cemetery. Online guest book at wingmortuary.com.