Officer Greg Neer awarded Employee of the Year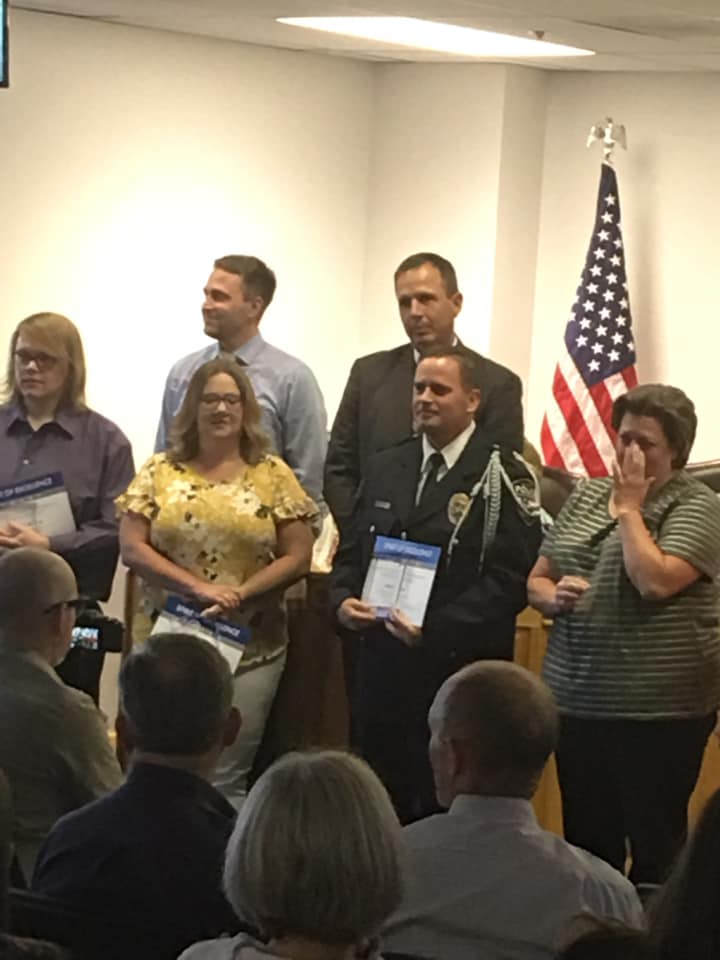 On a typical school day, Officer Greg Neer of the Lehi Police Department can be found walking the halls and talking with students of Lehi High School. Neer was an easy nomination for Employee of the Year by school faculty and administration, with his calm demeanor and ability to talk with and listen to students.
On Tuesday, May 14, 2019, Officer Neer was honored for his dedication and service at the high school and awarded Employee of the Year for the Lehi Cluster, during the Alpine School District's Board of Education meeting. During the meeting, Principal Doug Webb introduced Officer Neer. "Officer Neer is an integral member of our student support team. He builds positive relationships with students who struggle in school and works closely with many students to support and encourage them. He also helps to ensure that we maintain a safe school environment and provides critical support in dealing with issues of safety. He is a great asset to our school," said Webb.
Neer is LHS's Resource Officer and has been stationed there for about 9 years. Officer Neer has been with the Lehi Police Department for 15 years. When asked what he likes most about his job at the high school, Neer replied, "Teenagers aren't always so set in their ways. They are more accepting of help, and I've seen quite a few changes for the better. I'm always honest with these students, and I give it to them straight." Officer Neer stays busy, with students frequently talking to him in his office or stopping to say hello on their way to and from classes
When asked about Officer Neer, staff, administration, and students at Lehi High School are quick to point out his mellow nature and even temperament. Administrative Secretary Diane Cardon said, "Officer Neer is really great with the kids. He's mellow and he listens. I think the kids know that he really cares about them. He is dedicated to everyone at this school, and he's here every day."
School Secretary Kristol Webb said, "He's always out and about, walking around the school and interacting with the students. The kids all know who he is because he's present. He makes us all feel safe here."
One student said "Officer Neer is just always around, everyone knows him. I think that if I had a problem or something, I could definitely talk to him about it." "I've been here at Lehi High School for about nine years and I still I love being here. I truly think it's the best job. I try to keep that quiet, so the other officers don't get jealous."