Last Course should top the list for anyone with a sweet tooth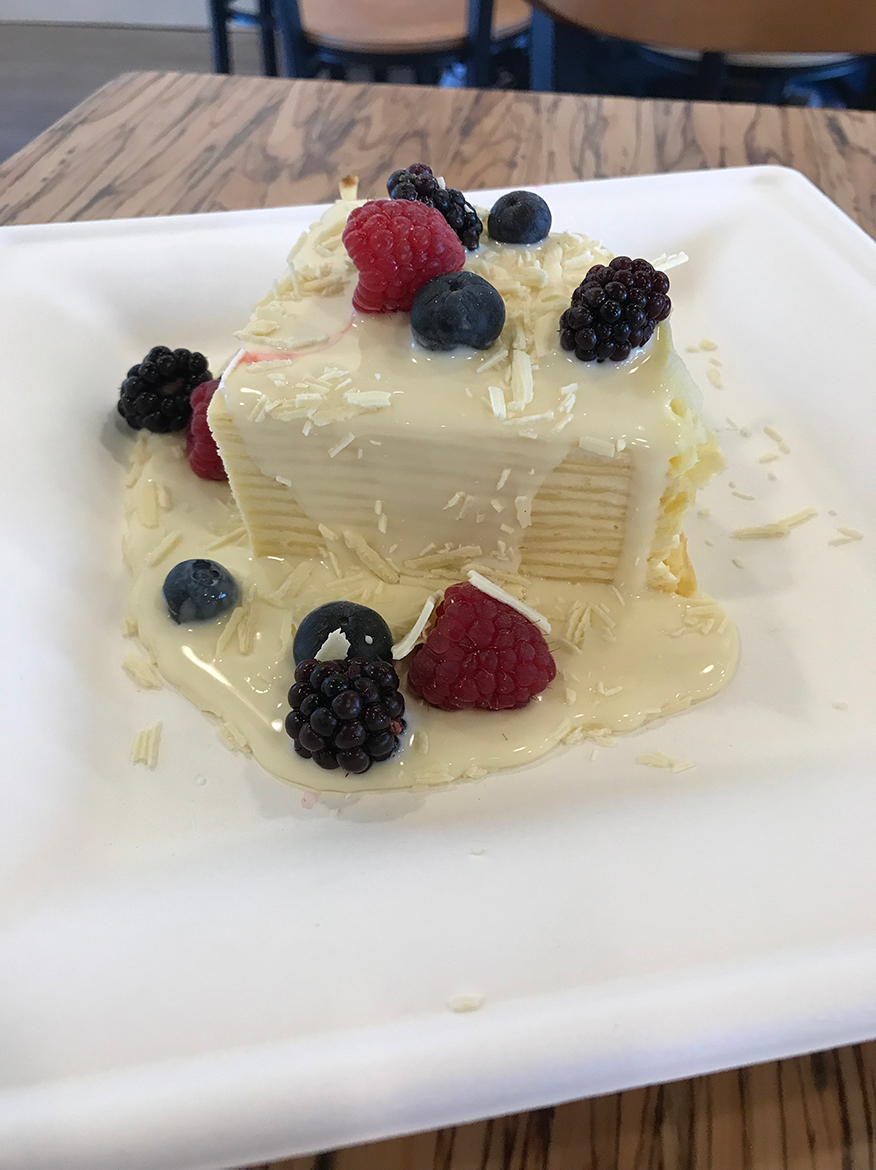 Last Course, a dessert-only restaurant, is a can't miss for anyone looking to satisfy a sweet tooth either before or after a meal.
At the new Lehi location, 1249 E Main Street, Last Course has a modern design with open seating as well as standing tables to place your deserts or lean on while eating your gourmet ice cream cone. The extremely modern design of the restaurant is a purposeful part of the experience, as the full name of the restaurant is Last Course Dessert Studio.
There are 13 items on the dessert menu, along with a special monthly option, and 20 different kinds of gourmet ice cream flavors. Last Course is available to cater large events, has a food truck for hire, and features Cake by Courtney, where you can order whole custom cakes.
Our group didn't have much trouble choosing a dessert, but that was probably because we knew we would be allowed to sample a bite or two from the corner of others' plates. I ordered the German Chocolate Cake, which quickly became the focus of not only our table, but to the group at the table next to us. The cake comes hidden in a chocolate sphere, with a cup of hot caramel sauce to pour over the top. When poured, the sauce melts the chocolate and exposes the delicious cake, coconut, and pecans on the inside, and creates a wonderful gooey sauce that brings the whole dish together. Plus, it was really fun to pour the sauce and watch the sphere melt away.
We next tried the Lemon Stack, which boasts layers of homemade lemon mousse and delicate crepes topped with white chocolate sauce and fresh berries. This dessert came looking just like its picture, which features prominently throughout the restaurant. Stacked thickly to look like a wedge of cake, the lemony tang was delicious, especially with the white chocolate sauce which didn't overpower the dish. The fresh berries brought the whole thing together and were eaten with each bite.
The portions at Last Course were large, definitely enough to share one dish, which most people seemed to be doing. Sharing is beneficial, as some of the menu items may be a bit pricey. Most of the featured desserts are around nine dollars, and ice cream is priced by the scoop with options for different cones and cups.
Overall, Last Course is a dessert destination to try, and is fair competition for options like Waffle Love, and for those that would like to change things up from the gourmet cookie scene. It's not often that you leave a place feeling like you got what you paid for as well as take-away boxes in hand. Last Course Dessert Studio is open Monday through Thursday, 12 p.m. to 10 p.m., and Friday and Saturday 12 p.m. to 11 p.m. More information about their menu, including vegan and dairy-free options can be found on their website www.lastcourse.com