Animal therapy a healing balm for adults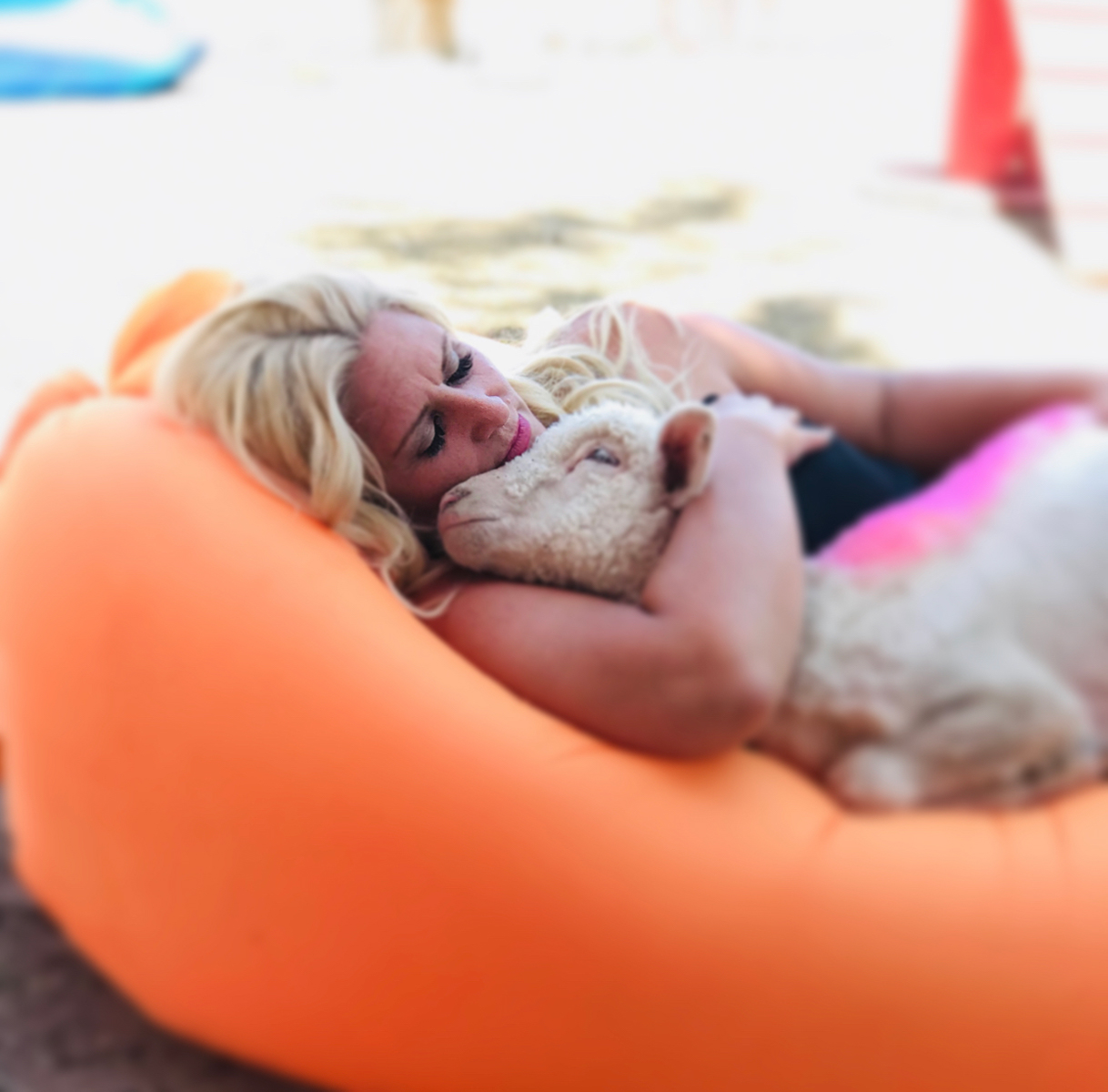 Petting zoos have been popular with young children for generations, but the healing effects of farm animals for adults is relatively new. "Healing with the Homies" is a therapy animal farm in Lehi, bringing rescued goats, sheep, and rabbits together with adults suffering from Post-Traumatic Stress Disorder (PTSD), anxiety, and suicidal thoughts.
"It all started when my friend who suffers from severe PTSD came with me to volunteer at the Cox Family Farm," said Meleana White, founder of Healing with the Homies. The Cox family told White about their program of leasing space on their west Lehi farm to people who want to keep animals, but don't have space. That gave White the idea of farm animal therapy for adults.
"Being around the animals, feeding them and grooming them, had a profound and positive effect on my friend. We really wanted to open this up to more people," said White. Since she started the therapy farm, White has seen military veterans, young adults suffering from severe anxiety and depression, and even a young man who had attempted suicide just a few days before, visiting the farm.
"You can see people light up when they're around these animals," said White. She has found research proving that being around animals lowers blood pressure and releases endorphins, making people more relaxed and happier.
The main source of advertising for Healing with the Homies is through Instagram, @healing_with_the_homies, where people can send messages to White and arrange an intimate appointment with the farm animals. "I think some parents like taking their kids to a petting zoo because they like being around the animals themselves," laughed White. "When the adults come here, they revert to their childhood. The goats come and sit on their laps. They tend to go to the person who needs the most attention and love," White continued.
The animals at Healing with the Homies are often accessorized with fun hair bows or Hawaiian leis, and the sheep have colorful wool, all in an effort to make people smile. White and her friends take the goats on hikes, causing other hikers to do a doubletake. "They're great hikers! They can carry water and they stay right by you. Sometimes dogs bark at people, but goats don't," explained White.
During an appointment at the animal therapy farm, after signing a waiver, clients are introduced to the animals and allowed to sit and relax with them or play for an hour. The Cox Family Farm is in West Lehi in a neighborhood, but it feels secluded. From White's leased portion of the farm, the view of the sunset is great. "People who are having a very difficult time in their life come here and immediately have a light come into their eyes. The positive effect of being around these animals is immediate," said White. "Animals don't judge – they absorb your energy."
Military veterans are some of the clients who can feel the healing effects of animal therapy. | Meleana White

The goats at Healing with the Homies are very friendly. | Meleana White

Meleana White on a hike with two of her rescue goats. | Courtesy Meleana White

A woman connecting with a goat on the Healing with the Homies animal therapy farm.| Courtesy Meleana White

Adults can sit with the animals at Healing with the Homies in west Lehi. | Meleana White