Lehi Pioneers defeat Orem Tigers 24-21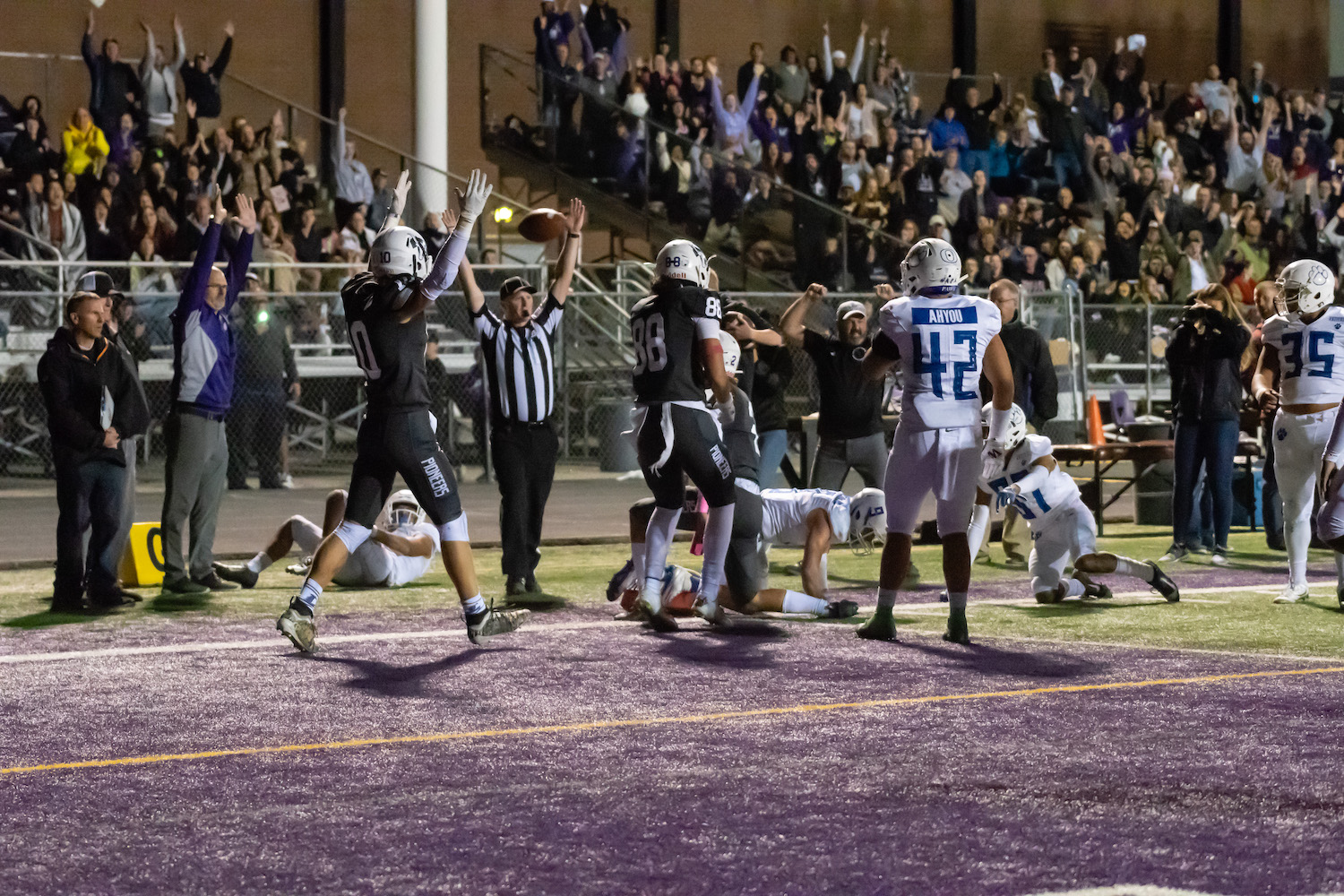 The Orem Tigers came to Lehi on Wednesday, October 16, hoping to leave with a victory and an undefeated record in Region 7. However, the Lehi Pioneers had something else in mind. In a physical, hard-fought game, Lehi defeated Orem, 24-21.
The Pioneers received the opening kickoff and wasted no time getting on the scoreboard. McKay Wall followed his long kick return by catching a 59-yard touchdown pass from Creyton Cooper on the second play from scrimmage. The Lehi defense forced a three and out on Orem's first possession. After a Carson Weber 23-yard field goal, the Pioneers were leading, 10-0. McKay Wall was injured and left the game during Lehi's second possession. Orem answered on their next possession by moving the ball down the field and scoring on an eight-yard touchdown pass.
At the start of the second quarter, the Pioneers were up 10-7. Lehi added to their lead when Jaden Greenwood caught a 23-yard touchdown pass from Creyton Cooper. The Pioneers were up 17-7 and appeared to be in control of the game. The tigers roared back and scored twice in the last six minutes of the second quarter to take the lead, 21-17 at the end of the half.
With six minutes remaining in the third quarter, after forcing Orem to punt, the Lehi offense took possession of the ball on their own nine-yard line. The Pioneers methodically moved the ball down the field with runs by Carsen Manookin and Creyton Cooper. On fourth and goal from the one-yard line, quarterback Creyton Cooper eluded an Orem defender and dove over the goal line for the go-ahead touchdown. This dramatic score proved to be the game winner with the Pioneers holding onto a 24-21 lead for the remainder of the game.
The Lehi defense worked as a disciplined unit, shutting out Orem in the second half. Freshman lineman Bobby Terrell recovered a fumble in the third quarter and had two sacks. Defensive back Christian Moody recovered a fumble in the fourth quarter and sealed the victory with an interception with one-minute remaining in the game. Jacob Vasquez led the Pioneers with 13 total tackles (two for losses), followed by Tyler Ehat with nine (one for a loss) and Christian Wren with eight. Conner Crutchfield had a critical sack late in the fourth quarter. Harrington Ray also had a sack.
Lehi, with a record of 7-3, will host the Payson Lions (3-7) for the first round of the State Playoffs on Friday, Oct 25th at 4 p.m. This is the first year of the new Utah High School Activities Association playoff system using rating percentage index (RPI) statistics. In the new system, all of the teams make the playoffs and are seeded into brackets. In the 5A classification, Lehi is the 11th seed and Payson is the 22nd seed.