Historical Society offers historic puzzles, ornaments and more for Christmas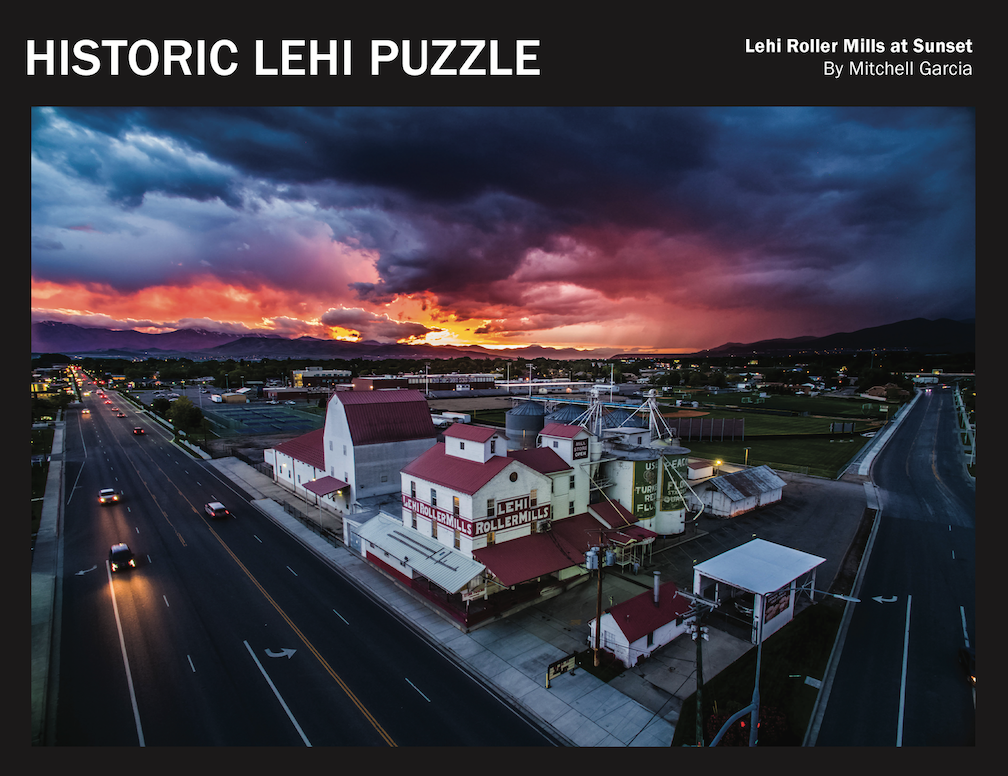 Looking for something new and unique to give for Christmas this year? Make sure to check out The Lehi Historical Society and Archives at 34 E. 100 North. The "store" has puzzles, ornaments, historic books, trading cards, ball caps, and even a shopping bag—all highlighting historical scenes in Lehi.
Items may be purchased at the Historical Society Tuesday through Thursday from noon to 5 p.m. or ordered online by visting the Historical Society's website at LehiHistory.com and choosing "2019 Christmas Store Order Form."
"We are so excited about what we have to offer this year," said Lara Bangerter, director of The Lehi Historical Society and Archives. "Besides the puzzles and ornaments as beautiful works of art, everything has some background information printed on it. The puzzles boxes boast a historical paragraph about the scene as do the backs of the ornaments. These items are perfect gifts for family, friends, neighbors and even those with whom you'd like to share the amazing place from which you come."
New items this year include a shopping bag highlighting local artist, Mary Ann Judd Johnson's painting of Lehi Roller Mills on a stormy night and a ball cap with a leather patch that reads, "LEHI Est. 1852."
"These new items give more personalities ways to celebrate Lehi," said Bangerter. "We are so pleased!"
The new 500-piece puzzles for Christmas 2019 feature:
• A beautiful 2018 aerial photograph of Lehi Roller Mills at sunset by local photographer, Mitchell Garcia. Lehi Roller Mills produced its first sack of flour in 1906 and has been producing ever since.
• A painting of the Thomas R. Cutler Mansion by Johnson. Upon the 1901 completion of the home at 150 E. State, the Lehi Banner reported that it was the "finest residence south of Salt Lake City." Its owner, Thomas R. Cutler, was one of Lehi's wealthiest citizens and general manager of the Lehi Sugar Factory.
• A watercolor of Porter's Place by Kim Gordon, a drawing and design teacher at Snow College. Porter's Place opened in 1971 at 24 W. Main St. and operated for nearly 50 years.
• A Johnson painting of the Memorial Building, known today as the Hutchings Museum. During a Dec. 17, 1918, city council meeting, a "Sailors' and Soldiers' Memorial Building Committee" was appointed. The combined efforts of virtually the entire community resulted in the completion of the first municipal building in the United States to be erected in memory of World War I veterans. The Spanish-mission-styled center included not only a memorial hall, but over the years a Carnegie Library, City Hall, the police station and today, the Hutchings Museum.
• Powell's Utoco at 11 E. Main. The inspiration for this painting, also by Johnson, was a photograph taken at the grand opening of Powell's Utoco in 1955. The station owner, Dean Powell, can be seen next to a gas pump. Four generations of Powells have offered automotive services to Lehi. Today, the venture is known as Powell's Automotive.
Many thanks go to Garcia, Johnson and Gordon for sharing their artwork as well as Lehi City for allowing the Historical Society to reproduce works from its Mary Ann Judd Johnson Lehi City Collection. The Society also thanks John Allred for allowing a copy of his original, "Powell's Utoco," which can be found on display while getting a bite to eat at One Man Band at 1220 E. Main.
There are also a limited numbers of the following puzzles: Lecile Harris, Lehi Round-Up Rodeo Clown; a Lehi Round-Up Rodeo photo; a wonderful turn-of-the-century photo of Lehi Roller Mills; a Johnson painting of Lehi Roller Mills; a color photo of the old Tabernacle of The Church of Jesus Christ of Latter-day Saints; and a Johnson painting of Broadbents store. The new 2019 historic Lehi ceramic ornaments feature various Lehi-focused scenes.
All proceeds benefit The Lehi Historical Society and Archives, which strives to maintain, protect, preserve, and share all documents pertaining to Lehi and its citizens. The Archives is open Tuesday through Thursday from noon to 5 p.m., at 34 E. 100 North. For more information, call 801-768-1570 or email at lehihistory@gmail.com,