Falcon girls hoops win close Region 4 opener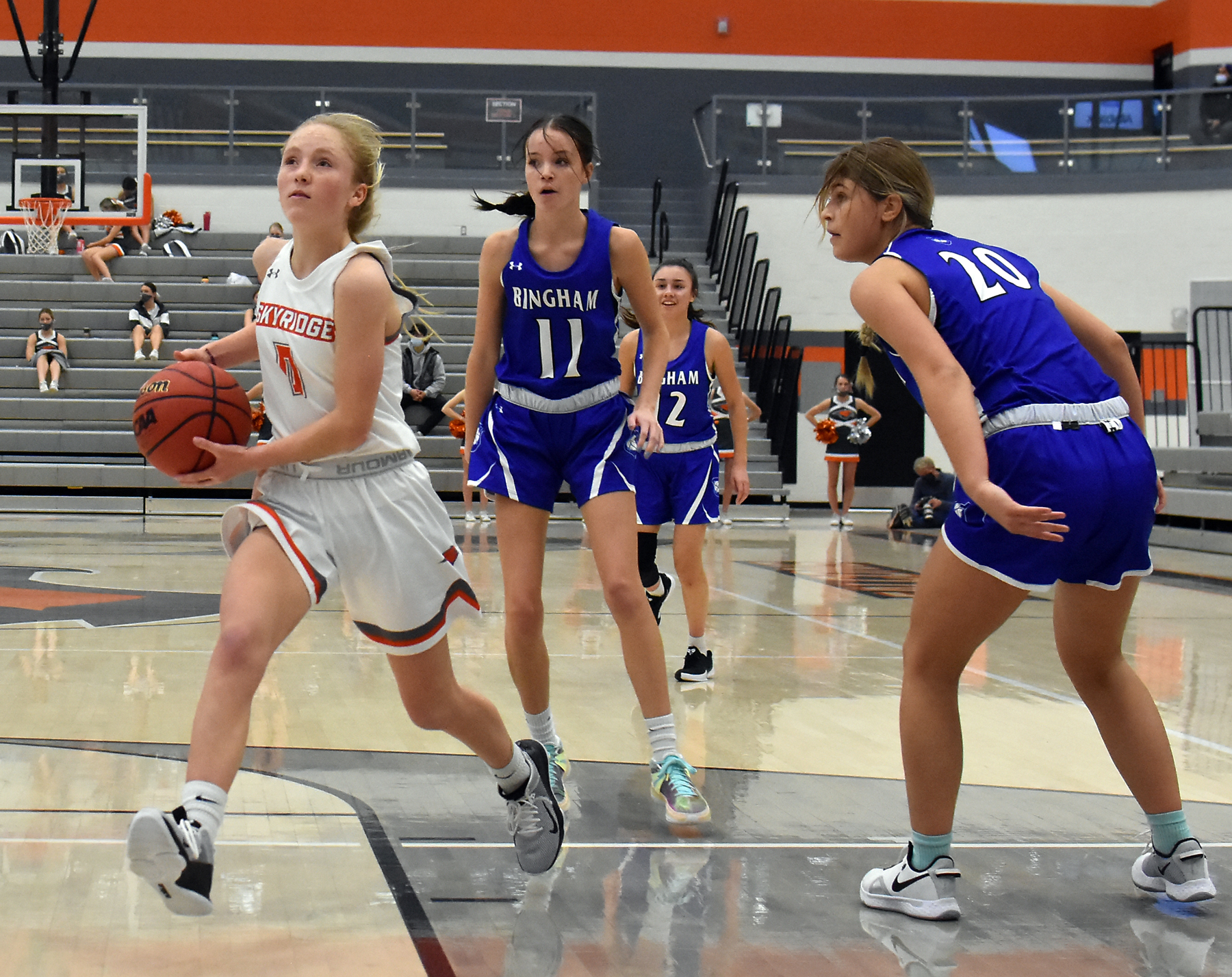 Beky Beaton | Lehi Free Press
The Skyridge girls basketball team earned a home victory over Corner Canyon as the Falcons opened Region 4 play on Jan. 15.
This contest featured wild swings of momentum. The teams dueled even through the first quarter, which ended with the Chargers ahead 10-9.
The Falcons then turned it up on both ends of the floor, holding Corner Canyon to single-digit scoring and basically doubling them up in the next two periods. Entering the fourth quarter, Skyridge enjoyed a 42-27 advantage.
After that however the Falcons couldn't seem to buy a basket as the visitors came charging back. They scored 15 unanswered points to tie the score at 42-all with one minute remaining.
"Cambree Blackham was clutch for us at the end of the game," said Skyridge Coach Shaylee Nielsen. "With one minute to go we were tied and Cambree scored to put us up by two.
"We got a stop, then Cambree was fouled and had a 1-and-1 and made both free throws," the coach continued. That put the Falcon advantage to four points. "Teagan Gray was fouled after that and made both her free throws to go up six and that was how it ended," Nielsen said.
"Ally Blackham led us in scoring with 14 points and she is the anchor for us on defense," the coach added. "She is our leader and makes things happen for us in our zone. Ally had seven deflections and five steals." She also had five rebounds and four assists.
Cambree contributed six steals with four deflections and Gray tossed in a pair of treys and finished with 10 points and five boards. Senior guard Jade Wallace collected six rebounds.
"We didn't have a great start to the game, but I was proud of how our girls stepped up and played hard and executed our game plan," Nielsen said.