Pioneer track team places 7th at Bruin invite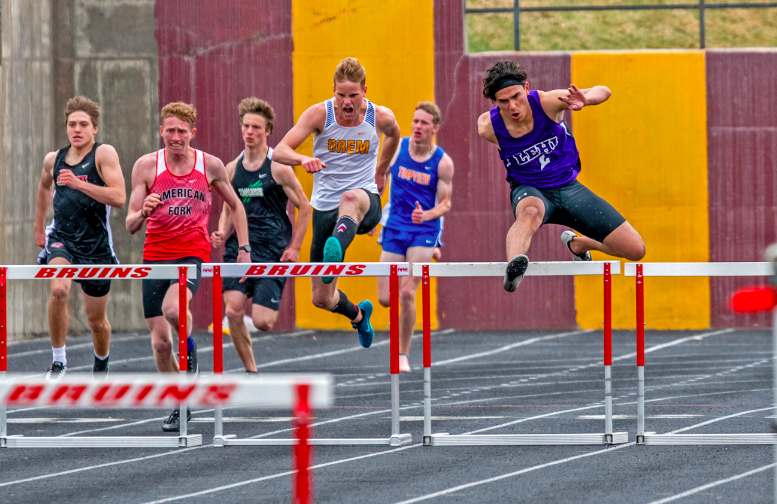 The Lehi track and field team competed with 22 other Utah schools at the Early Bird Invitational at Mountain View High School on March 19-20. The Pioneer boys placed sixth and the girls took eighth, resulting in a seventh-place finish for the combined team.
On the boys side, junior thrower Teague Andersen and senior hurdler Isaiah Tauai were the top point earners for the Pioneers.
Andersen placed second in the discus with a throw of 150-09.50 feet and came in third in the shot put with a heave of 51-00. He has qualified to compete at the state meet in both these events.
Tauai took second in the 300-meter hurdles in 41.40 seconds and ran the third leg for the 4×200 relay team, which finished fifth.
Sophomore sprinter Sarah Ballard and junior thrower Melia Finken scored all the points for the girls team.
Ballard won the 100-meter sprint in 12.31 seconds and the 200m final in 25.73 seconds. She also placed second in the long jump with a mark of 16-05.25 feet. She has qualified for entrance to the state meet in all three of these events.
Finken took seventh in the discus with a throw of 87-04.5 feet.
Meet Summary
Boys Top Finishers. 110m Hurdles: 6-Elijah Earl 16.95; Boys 4x200m Relay: 5-Robert Nelson, Hemaloto Katoa, Isaiah Tauai, Ian Bonsteel 1:35.43; High Jump: 5-Robert Nelson 5-08.00; 300mH: 2-Isaiah Tauai 41.40; Discus: 2-Teague Andersen 150-09.50, 8-Isaac Terrell 113-09.25, 9-Carter Clifton 112-08. Shot Put: 3-Teague Andersen 51-00, 8-Carter Clifton 45-04.00.