Former champion basketball coach becomes first Lehi Legacy inductee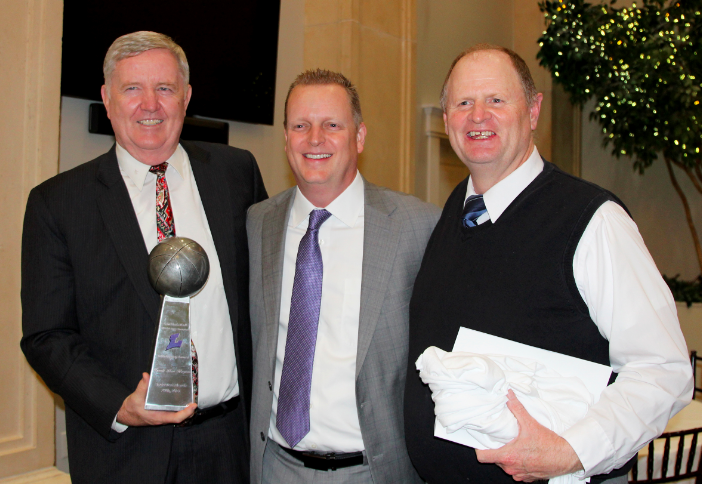 Lehi boys basketball Coach Quincy Lewis launched a Lehi Legacy Awards program on March 29, and former Lehi championship Coach Ken Wagner was the inaugural selection for the historical division of the program.
Lewis announced that each senior who graduates as part of the basketball team will also receive this honor and the custom trophy that comes with it. Six members of this year's championship squad received their trophies following Wagner's presentation.
"There's tremendous history in the Lehi program and we want to bring back some exceptional people and recognize their accomplishments yearly at our banquet," Lewis said in a later interview. "It helps to continue to build our strong tradition and bring the community together."
Lewis called on Lehi school counselor Bob Barnes to introduce Wagner, who was not informed in advance that he was going to be honored. Barnes played for Wagner during four of the coach's five seasons at Lehi.
Barnes said that Wagner helped cement the modern era of basketball excellence at Lehi. After winning the first two basketball titles ever awarded in the state in 1908 and 1909, the Pioneers won again in 1922, but there was a 54-year gap before the next state championship in 1976.
Wagner came to Lehi in 1979. Barnes joined the team that year as a freshman. He explained how the Pioneers under Wagner won Region 9 championships three straight seasons and earned their first state title in 1981 in just his second season as the coach.
In 1981-82, the Pioneers were ranked No. 1 in their classification for the entire season. Barnes said he didn't think he has yet gotten over losing in the first round of the state tournament that year. The Pioneers went on to finish fifth.
With most of their talent intact, the team came back to win the 2A state championship again in 1983 when Barnes was a senior. He and teammate Jeff Burningham were named 2A Co-MVPs. Burningham was planning to assist in Monday's presentation but was unable to attend at the last minute.
Under other coaches who built on Wagner's foundation, the Pioneers went on to win state titles five more times in the next 13 years.
Wagner left Lehi to coach at Dixie State College, where his teams were ranked in the top 20 of the NJCAA four of his five seasons there. He later spent 26 years as the head coach at BYU-Hawaii, where he was named Coach of the Year five times.
Wagner coached Lewis as a player at Dixie during his freshman season. Lewis later got his first coaching job under Wagner as an assistant coach for the Seasiders.
Wagner was given the opportunity to speak following the surprise presentation. He first expressed gratitude for the recognition and said he was had been happy just to be invited to the banquet.
He remembered that when he first started, he had a hard time scheduling a game with American Fork, which was playing in a higher classification at that time (and still is).
He was finally successful in his third season, though the Pioneers lost. The next year, when Barnes was a senior, Wagner said the Cavemen approached the game evidently expecting a blowout. "Bob scored 26 points in the first half and we won (big)," Wagner said. "I think we changed their opinion."
He said he wasn't sure how many people there knew that Lewis's middle name is "Win." "That's what he does," Wagner said. "Maybe not in tennis or racquetball, but basketball is definitely the strong point."
He recalled a moment when Dixie was playing at the NJCAA tournament against a team that had about 5,000 fans in attendance because it was close to their home school. Wagner said this was pretty intimidating, but not for point guard Lewis.
With the score tied and only seconds left on the clock, the opposing defense collapsed on Dixie's big man in the post, leaving Lewis open. He rose up and hit the shot to win the game. Wagner said he'd never heard 5,000 people go silent so quickly.
"As a coach, he has continued with the habits that made him successful as a player," Wagner said.
In his own remarks, Lewis said he learned one of his most valuable lessons his very first day on the job at BYU-Hawaii, when Wagner told him that the very most important thing was to be loyal to the program. He said he's never forgotten that.
"Coach is a humble guy, but he's one of the best coaches and best people I know," Lewis said. "That goes for his wife Lisa too. We're excited to have them with us, and there couldn't be a better choice to be our first inductee."
The six seniors from Lehi's state championship squad who were also honored included players Noa Gonsalves, Tyson Hawkins, Peter Amakasu, Blake Hill and Tyler Trane and manager Kodiak Lewis.