Skyridge cheer claims first 6A sanctioned title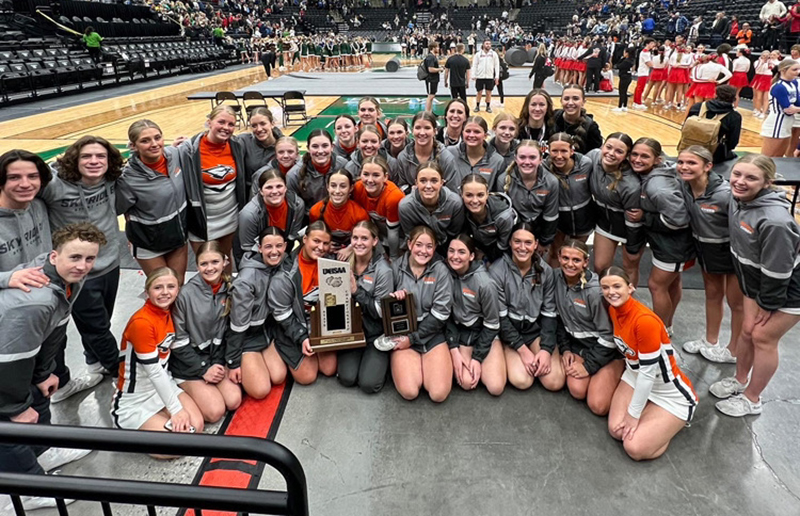 The cheer team from Skyridge High School made history as they locked down the first-ever UHSAA state championship in the 6A co-ed cheer competition on January 27. Separate 6A classification titles were presented for the all-girls and co-ed divisions.
In addition, squad member Bailey Bennet won an individual state award as the 6A Jump-Off Champion.
The Falcon team didn't finish first in any of the five categorieswhere places were assigned in the co-ed division in which they competed, but the combined efforts were enough to earn the coveted prize.
Throughout the state competition, teams were given scores based on four criteria: a combination of stunts and pyramids; jumps, tumbling and dance; cheer for show; and cheer, dance, and fight song criteria, combining for a game time score.
The Falcons finished second in Sideline/Timeout Fight, Sideline/Timeout Dance and the Show categories. They were third in the Combined Game Time scoring and fifth in Sideline/Timeout Cheer.
The powerful Falcon cheer team competed with nerves of steel as they remained calm during the high- pressure competition. They dominated with their athleticism and impressive stunting and tumbling skills.
Gina Romney, Skryidge head cheer coach, said, "Our athletes remained confident and laser-focused throughout the tournament, and we are so proud of them."
Team captain Audrey Avondet said, "It feels rewarding to be the first 6A state champions as a sanctioned sport. We have worked so hard throughout the year to get to this point.
"Our 6 a.m. practices paired with our various after-school events, including cheering at basketball and football games, have given us a good work ethic. This ultimately paid off when we hit the mat at the state competition," she said.
"Our athletes work hard year-round in preparation for competitions," Romney said. "They practice 3-4 times each week and begin each 6 a.m. practice with a mile run. It is grueling work but their love for each other and their determination to succeed make all the difference."
Avery Sharp, team captain, said, "Cheering is hard work. It is a year-round sport. We don't get to just focus on our competitions because at the same time we are also planning for halftimes and cheering at games for the other sports teams.
"All the practices, routine changes, cleaning and all the full-outs we have done in order to prepare were worth it and state was the time to put all our hard work on the mat," Sharp added. "We were ready to celebrate. It just happened to pay off in the best way possible when we became state champions."
The team's strength, agility, and performance skills stood out at the state competition. Their stamina and work ethic aided in their preparation. Sharp said, "Being a sanctioned sport feels like we are finally being recognized for all our hard work. It means so much to finally be recognized as athletes."
"Our kids are coachable, hard-working, and driven and their desire to do their best made all the difference," said Romney.
The Skyridge cheer squad also has assistant coaches Paige Gerber, Abby Bradley and Zach Wily. Hannah Worthen and Danny Jacobsen are additional team captains.
"As a captain I am beyond excited for my team. I have watched them grow into the upstanding team they are today and am so proud of what we have achieved together," said Avondet.