Lehi's Gardner wins second runner-up for state FFA award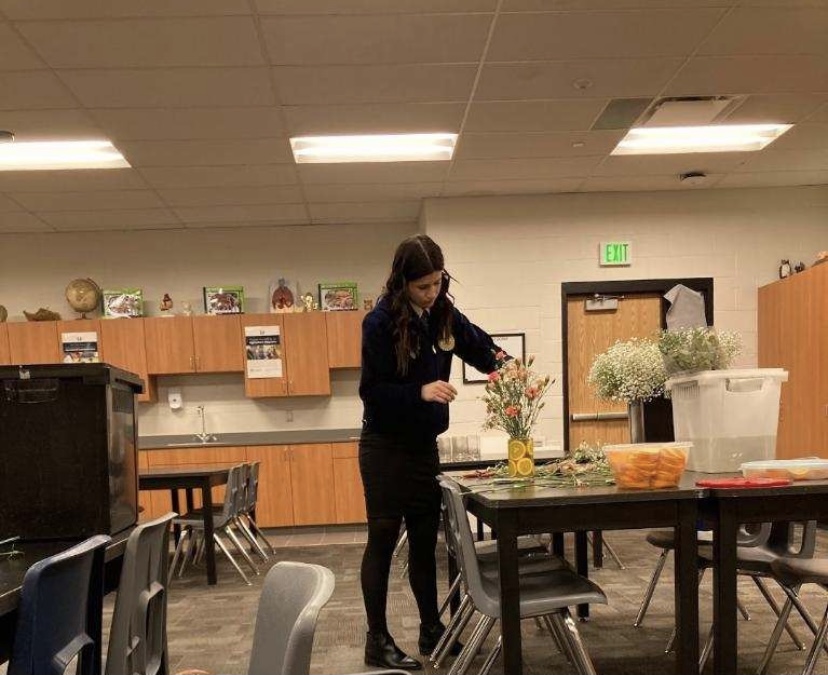 Jillian Rose | Lehi Free Press
Kira Gardner, a local teen and business owner, has won second runner-up in Utah for the Star Green Hand Award through Future Farmers of America.
Kira's journey into FFA started with a willingness to try something new. "I learned that FFA is not just for cowgirls and cowboys. I did not grow up on a farm and still wear my Jordans." Through the helpful support and guidance from her teachers, Miss Hopkins and Mr. Smith, Kira developed an interest in floral design, leading to her starting her own business and her Star Green Hand Award.
"I make dance flowers [corsages] and monthly floral arrangements," said Kira. Her business, "Kira's Bloom and Blush Flowers," has been successfully open for a year and a half. Kira's business did not come without a hitch or twoinitially. "I started growing my own flowers but realized I didn't have enough resources yet." Kira used this example and many others to illustrate the ups and downs of starting your own business in her essay submission for the state award.
Kira's emotional strength is even more remarkable than her business and FFA win. "I was going through a really tough time being bullied," she shared. "I randomly walked into Miss Hopkins's classroom and asked about starting a business, and she told me about a grant I could apply for. I got started right away." Kira took a painful experience and turned it into something quite literally beautiful, showing strength beyond her years.
Reaping the rewards of her hard work, Kira has experienced great excitement, particularly upon discovering that she was in the top five in the FFA state contest. She has also learned a few new things. "I learned how to learn from my mistakes. I had to learn how to watch my money and be profitable. I brainstormed with my parents and teachers on ways to sell my flowers affordably and profitably. I have learned to take something I enjoy and make it into my job."
Since being recognized at the state level, Kira has some big goals ahead. "This award pushes me to work even harder on my business and keep thinking of ways to build it up. I looked at the first-place winners and evaluated: How can I do even better?"
Beyond the marketability of her professional life, Kira has also created lifelong friendships through FFA. "The girls, boys, and teachers will be in my life forever. They got me through a really hard time."
Kira's mother, Helen Gardner, is equally impressed with the outcome of Kira's involvement. "When Kira first told me she wanted to do FFA, I thought, why? However, I have learned that FFA is so much more than farming. Kira took third in a speaking competition within FFA. It helps teens develop leadership skills and gives them tools to know how to speak. They hold job interview competitions and are the largest youth-ledorganization in the country."
Congratulations to Kira and her big win. To support Kira's growing business, you can access her Instagram @KirasBloomandBlushFlowers.