Remodeled Kohler's launched as Pioneer Market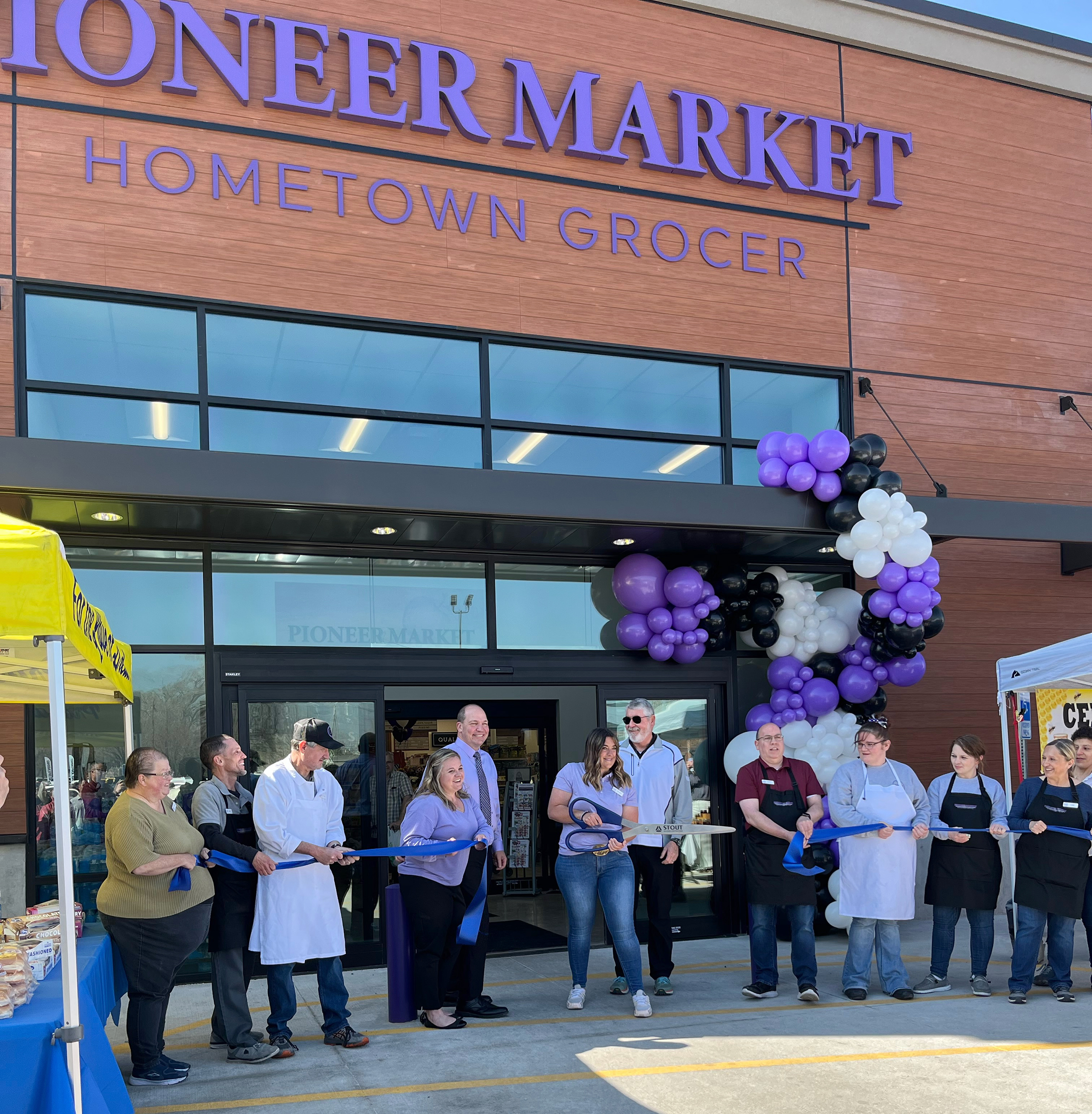 The former Kohler's grocery store at 300 E. Main Street in Lehi had a grand opening on Wednesday (April 26) for the remodeled store rebranded as Pioneer Market under new ownership.
Excitement was in the air as distinguished guests, city officials, employees and shoppers gathered in front of the newly renovated store. Lehi's own Johnny Revill served as Master of Ceremonies and in his inimitable way, introducing those involved in the program.
The Lehi High School Jazz Band serenaded the crowd before the program began. They were all dressed in purple attire that matched the logo and sign on the new store front.
Students from Utah Military Academy presented the colors and Miss Lehi, Savannah Brown, sang a stirring rendition of the National Anthem.
Steve Miner of Associated Food Stores gave a brief history of the store. He recalled that former owners, Doyle and Lily Kohler, built the first store in four months and were in business for 53 years before selling to Cecil Shern, owner of Cecil's Pharmacy located within the store.
He acknowledged that the building's design was by Design West Architects and the construction was done by Stout Construction. The seven-month renovation was challenging as the store was in operation during the remodeling process.
Mayor Mark Johnson complimented Shern, all the participants in the event and the excitement in the community for the long-standing commitment to Lehi by Kohler's and now Pioneer Market.
Shern, the store's new owner, expressed his appreciation and gratitude to his family, management team, Associated Food Stores and many of the local venders who have kept the store stocked with fresh products grown in Lehi or close by.
He said he undertook the renovation because, "I wanted the store to be fresh and new with a home-town feel."
The new Pioneer Market will offer a drive-through pharmacy, an exciting new deli with the very best ready-to-eat foods, an enlarged floral department, and other newly updated displays with restrooms, offices, and a break room for the staff.
A long-time Lehi resident and regular customer said, "This is such a beautiful new store, and I still can enjoy the quiet, unhurried, friendly environment when I come here to shop. I find just what I need and don't need to spend a lot of time looking for it."
Editor's note: Kohler's and now Pioneer Market have been corporate sponsors of The Lehi Free Press since the paper was revived in 2015. We couldn't have survived without their support.