Falcon football falls to Cavemen in OT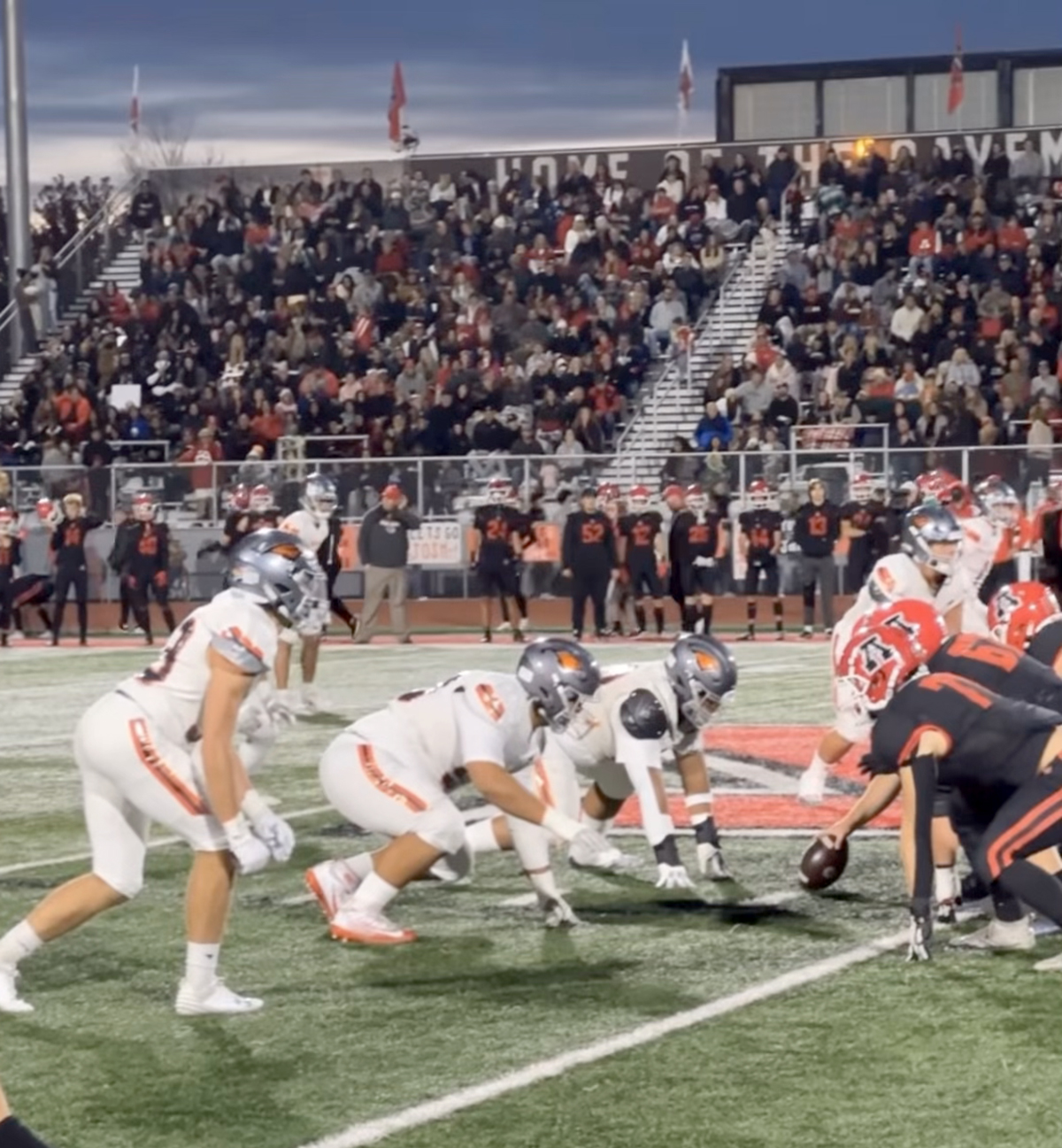 In a battle for Region 3 supremacy between two powerhouse programs, the Skyridge Falcons fell to the American Fork Cavemen in a 34-27 overtime thriller on Friday (Oct. 13).
The Falcons started off slow, failing to move the ball with effectiveness and leaving the defense on the field exposed. American Fork put two touchdowns on the board and heldSkyridge scoreless in the first quarter.
The Falcons managed a touchdown in the second quarter when senior quarterback Jackson Stevens connected with senior receiver Trent Call on a 45-yard pass, but the PAT was wide left. The Falcons ended the first half trailing by eight.
The Falcon offense scored late in the third quarter with a 6-yard run by junior running back Zaden Selu. The energized Falcons tied up the game in the fourth quarter on a screen pass to senior running back Brett Buhle with Call catching the two-point conversion.
Call scored the final points of regulation play on a seven-yard reception with junior kicker Foxton Dovey successfully completing the PAT.
The Skyridge defense pressured the Caveman quarterback throughout the game, registering several sacks and QB hurries. The stout defensive front managed to disrupt the American Fork offensive flow.
However, the Cavemen scored first in overtime play and theirdefense came up with a pick to end the Falcon chance to extend the game.
Health has impacted the Falcons for the last several weeks as the team has suffered many injuries. Skyridge head Coach Justin Hemm said, "Hopefully we will have most of the starters back for the playoffs with full strength and ready to go.
"It was a tough loss tonight. I thought our boys battled really hard and executed with precision down the stretch to put us in good position. We need to continue to clean up things a little bit to be ready for the playoffs," added Hemm.