Lehi brothers making the most of golf opportunities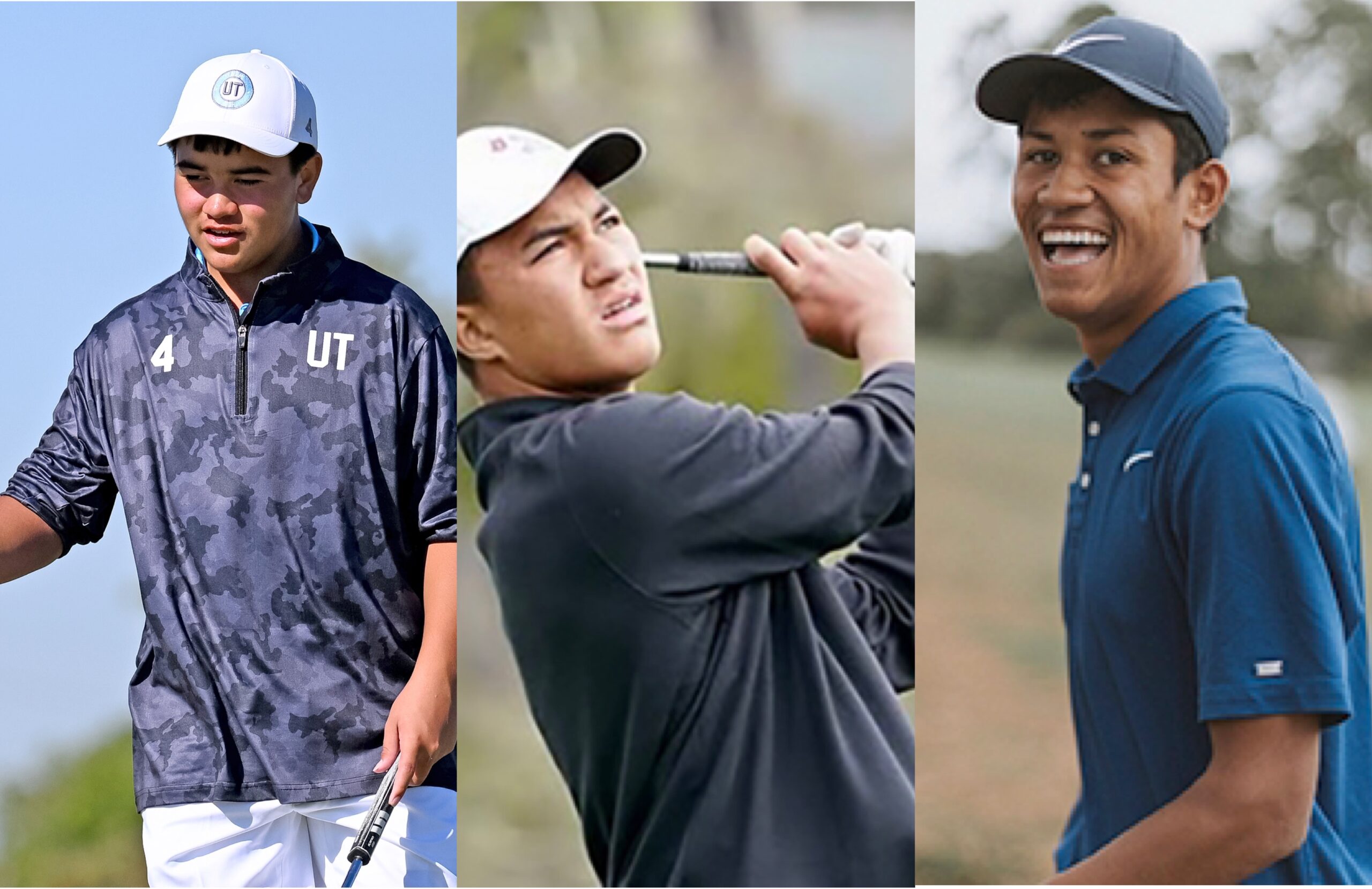 If you have heard the name "Ofahengaue" in local golf circles, you'd have plenty of company. What you may not know is that golf is an extended family's passion reflected in multi-generational achievements.
Toatele Ofahengaue, usually called Toa, is a junior at Lehi High School who has been playing on a couple of national circuits and most recently won the APGA Cisco Jr. Series at Jimmy Clay Golf Course in Austin, Texas on Oct. 4.
He earned a four-stroke victory with a -5 two-day score of 139, outdistancing top-5 golfers from California, Florida, Texas and South Carolina – significantly, all states where golf can be played year-round.
Two older brothers have also made a name in the sport. In 2021, Pioneer then- junior KJ Ofahengaue capped his spectacular season by tying for second place in the individual medalist standings at State. He was a four-year letterman at Lehi and is now a member of the golf team at Utah Tech.
Also that year, then-senior Helaman Ofahengaue tied for 20th place at State. He was only available part of the time during the season because he was also a starting varsity player on the football team. He had a significant impact on a state championship squad even though it was his first year playing that sport.
Toa, then a freshman, tied for 26th place at State in 2021 as well and the three brothers helped Lehi to earn a fourth place in the 5A golf team standings at the state tournament.
Parents Kelepi and Sara Ofahengaue – a former BYU golfer –have a younger son too, Jordan, who's a member of the locally-based squad that won the PGA Jr. League Championship two years ago in the 12U division and finished second at the national tournament this year in the 13U class.
Also on that team is cousin Jraice Finau, the 11-year-old son of six-time PGA Tour champion Tony and his wife Alayna Finau.Toa was able to watch both boys and their teammates compete in their national tournament after wrapping up his Cisco Jr. win.
Kelepi played college football but has been fully supportive of his sons as they have pursued their mother's sport of emphasis. The family has also been able to tap into the PGA's efforts to develop promising young golfers from underrepresented communities.
Both KJ and Toa played this year on the Steph Curry Underrated Golf Tour. According to the organization's promotional materials, "the game of golf is for everyone, but we know that there is significant work to be done to make it a just, fair and inspiring sport for all.
"We are building that foundation from the bottom up, offering young, overlooked golfers special programming experiences including an ongoing speaker series and networking events with brands and corporations, allowing them to understand what it means to make connections and build a successful career.
"We are dedicated to enacting real change by creating lanes for youth from underserved communities to gain access to all of the opportunities the sport of golf offers." In the final regular season standings, KJ finished second and Toa was fifth out of 39 players.
"I have loved the opportunity to play some amazing courses," Toa said. "He (Curry) has an amazing resource for education with his academy. We've been blessed to have the opportunity to be part of this tour."
Kelepi added that he'll be back on that tour next year as well, having earned an exemption based on his merits. He finished eighth in the 2023 Curry Cup Championship in California in August.
"He is now focused on the APGA Cisco Jr. series, from which the overall winner will get to play in the APGA Farmers Insurance open at Torrey Pines," said Kelepi. "He also qualified through merits to the PGA Pathway Programs.
"All of these opportunities would not be possible without the Jeff and the Cameron Champ Foundation, the Steph Curry Tourand the APGA tour and so many of their sponsors," Kelepiadded. Cameron Champ is a PGA Pro who partnered with his father Jeff to form their organization.
"The Cameron Champ Foundation is committed to unlocking the potential in and transforming the lives of youth from underserved and underrepresented communities," says the mission statement. The principles the group espouses are these:
• Sport is a universal language that taps into young people's passion while instilling values of honesty, grit, teamwork and healthy living.
• Golf has the power to change lives not only through competitive success and college scholarships but also as a valuable life skill that can open doors both social and professional.
• Education is the key to success for all young people and the most important tool society has for closing the achievement gap for young people of color.
• STEM skills are essential for the modern workforce and open up a variety of career opportunities in fields where minorities are vastly underrepresented.
• Mentors from similar backgrounds help young people imagine what's possible by demonstrating core values, professional possibilities, the power of empathy, and the importance of giving back.
• Nutrition and exercise are the foundation for a happy and healthy life.
Toa calls these programs "amazing opportunities" that have helped him develop his game as well as become a more well-rounded person. They also helped him achieve another goal for this year, to make the cut at the PGA Jr. National Championship.
"I didn't play high school golf last year because of my travel schedule," Toa said. "This year I played in four region matches. I won two and took second and fifth in the other two." Hefinished in silver-medal position in the region standings.
He missed the region meet because of his tour commitments but was available to play in the state tournament and tied for 12thplace.
"My game is coming along and I like the way it's trending," Toa said. "I've been fifth in the world before COVID and took a little time off to fix a few things.
"I've been blessed to be around my cousin Tony Finau and Tele Wightman (PGA Pro at Thanksgiving Point and coach of Jordan's team) who are great examples and role models to me," he concluded.