Pioneers rock Davis enroute to Rice-Eccles Stadium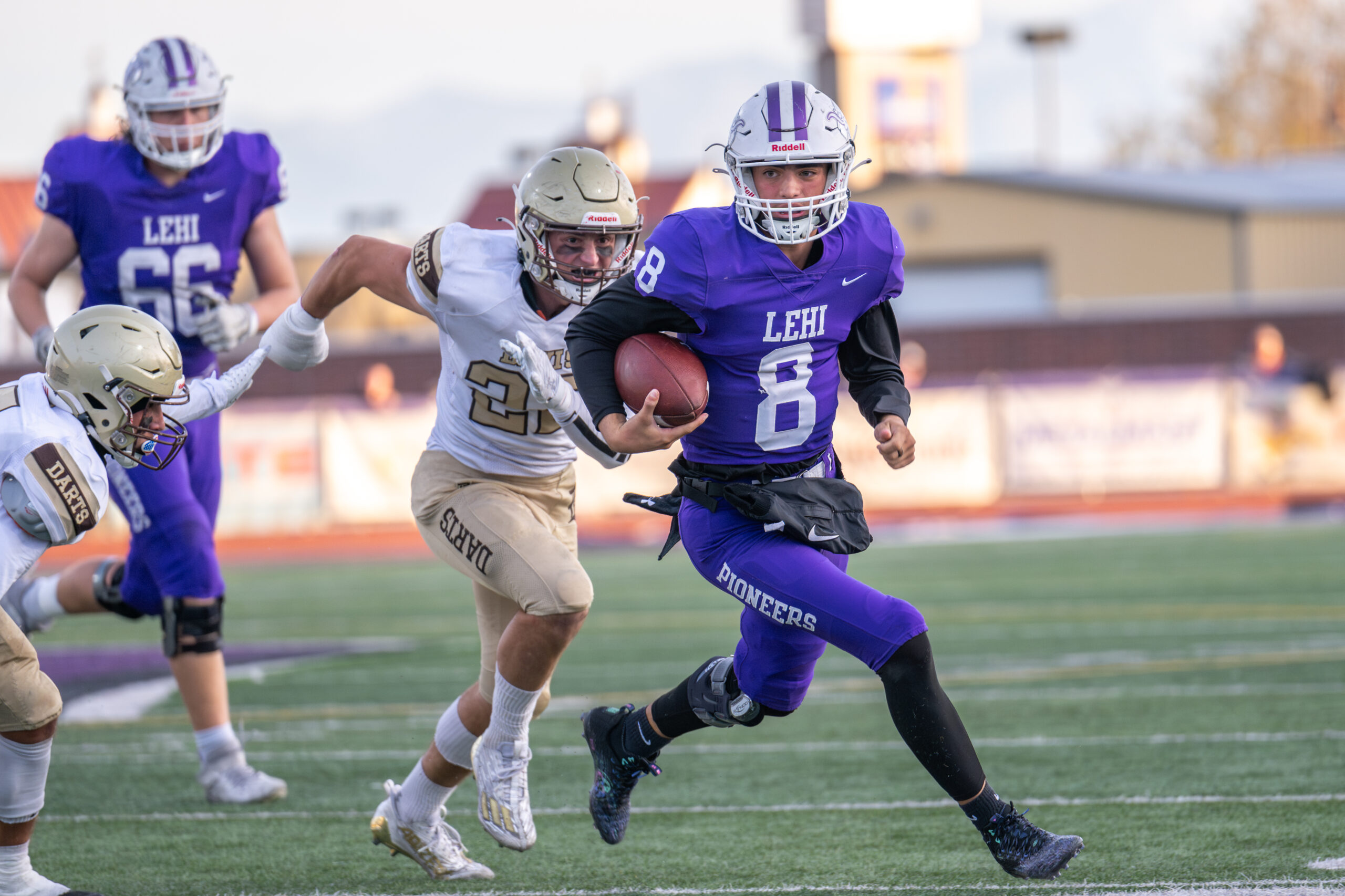 After falling behind No. 6 Davis for a short time at the end of the first quarter, the No. 3 Lehi High School football team scored six unanswered touchdowns in the middle two periods on the way to a 52-21 drubbing of the Darts in the final Pioneer home contest of the season on Friday (Nov. 3).
Lehi (10-2) now moves on to the 6A state semifinals at the University of Utah's Rice-Eccles Stadium. The Pioneers will face No. 2 Corner Canyon (11-1) on Friday (Nov. 10) at 2:30 p.m.
Davis got the ball first to start the quarterfinal matchup and took a big gamble by going for it on fourth down near midfield, but Lehi held and took over possession at the Dart 46-yard line.
The drive stalled after a couple of chunk plays by senior tight end Grayson Brousseau and senior running back Kolose Latu, so the Pioneers elected to try a field goal and junior kicker Gavin Fenn split the uprights with room to spare for a 52-yard make with 5:45 left in the initial quarter and a 3-0 lead.
The Darts responded with a touchdown to finish their next drive and had a 7-3 advantage with 2:47 remaining in the period.
Their lead didn't last long. Eight seconds into the second quarter, junior quarterback Jett Niu hit sophomore running back Devaughn Eka for an 18-yard touchdown to push Lehi aheadagain 10-7.
The Pioneers then combined an inspired defensive effort with an efficient offense to rack up five more touchdowns while keeping Davis out of the end zone.
Junior wide receiver Mays Madsen scored at the 5:33 mark with a 19-yard toss from Niu. After a poor punt by the Darts, Lehi got the gift of a short field. Kolose Latu converted on the chance by taking the ball in from the 1-yard line with 2:29 left to the break to make it 24-7.
In the third period, Niu carried the ball across from the 2-yard line to finish the first Pioneer possession with just 1:31 gone off the clock. Brousseau scored on a 32-yard reception at the 5:29 mark and Niu added an 8-yard rushing touchdown with 2:15 left in the quarter.
Davis managed to score two later touchdowns with a lot of Lehi reserves on the field but it was the Pioneers who completed the tally when senior defensive back Boston Fabrizio picked off a Dart pass and returned it 23 yards for the final touchdown of the evening.
For more photos and details on this game, check out the Nov. 9 issue of the Lehi Free Press.