Planning Commission discusses TOD's and sign code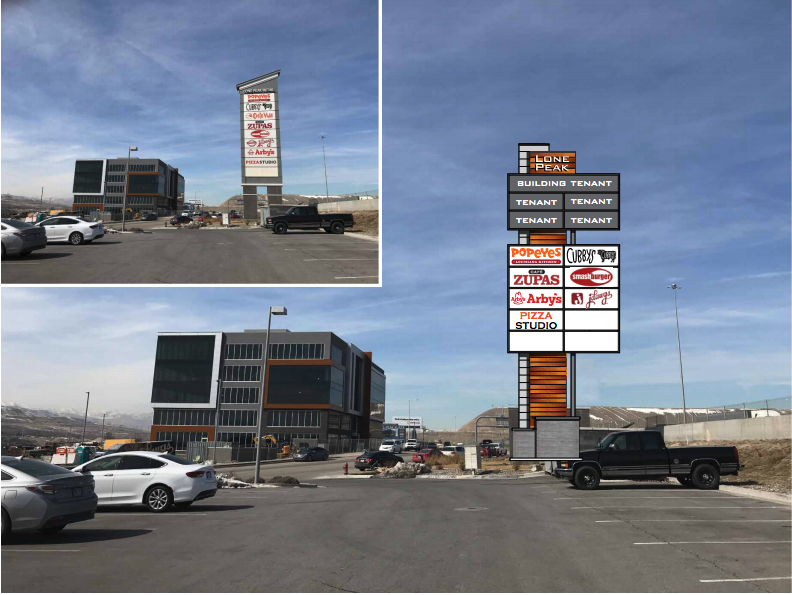 Commission approves height increase for sign, despite current code.
Seven Planning Commissioners met on May 24 in City Council chambers to discuss and approve or deny seven agenda items. The items generating the most comment was WPI's request for Conditional Use approval of a multi-tenant pylon sign for the Lone Peak office/retail project asking for additional sign height and size located at 3750 North Thanksgiving Way in a commercial zone.
The request was generated as a result of the expansion and re-construction of roads and freeway in and around Thanksgiving Point. The sign will have to be removed and rebuilt in another location.
The discussion centered on the request for additional height for the sign. The request was for a non-conforming exception to the current code of 70' feet in height. Commissioner Abram Nielsen was adamant the size of the sign not be increased. "We need to make the city aesthetically pleasing, not just safe," commented Nielsen. He added, "We don't want giant things and non-conforming things. How much signage do we need? We are trying to get rid of non-conforming but then we allow con-conforming projects. We need to do one or the other."
The suggestion was made for two smaller signs, but this idea was not popular with the commissioners. Chairman Peterson stated, "The request is not anymore obstructed than the present. One sign is better than two."
City attorney, Craig Chambers was asked to comment on the request. "The code is clear about what can and cannot be done. The legal standpoint is "In no case will height be higher than 70'. We need to stay within the boundaries of the code unless applicant shows reasons for the exception."
A motion was made to allow the exception and was approved with 6 yesses and 1 no.
The other item resulting in much discussion was Lehi City's request for review of an amendment to the Lehi City Development Code Chapter 38, Transit Oriented Development Zone to include minimum densities, pedestrian access and to address phasing. The code needed to be refined to encourage TRAX to come here. Commissioner Matt Hemmert said, "Let's make this a true TOD." Commissioner Nielsen said, "We need to balance open space with density." There was a motion to table this request for further study and discussion. The motion passed unanimously.
Five additional items were approved by the Planning Commission:
Public hearing and consideration of Dr. Michael Cook's request for approval of the Cook Orthodontics concept, a dental/medical building to be located at 2284 West Main Street in a Commercial Zone.
Public hearing and consideration of Chris Huntsman's request for approval of the Sorensen Office Building concept located at 444 West Main Street in a Mixed-Use Zone.
Consideration of Elizabeth Coles request for final approval of the Triumph 3200 site plan, a 21.34- acre commercial development located at approximately 1600 West 3200 North in a Business Park zone.
Public hearing and recommendation of Lehi City's request for review of an amendment to the Lehi City Development Code Chapter 1, Title, Authority and Purpose and Chapter 30 Vested Rights, to clarify the City's policy on vested right and pending legislation.
Public hearing and recommendation of DR Horton's request for review of the Cold Spring Ranch HDI preliminary subdivision a 151-unit development located at approximately 3600 West 700 North in a Planned Community zone.