Round-Up Art Show winners named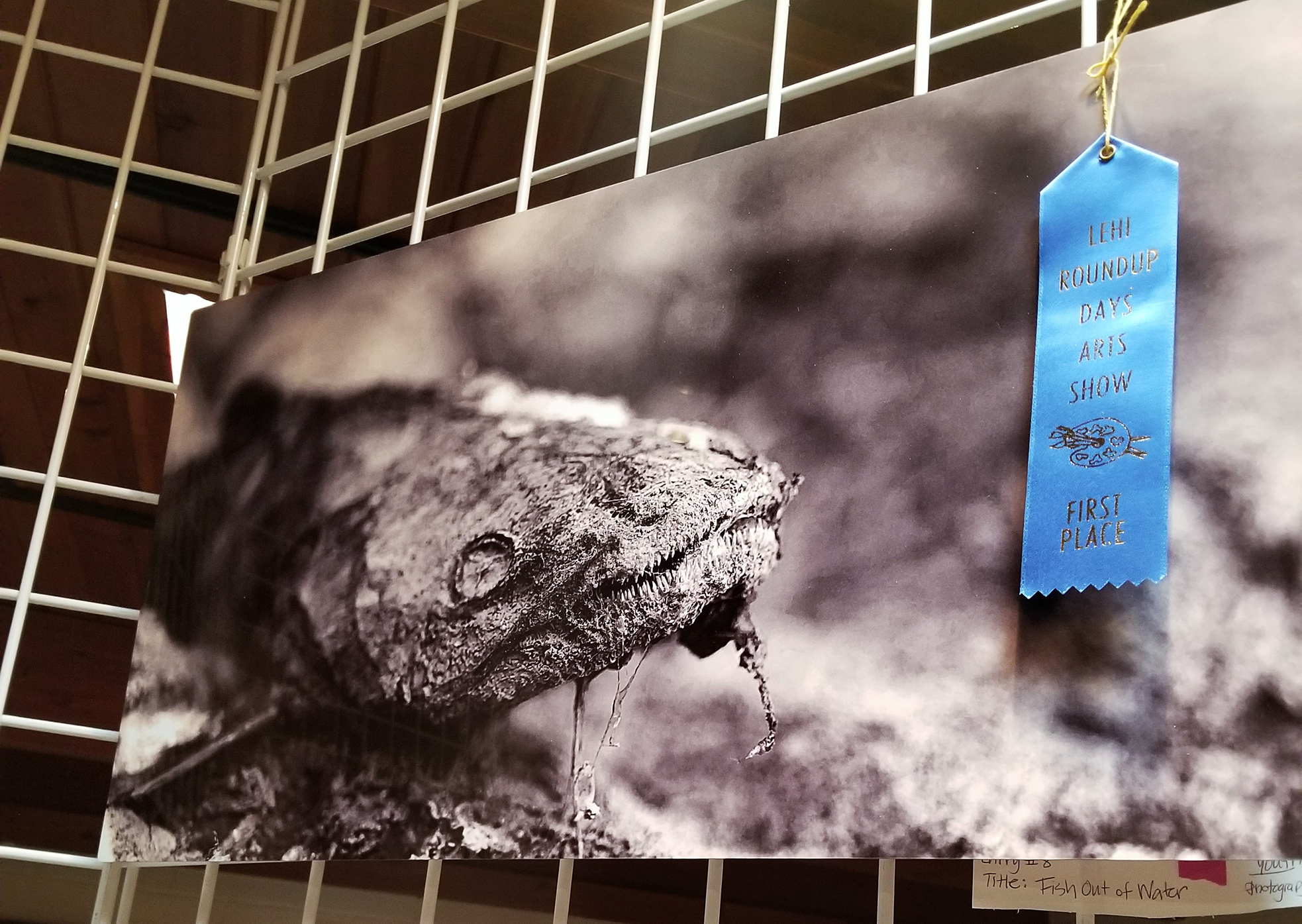 The Lehi Round-Up Art Show is underway at the Arts Center (685 North Center Street) after submissions were judged on Monday evening, June 25. Winners were announced at a small reception and the art will be on display from 6 p.m. to 8 p.m. each evening until Saturday, June 30.
Once again, Daniel Rencher was a big winner in the Adult Drawing category, taking home the first-place ribbon for a self-portrait and a second-place ribbon for a drawing he did of himself and his best friend in their prom tuxedos. Rencher has been a winner at the Round-Up Art Show before, but this was his first year in the adult category. Rencher, a Lehi High School graduate, was assigned to draw a self-portrait for his Beginning Drawing class at BYU earlier this year. He worked from a photo and was pleased enough with the results that he decided to enter it in the art show. Rencher is studying graphic design at BYU.
Jake Allen took home the second-place ribbon for his painting of his younger brother, Willis. "I chose to draw my little brother because we have a special bond, I guess," explained Allen. In the painting, Willis is green, but Allen joked that it isn't because his little brother is a Hulk.
In the adult photography category, married couple Rebecca and Spencer McGee took home three out of the four ribbons. Rebecca McGee is a professional photographer and her winning submission was a close-up of a cicada on a tree. "We were camping in Spanish Fork Canyon and we saw this tree covered in cicadas. It was unusual to see so many of them – we're more used to hearing them. The blue in the wings was just breathtaking!" said Rebecca McGee. She used her macro lens to get very close to her winged subject.
Spencer McGee took third place for his up close and personal photo of a snail they saw on their porch. "We're all about bugs this year," laughed Spencer McGee. Rebecca took home an honorable mention ribbon for an emotional photo she took of her cousin at his father's funeral. "I got his permission to submit this photo – it's very personal. I was going to enter a different photo, but when I got here and saw there were no black and white submissions, I had to put this one in. It's my favorite – it was a raw and beautiful moment," said Rebecca McGee.
Winners of the Lehi Art Center Round-Up Art Show:
Adult Photography:
1st  Rebecca McGee "Cicadas"
2nd Wendhy Jeffers "There is beauty in the end"
3rd Spencer McGee "Snails
Adult Painting
1st Emily Thomas "Marketplace"
2nd Gillian Bass "Pool Table"
3rd Nancy Lewis "Frank's Parade"
Adult Drawing
1st Daniel Rencher "The Artist"
2nd Daniel Rencher "Times of Joy"
Adult 3D
1st Ryan Jeppson "Christmas Nativity"
Youth Photography
1st Sterling Brinkerhoff "Fish out of water"
Youth Painting
1st Alexia Anderson "Curiosity"
2nd Alexia Anderson "Colossally Calm"
3rd Laurel Cerroni "Power and Strength"
Youth Drawing
1st Owen Stalder "Majestic Breath
2nd Jake Allen "True Color of Willis"
3rd Braylin Jones "Back Then, Back When"
Youth 3D
1st Jacob Shurtleff "Alebrije Folk Art"
2nd Luman Shurtleff "LDS Payson Temple"
This slideshow requires JavaScript.