Miss Lehi 2018 and attendants crowned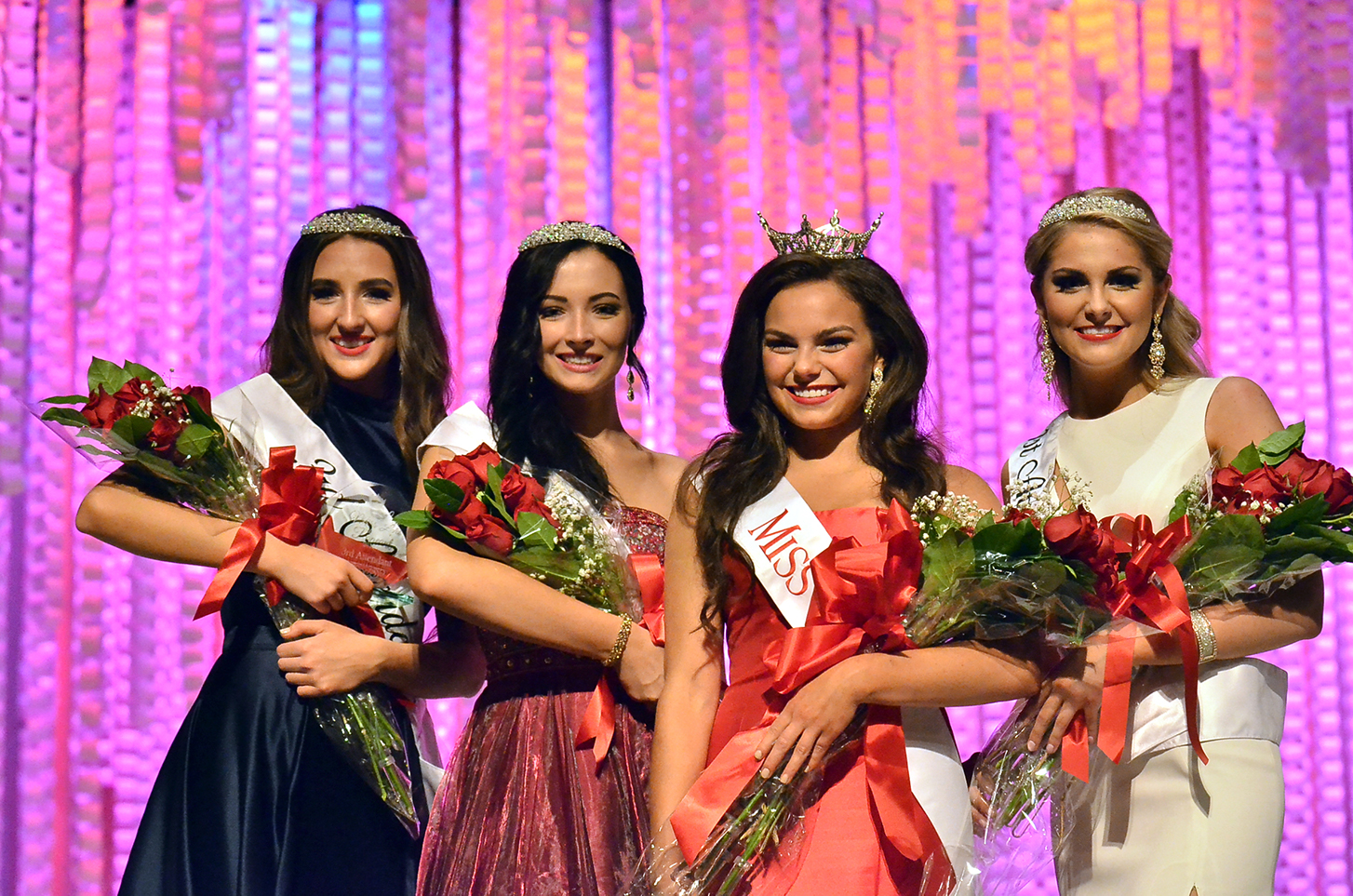 Saturday, June 23, the Miss Lehi Pageant was held at Lehi High School at 7 p.m. The theme for the night was, "Let's Go Girls," and 10 contestants vied for the title of Miss Lehi 2018. After competing in personal interview, swimsuit, talent, onstage question, and evening gown, Aliese Bumgardner was crowned Miss Lehi 2018, Victoria Greenwood her first attendant, Lexi Jensen her second attendant, and Lindsey Larsen her third attendant.
Bumgardner is 20 years old and a graduate of Lehi High School. She has just finished her second year at Snow College and will be attending Utah Valley University this fall with hopes of getting accepted into the nursing program. She performed "El Cumana" on the piano for her talent, scooping up the talent award for the overall highest talent score. She wore a decadent taffeta gown in red for the evening gown portion which complimented her dark brunette curls.
Bumgardner is an accomplished pianist, winning multiple awards including the overall talent award at Miss Utah's Outstanding Teen. She has performed in Las Vegas as well as many other places. When asked how she felt about winning, she stated, "I am so happy. I have been working for this for a long time and I am very excited to represent Lehi City." Her platform is "Fit Kids, Healthy bodies, healthy minds."
Her first attendant, Victoria Greenwood, is 19 years old and is currently attending Brigham Young University. She also performed the piano for her talent playing, "Prelude in C# Minor." Her evening gown was white with cutouts and she wowed the crowd with her onstage question about fake news.
Lexi Jensen, Miss Lehi second attendant, is 21 years old and attending Utah Valley University. Her platform addresses opioid abuse and overdose awareness. She performed The Greatest Showman's, "Never Enough," for her talent and also scooped up the most tickets sold award.
Third attendant, Lindsey Larsen is 17 years old and currently attending Skyridge High School. Her platform is about STEM education. She performed a classical ballet routine for her talent with a traditional hoop tutu in black and colored detailing. Larsen also won the swimsuit award, the directors award, Miss photogenic, and the second place community service award.
18-year-old Emily Anderson won Miss Congeniality and Zoey Evans won the sponsorship award. 21-year-old Markell Woolstenhulme won the "Miss Miracle Maker" award by raising the most money for the Children's Miracle Network. Sierra Conrad won the first place community service award. There was over $10,000 awarded in scholarships and prizes at the pageant.
The evening was filled with musical numbers by both Johnny Revill and Kadee Jo Jones, Miss Lehi 2017, who acted as emcees for the evening. Kadee Jo and her sister, Kassadee competed in the annual lip sync battle performing White Christmas's, "Sisters." Johnny Revill performed a number inspired by the Walmart Yodeler, and later on performed, "Bring Him Home," from the musical Les Miserables.
The outgoing Miss Lehi, Kadee Jo Jones, commented, "If I have learned anything from being Miss Lehi, it's that every number has a name, every name has a story and every story matters. The people of Lehi are more than just numbers, they are people with skills and stories that make up the fabric that is Lehi City. From learning your stories and names, I have come to know that Lehi truly is the best place to live, and being your Miss Lehi has been my absolute honor."
Director Kate Daly also commented that this years group of contestants has been closer than ever. Hannah Norton, a contestant in the pageant stated, "I've been doing pageants for almost seven years and I have never felt as close to the contestants than in this pageant."
The Lehi Free Press wishes a heartfelt congratulations to the contestants and winners.
This slideshow requires JavaScript.