Ned Ledoux fills Wines Park with record-setting crowd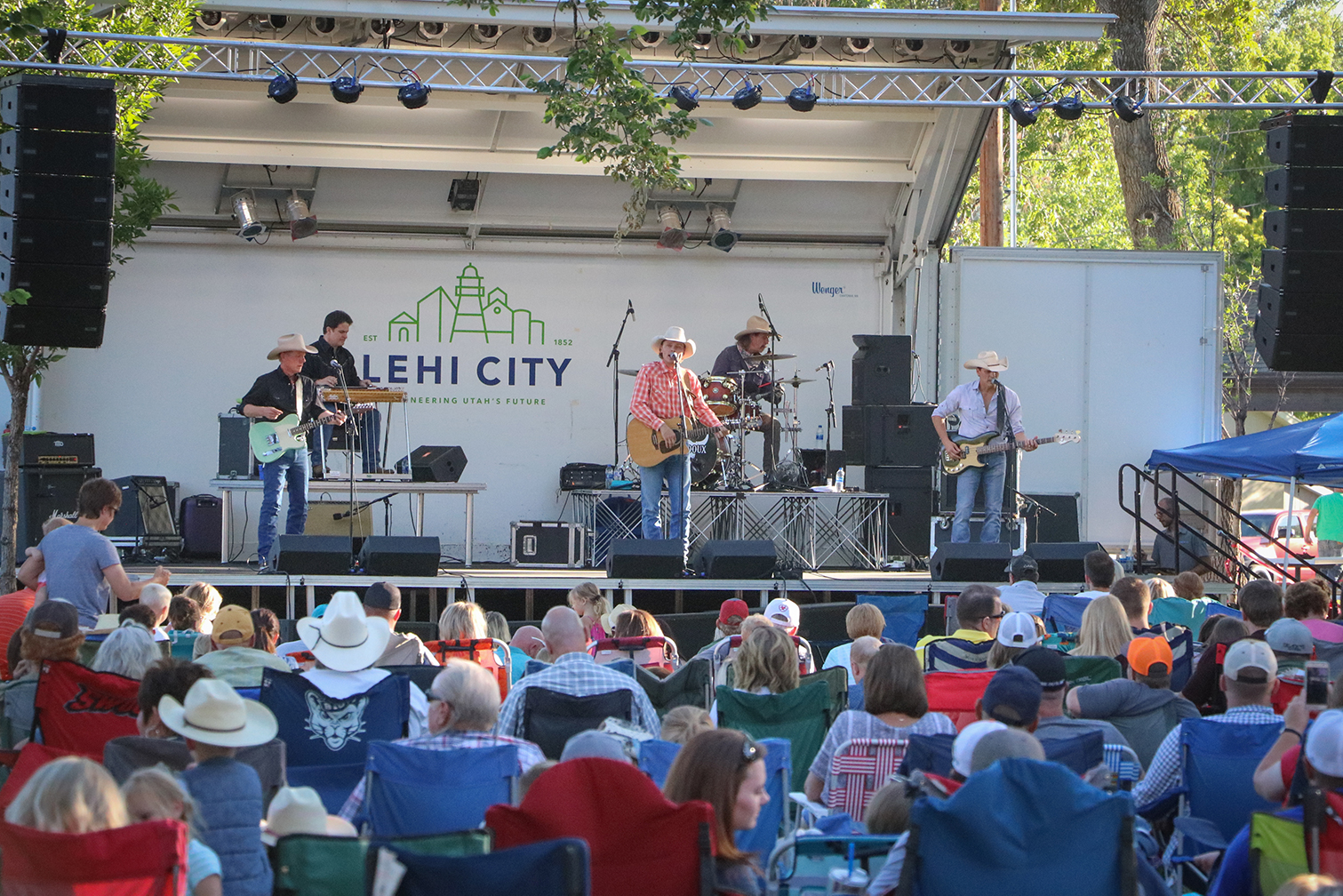 Prominent country music singer Ned Ledoux delighted a huge crowd at Wines Park on Monday night for Round-Up week's Picnic in the Park. Fans enjoyed a taste of the new and popular, along with the well-known and well-loved as he performed numbers from his new album, "Sagebrush," released in 2017, and songs by his famous late father, Chris Ledoux.
Songs from the album included "Another Horse to Ride," a story about a long drive down an east Nevada highway with an old ranch hand who teaches him to break out of his bad luck by finding "another horse to ride." The rodeo theme was strong in "Cowboy Life," along with a number of songs that drove home Ledoux's love for the plains and mountains of the American West.
A popular favorite was "The Hawk," which Ledoux wrote about his dad. The story is that his dad once said if he could be an animal, it would be a hawk. One day not long after Chris passed away, a hawk started following the family on the ranch. The song imagines the hawk as the spirit of Ned's father, still watching over the family and the land.
Local Lehi talent Brian and Jenny Allred opened the evening with several numbers featuring their harmonious vocal duets. They joined in the family-oriented spirit of the event when they invited their son, Tyler, to join them for one song. The crowd gave them an approving round of applause as they wrapped up and handed the stage over to Ledoux.
Organizers estimated turnout for the event at about twice what they've typically seen in the past, with around 3,000-4,000 in attendance. The park was packed tightly with lawn chairs and blankets nearly to the edges all the way around. People stood in long lines at food trucks, many waiting well over half an hour.
One fan came from American Fork to hear Ledoux. Leann Bailey said she had attended "tons of Chris' concerts" and was very excited when she heard Ned was coming. "It's incredible that they could have someone like this out here," she said, obviously enjoying the concert. She said Ned is currently opening shows for Toby Keith, while Toby Keith used to open shows for Ned's dad.
Melanie Hansen, Events Coordinator for Lehi City, and Pam Gordon, Lehi Roundup Committee Chair, said they worked on getting Ledoux for the Roundup concert last year but the timing didn't work out. So they made arrangements a full year ago to get him to the stage for this year's performance.
"It was really hard not to tell people about it for that long," said Hansen. The city was finally able to announce the concert this past Spring. They said Ledoux's father, Chris, had performed at the Lehi Roundup a few times, so that was a bit of a draw to get Ned here.
Chris Ledoux raised his family in Kaycee, Wyoming, and a Salt Lake City country music radio station, Z104, helped launch his career as well as Ned's, said Gentleman Jim, the midday host on Z104. The station was broadcasting live from Wines Park as the evening began, including some Facebook live streaming. Gentleman Jim also loaded up the T-shirt cannon and fired shirts into the dense crowd.
The radio host said this was the third time Ned has been in Utah since the release of his album last Fall. Jim said, "Salt Lake is the 'Mecca' for all things Chris Ledoux," so Ned does a fair amount of performing here, away from his home in Kansas.
What do people love about the Ledouxs' music? "They are real," said Jim. "It's the western heritage and culture in their music."
Just how real? Well, Ned sang one of his dad's songs that tells the story well. Chris wrote the song "Bareback Jack" in 1971, as he was chasing after the title of Bareback Rodeo Champion, which he finally secured in 1976. In fact, Chris got his start selling tapes out of the back of his vehicle as he traveled from rodeo to rodeo, before Capitol Records picked him up.
Fans clapped and cheered, and some even showed off their dance moves as Ned performed ballads such as "By My Side," written for his wife; down-home country songs like "Copenhagen," about a guy who loves his chewing tobacco; and upbeat swing numbers such as "Night at the County Fair."
Roy Chinchilla was there with his family. "I grew up in Lehi so I've got a little bit of cowboy blood in me," he said with a smile. "I loved it!"
Ledoux's strong, authentic performance seemed to leave the whole crowd feeling like they all might have a little bit of cowboy blood as well.
The festivities continue with an outdoor movie showing of "The Sandlot" Wednesday, the Lehi Round-Up 10K/5K/Kid's Mile, and Animals got Talent Thursday, followed by the Stock Parade and ending the night with the opening of the PRCA Rodeo. The miniature float parade comes next on Friday, as well as the PRCA Rodeo "Tough enough to wear Pink" night, with the Grand Parade, Car show, and closing night of the PRCA Rodeo Saturday, June 30. The Round-Up festivities close out Sunday night with the Arts in the Park series featuring the band, Jagertown.