Annual .5K Ability Fun Run held at Olympic Park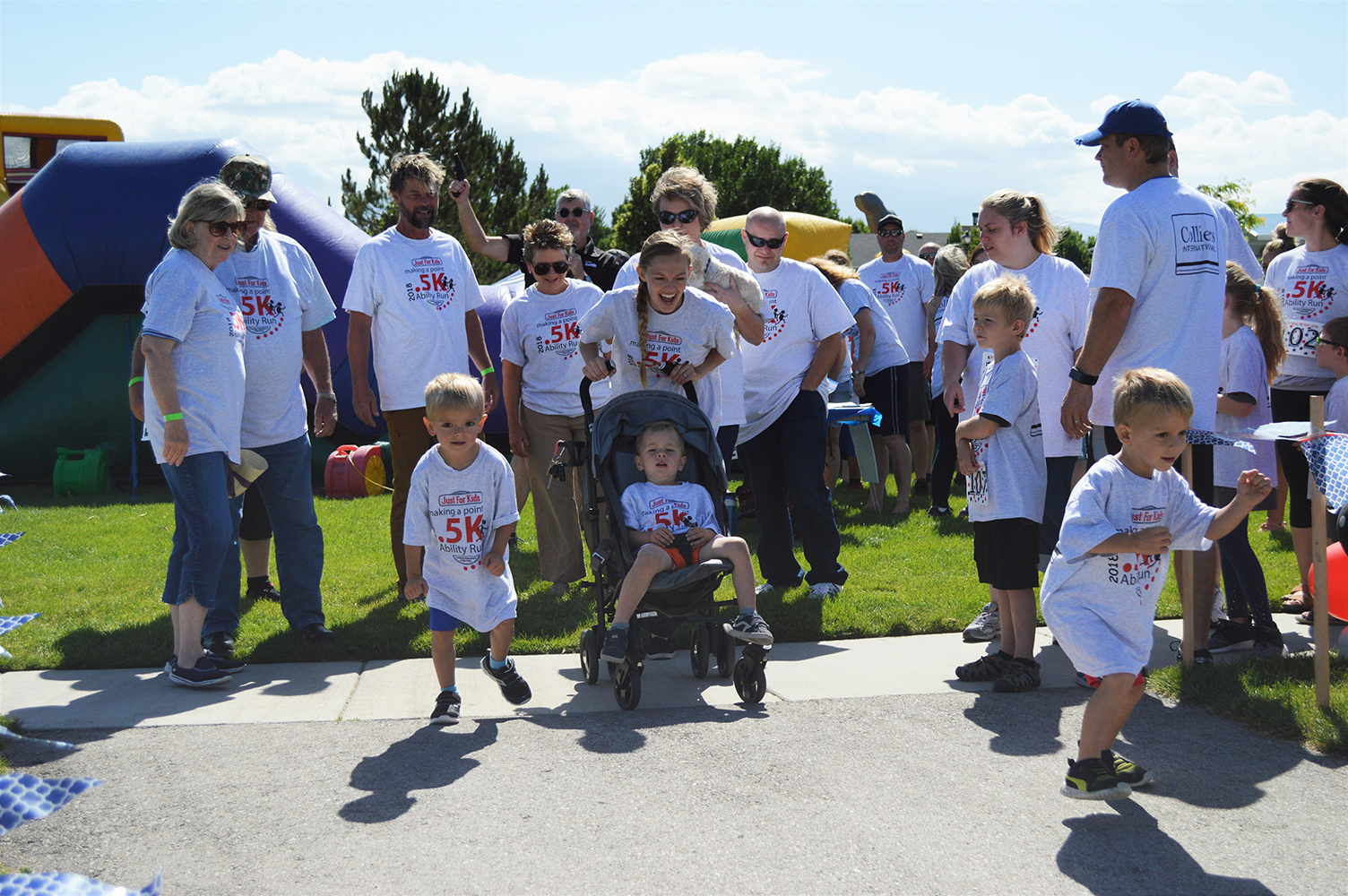 Just For Kids of Utah County, a non-profit organization whose mission is to promote opportunity and independence for children and adults with disabilities, had their annual .5K Ability Fun Run on Saturday, June 16, sponsored by Colliers International. Teams were assembled to walk, run, or roll the path that surrounds Olympic Park near the Jordan River Trail.
"We love Just For Kids! All we want to do today is celebrate our family members with special needs. This is not about who will get the prettiest gift basket or who will get the most donors. We want to have a day to celebrate the people we love so much," said Michelle Holbrook, Founder and President of Just For Kids, as she introduced the activities for the day from a stage set up near the swings at Olympic Park. Holbrook and other parents of special needs kids started the non-profit organization almost 15 years ago to keep special needs individuals involved in activities after they graduate from high school.
The .5K Ability Fun Run event has been gaining momentum over the years – this year 325 people participated in the race. In addition to the race they have a silent auction for dozens of generously donated items from businesses and individuals. Attendees could bid on everything from tickets to the Lehi Round-Up Rodeo to baskets filled with "date night" and other themed items to homemade quilts. The event raised approximately $31,500 for Just For Kids and every penny goes back in to funding the program. Brandon Turner's famous homemade zucchini bread sold for $175! "Brandon looks forward to this day more than Christmas!" said Brandon's Mom. Paige, a young woman with special needs in the Just For Kids program, laid her Fun Run shirt on her bed every night for a week hoping the next morning would be the day of the race.
Teams of racers with just a handful of people and some with dozens of supporters gathered at the starting line and waited for Mayor Mark Johnson to say, "On your mark. Get set. Go!" Unfortunately for Mayor Johnson (and a few disappointed participants) the starting pistol malfunctioned, and the crowd didn't get to hear the satisfying "bang" to begin their run. Siblings, parents, grandparents, cousins, and friends all stood at the starting line with their special needs loved one to walk or run alongside them for a few hundred meters. Willy the Wolverine from Utah Valley University was the first runner to make a lap of Olympic Park. Small children took a break from the many bouncy houses to speed around the park and get their medal.
While the teams waited for their turn at the starting line, Johnny and the Rebels played familiar favorites and rousing numbers to pump up the runners. One young man with special needs, Jack, joined Johnny Revill at the microphone on stage and sang "Honkey Tonk Bar Association" with the band. The Just For Kids .5K Ability Fun Run was full of smiles and fist pumps, a successful celebration of children with special needs.