Stunts and speed delight spectators at Fun Fly Event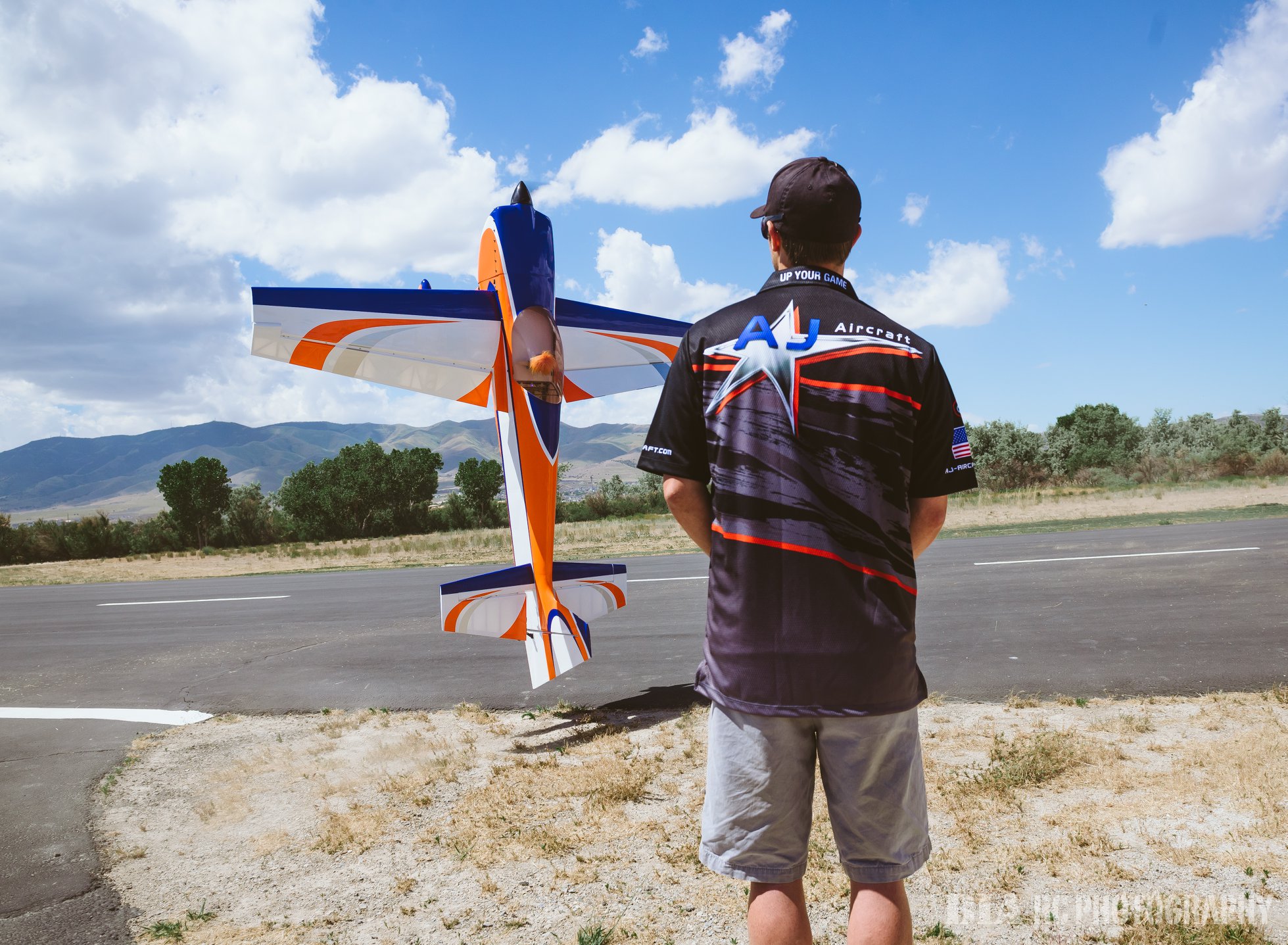 Aided by a sunny sky and light breezes, the Utah Valley Aeromodelers Fun Fly event provided thrills for the audience as remote control (RC) pilots showed off their craft with speed and stunts in a beautiful setting next to the Jordan River on Saturday, June 16. Planes performed barrel rolls and pulled windsocks, jets zoomed by before climbing high and circling back around, and midday there was a RC helicopter demonstration.
About 150 people had gathered an hour for the event, which lasted most of the day. Some spectators watched from bleachers while aeromodelers prepped their aircraft, and others mixed and mingled around picnic tables and prep tables in the shade of a large covered area. Raffle tickets were selling well and people were taking advantage of the lunch of sloppy Joe's and pulled pork sandwiches for sale.
A child in attendance was enthralled with one of the stunt planes. "The orange plane with the blue stripes and little driver with orange hair did awesome stunts!" The plane, flown by Brandon Reimschiissel, flew upside down and sideways, turned barrel rolls, and hung vertical in the air just above the ground.
One of the jets, an EF1 Sport Racer, came zipping through the arena at high speeds that seemed amazing for such a small craft. It can travel up to 100 mph in spaces that are large enough.
While RC model aircraft are classified as drones by the Federal Aviation Administration (FAA), the FAA delegates oversight of this category of craft to the Academy of Model Aeronautics (AMA). In addition to rule-making, the AMA provides a variety of benefits to its members, including insurance coverage for flying-related events. At any public event such as the one held Saturday there must be an AMA-trained director present.
Saturday's Contest Director was Darin Peirce, a past president of the Utah Valley Aeromodelers (UVA) who has been flying RC aircraft since he was 17 years old. He said the hobby can fit all kinds of budgets, with aircraft starting as low as a couple hundred dollars and going as high as $20,000. Some craft are gas-powered but most are electric.
Thousands of events such as the one held Saturday occur across the country each year. Many, such as the Fun Fly, are purely for enjoyment, but some include contests with trophies and occasionally even cash prizes for the winners. AMA membership stands at about 200,000 nationwide, with around 1500 in Utah.
UVA has been in operation for over 40 years. The members range in age from youth to nearly 90 years old. All were warm and enthusiastic about sharing their love for the sport. Reed Buckner, who has been a member of the club almost since its founding, said they've been holding the Fun Fly event for around 30 years.
Bill Cowley and Frank Heiss were helping at the raffle table. Heiss has been a member of UVA for ten years and Cowley, who has been flying RC aircraft since the 1940's, helped to organize the club.
They said that originally the group flew at a field on part of the landfill in Provo, but when Provo City needed to take it over they moved to their current field in Saratoga Springs, right on the boundary with the southwest corner of Lehi. Membership costs $55/year, and members are required to join the AMA. Members can use the flying field any time.
This slideshow requires JavaScript.