Lehi Fire and Police sponsor "Battle of the Badges" blood drive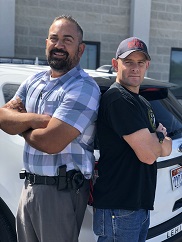 Give Blood. Get Prizes. Grab Food. Get a T-shirt. And pick your "team" to support at the first annual "Battle of the Badges" blood drive between the Lehi City Police and Fire Departments. "We are having a friendly competition on July 11, to see which department can get the most blood donations," said Police sergeant, Chad Ray.
"We hope for a great turnout for this community event and are shooting for at least 100 pints of blood donated to the Red Cross on Wednesday," said Fireman and Battalion Chief, Tim Robinson
"Come and give blood, then decide who you want your donation to count toward–the police or the fire department. We will be keeping a tally at the event," said Ray. Plus, both departments have been collecting dozens of prizes to give away in a raffle, including DNA testing kits, concealed weapon classes, gift certificates to Jiffy Lube and more.
The "battleground" for the blood drive, to be held on July 11 from 2 – 8 p.m., will be at the Lehi Senior Center Event Room located at 123 N. Center Street. "We are going to be open late, so people can come and donate after work," said Ray.
All donors will be included in a drawing for great prizes and each will receive a Red Cross T-Shirt, said Ray. Food trucks will be on-site as well. "We are hoping that the "friendly" competition between the two departments will be fun, productive, and supported by the community. We hope to do it annually" said Ray.
"If either department is behind in the tally, we will be on our phone calling our staff, friends, family, and neighbors reminding them to get down and donate," said Robinson.
Donors may just show up to give blood or schedule an appointment by logging on to redcrossblood.org and enter the sponsor code: Battle of the Badges. Anyone 18 years and older (or 16 years and older with parental permission) may donate. Those with questions regarding eligibility to donate blood may call 1-866-236-3276.
"We are hoping for a great turnout and love supporting our community and the Red Cross," said Ray. The flyer for the event was designed and created by Cassidy Christensen, an art student at Lehi High School.