Company cheers with chocolate, creativity, and cooperation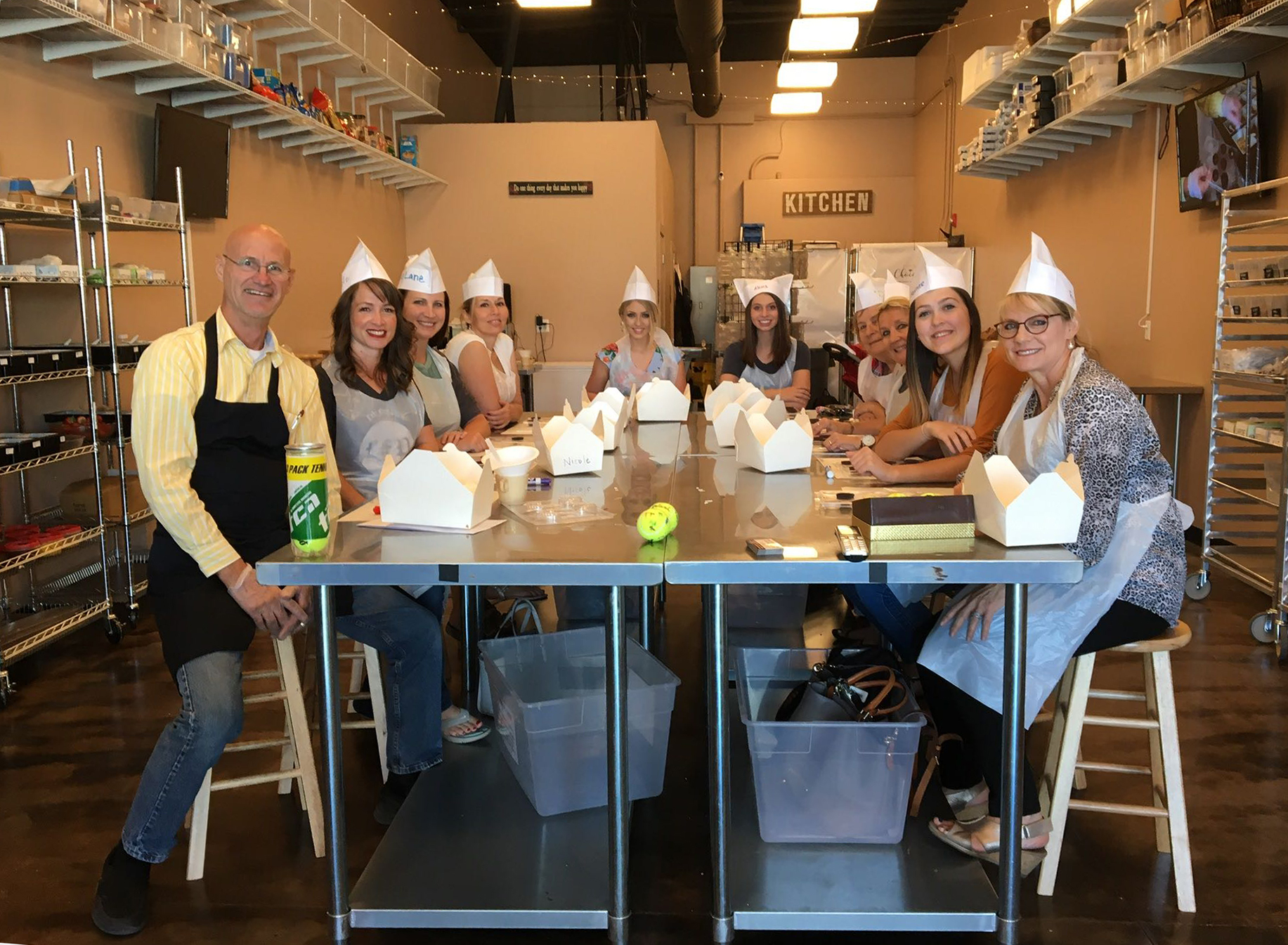 "Nine out of ten people like chocolate, the tenth person is a liar." A truer statement could not have been spoken, and Foster Lanenga, owner of Lehi's newest chocolate business, Just Add Chocolate, should know.
Just Add Chocolate, located at 1873 W Traverse Parkway Suite D, is a new Lehi chocolate company that not only makes and sells chocolate, but also offers chocolate making classes and team building activities focused on inspiring efficiency, creativity, and quick thinking.
Foster Lanenga, originally from Los Angeles, opened his second location in Lehi, and when asked why, he simply replied, "Lehi needs chocolate too." His background in business is as extensive as it is impressive. For almost 30 years, Foster created missionary name tags for the church of Jesus Christ of Latter-day Saints. After that, Lanenga started and sold several other businesses, finally ending up in chocolate making. His enthusiasm for his work is infectious.
Farris and Fosters, the Orlando based chocolate shop that Foster co-owns has been in business for 16 years. That is where his chocolate background started and where Foster developed his team building activity that is used in both the Orlando and Lehi locations.
The Lehi Free Press staff members and editorial team visited Just Add Chocolate last week to try their hand at chocolate making. They also experienced the team building activity. Without giving away too much, the activity focused on building unity, utilizing teamwork, and problem-solving in a fast, efficient manner.
Just Add Chocolate hosts team building activities in both the Lehi and Orlando locations, and many reputable firms have participated including NASA, Seaworld, Disney, Marriott, and Wounded Warriors, to name a few. The team building activity is optional and was created for businesses, corporate retreats, youth groups, or any other group wanting to improve their team building skills and have chocolatey fun.
Just Add Chocolate also hosts a date night every Friday and Saturday night with two sessions, at 6 and 8 p.m. All participants make their own one-pound box of chocolate items including truffles, candy cups, cream center chocolates, and more. All are invited to experiment with the enrobing machine to chocolate coat various treats like nuts, cookies, strawberries, and even potato chips.
Just Add Chocolate has many other items that can be covered in the enrobing machine including fortune cookies, brownies, pretzels, caramel, truffles, vanilla wafers, and even bacon. Truffle fillings include cheesecake, butter rum, caramel, blueberry, cinnamon, mint, amaretto, hazelnut, orange, peanut butter, banana cream, key lime, and maple.
Chocolate candy cups can be made and filled with varying tastes of peanut butter, almonds, peanuts, walnuts, raisins, cherries, raspberries, mangoes, gummy bears, Skittles, and more. Lastly, participants can pour melted chocolate into molds including flowers, animals, temples, toys, tractors, and even fake teeth for Halloween fun.
For anyone who doesn't want to make their own chocolate, Just Add Chocolate has a storefront selling their own delicious handmade chocolates, each with a clever name, such as the Mariah Cherry, Halle Raspberry, Orangelina Jolie, Mint Romney, Elvis Pretzels, Pecan Ye West and the personal favorite of Lehi Free Press staff members, the "Hill Cumorah", a chocolate covered twinkie served on a golden plate.
Foster said, "all of our chocolates have personalities, some of them have two." They sell truffles, chocolate covered items, and candy-filled chocolates that are decadent and delicious. Whether you are looking to make your own chocolate, or just buy a little treat for your chocolate fix, Just Add Chocolate is the place.