Changes to Traverse Mountain Area Plan dominate final 2020 Planning Commission meeting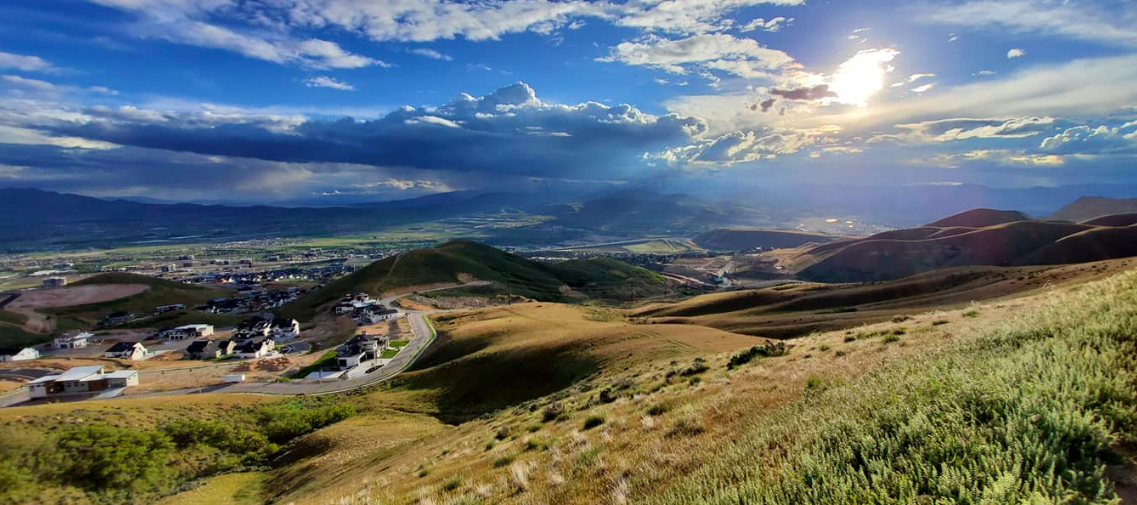 The Lehi City Planning Commission held their final meeting of 2020 on Thursday, Dec. 10, online. The meeting schedule for 2021 was approved with regular sessions scheduled for the second and fourth Thursday each month at 7 p.m. The Planning Commission opted to hold January meetings online instead of in City Council Chambers.
The Dec. 10 agenda included two Traverse Mountain items that were delayed to the end of the meeting so that residents who came to the City building to comment could go home and log onto the meeting online. Lehi City requested a recommendation to amend the Traverse Mountain Area Plan on 5.2 acres at 5700 North Air Park Road to be changed from Open Space to Public Facility so they can put a culinary water tank, a pressurized irrigation water tank and a power substation.
In the report analysis, Lehi City found that the proposed location would reduce the impact on the existing flight park and allow for proper elevation of the water tanks to serve the area now and in the future.
During the public input, Lehi resident Rob Ludlow opposed the amendment to the Traverse Mountain Area Plan, arguing that open space should be protected. "The Traverse Mountain Area Plan promises a backdrop of open space for the community. The city is saying with this proposal that they want to take, by imminent domain, six acres of open space away from the community and put a big power station and water tank there," said Ludlow.
Ludlow went on to suggest that Lehi City buy the land and Traverse Mountain could use the proceeds to improve open space. "The City is continuing their pattern of hijacking open space for development purposes at the expense of residents. They need to make it up to residents," he said.
Commissioner Abram Nielson asked if the proposed one-million-gallon water tank was to support the growth in Traverse Mountain, or if the water tanks are for the Transit Oriented Development (TOD) down the hill. Lehi City's Brad Kenison explained that the tanks are somewhat oversized to accommodate present Traverse Mountain as well as for the growth in the area. The power substation currently serving Traverse Mountain is at capacity and requires another substation.
Jared Morgan from Clyde Companies represented Geneva Rock at Planning Commission. "We want to redirect funds to go toward open space and make residents whole," said Morgan. Ludlow suggested that Geneva could make the improvements to trails and open space instead of giving funds to the HOA, but Morgan didn't commit to anything on Geneva's behalf.
"I'm glad the city is thinking ahead with these public facilities because the location of these is so important," said Commissioner Scott Bunker. "A redundant feed will only improve the area and infrastructure like this is priceless in emergencies.
"The Traverse Mountain Trails Association has a bunch of trails not on the Area Plan, so we'll just call it even," said Lehi City Engineer Ross Dinsdale.
"The Traverse Mountain Trails Association is primarily made up of residents trying to build the trail system. They are a non-profit that has been effective and efficient in building out those trails. I don't think the city gets a pass on using imminent domain on infrastructure without making these folks whole," said Ludlow in response.
"To be clear, the City is going through the correct process and not taking property from anyone. This area should have been on the Traverse Mountain Area Plan to begin with," said Dinsdale.
Commissioner Roger Ellis pointed out that the Planning Commission was only tasked with recommending or not recommending the change from Open Space to Public Facility and the City Council would make the final decision. A motion was made to give a positive recommendation and the motion carried by a vote of four to three. Commissioners Tyson Eyre, Bill Herath and Jared Peterson voted no.
Fieldstone Homes had an agenda item to amend the Traverse Mountain Area Plan as well, hoping to remove the maximum block length requirement of 2,000 feet. According to the report analysis, "Increasing the maximum block length may make sense within the canyon areas of Traverse Mountain. Providing more access points may increase the grading and cause a greater environmental impact." Lehi City Power Department suggested that Fieldstone apply for a variance rather than amend the Traverse Mountain Area Plan.
"We need developers like Fieldstone to know that it takes an act of Congress to change the game plan. Let's not have developers call audibles on the area plan at a blistering pace. At the end of the day it's an effort to pack in more lots and cut costs," said Rob Ludlow. "This is a case of Fieldstone requesting additional rights beyond what they were guaranteed in the area plan while ignoring their responsibilities."
"I don't feel like we're trying to get something out of this, we're trying to solve a problem building in a canyon. If we can design around it, it's the right thing to do," responded Matt Loveland from Fieldstone Homes. Loveland also pointed out that the area plan allows for 176 units in the area and Fieldstone Homes is proposing to build 120 units. "We're well below what we're entitled to. We feel this is a better plan for this area," he continued.
"No area plan is perfect, there are always inefficiencies. We need to ask ourselves if this improves anything," said Commissioner Abram Nielson.
"We had no way of knowing when we made this plan years ago that this area would look like it does now. This is why we have a Planning Commission and why we make adjustments and try to improve the plan along the way. Things change rapidly and we need to change with it," added Commissioner Bunker.
A motion was made to give a positive recommendation to Fieldstone's amendment to the Traverse Mountain Area Plan to City Council. The motion passed by a vote of four to three. Commissioners Roger Ellis, Tyson Eyre and Bill Herath voted no.
The Planning Commission gave unanimous positive recommendations to the following agenda items during the Dec. 10 meeting:
Shawn Yeats' request for conditional use approval for F-Matic Labs at 305 South 850 East #104B allowing for manufacturing – light manufacturing and assembly.
Yesco's request for conditional use approval of an electronic message display wall sign for the Utah Military Academy at 3901 West Waterbury Drive.
Kristen Ruggle's request for conditional use approval of improvements for T-Mobile equipment at 750 S 1900 W.
Lehi City's request for review of Development Code Amendments to Chapters 6, 16 and 17, clarifying the forfeiture of density for schools and churches in the Planned Community, Planned Unit Developments and Planned Residential Development zones.