Obituaries: Owen Ray Porter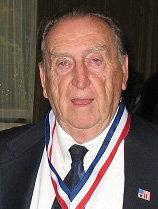 Owen Porter slipped from this earthly realm Saturday, 9 April 2016 surrounded by his children.  He was born in Escalante, Utah on 12 December 1921 to Hyrum Adelbert and Dicy Woolsey Porter.
He married Leola Green in Gallup, New Mexico on 24 September 1946 and later had their marriage solemnized in the Arizona Temple.
He attended school in Escalante and later received his teaching degree from BYU and eventually got his Masters Degree.  He taught at the old Lehi Junior High School for 30 years.
He served in the Navy during WWII and never said too much about it, except that he joined the Navy because he figured he would always have a dry bed, unless the ship sank.  He served aboard the USS Griffin in the South Pacific.
He is survived by his children: Peggy (Jeff) Morrill, Neva (Brent) Wilson and Shawn (Holly) Porter and sister Phyllis (Ed) Jarrett, 6 grandchildren, 13 great grandchildren and extended family.
Graveside services were held on Saturday, 16 April 2016 in the Pleasant Grove Cemetery.
For extended obituary and condolences please visit www.wingmortuary.com