Obituaries: David Lee Jorgenson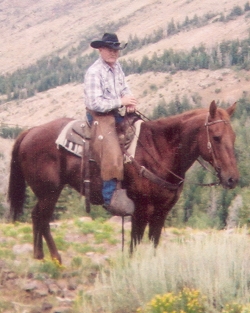 David Lee Jorgenson, age 59, passed away Monday, September 5, 2016 in Delta, Utah. He was born on October 14, 1956 in Lehi, Utah, the fourth of six children of Eric Verlin and Delma Jean Austin Jorgenson.
Lee grew up in Lehi and became interested in participating in rodeos. During his time at Lehi High School, he participated in rodeo bareback riding, and in wrestling. Lee married Jolene C Sheldon on October 12, 1979 in Deseret, Utah. They moved to Hinckley, Utah where Lee worked as a ranch hand. He loved working with animals, especially the challenge of breaking horses. He and Jolene raised three children: Chris, Brandon, and Casey. He was an amazing dad, and always supported and cheered on his kids in whatever activities they participated in.
He is survived by his wife: Jolene; sons: Chris (Kodi) Jorgenson; Brandon Jorgenson; daughter: Casey (Marty) Murry; mother: Delma Jorgenson. He was preceded in death by his father: Eric Jorgenson. Graveside services were held on Saturday, September 10 at the Ibapah Cemetery, Old Lincoln Hwy, Ibapah, Utah.