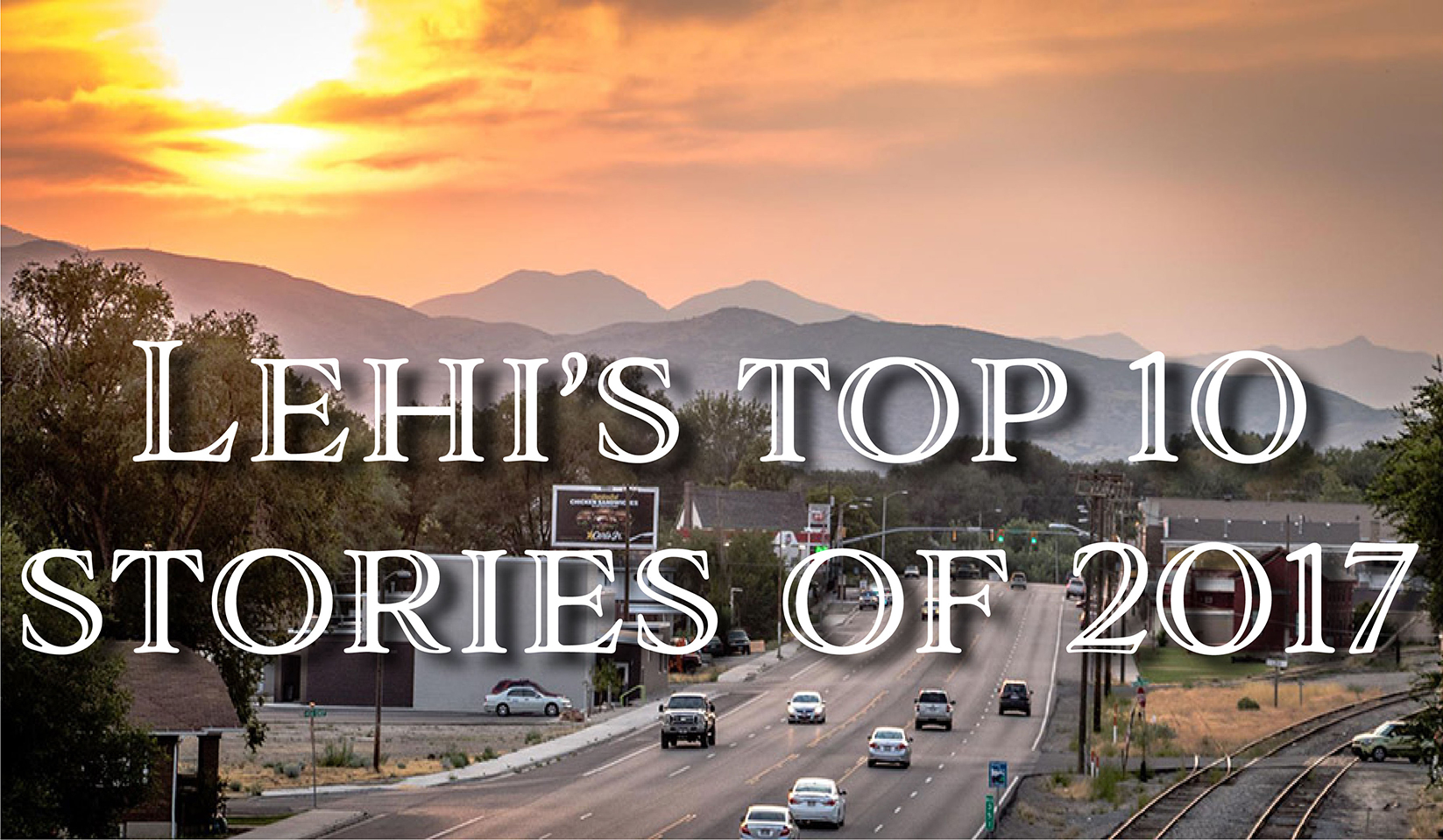 #1 Cross-town rivals met in all-Lehi 5A championship football game.
DONNA BARNES
The unlikely scenario that Lehi and Skyridge high school football teams would meet in the 5A football championship game became reality as both teams finished in first and second place in their respective regions. Skyridge defeated Corner Canyon in a nail-biter to play Lehi High School, and the Pioneers finished the year as the eventual 5A football champion.
Lehi's Cammon Cooper was chosen "Mr. Football" in both the Deseret News and Tribune. Cooper was also named Utah's Gatorade Football Player of the year. A total of 17 players from the combined teams were named to All-State A, B or honorable mention teams.
#2 Lehi Elects New Mayor
SALLY F. FRANCOM
Lehi City elected a new mayor in last November's general municipal election. Mark Johnson defeated incumbent mayor Bert Wilson by a 7% margin, or 597 votes. Johnson was sworn in on Tuesday afternoon, January 2. He took office this week and will serve Lehi City for four years. Bert Wilson served as Lehi's mayor for eight years, during in a period of dramatic growth.
Bert Wilson earned the primary election victory, but was defeated by Johnson in the general election. Johnson outspent Wilson dramatically. According to campaign finance disclosure documents, Johnson spent $7,708.20 on the primary and general elections combined. Wilson spent $1,320.85 on the primary campaign and spent nothing on his general election campaign.
When asked what his plans were after he takes office, Johnson said, "I'm going to focus immediately on being more fiscally responsible and will be investigating ways to work smarter. We will also be looking hard at how growth is going to impact transportation and our utility systems." Johnson also alluded to expanding the exposure of City Council members. "I expect to give more exposure of our City Council to the public and I want them more involved," Johnson added.
#3 Broadbent's closes after 135 years in business
NICOLE KUNZE
Lehi residents recently experienced their first holiday season without Broadbent's Store in 135 years. During the summer of 2017 customers and friends dropped in to get one last great deal and greet the people and the building that made Broadbent's a special place to so many. Betty Broadbent Anderson and her daughter, Rebecca Ethington, closed the store for good on September 1, 2017.
"Broadbent's has been so much more than an amazing quilt and gift shop. Going there felt like you belonged and were always welcome. My favorite thing was strolling from room to room and soaking up the nostalgia. It is sorely missed," said national quilt instructor Carmen Geddes, who spent many hours teaching quilting at Broadbent's.
Lehi City purchased Broadbent's from Betty Anderson in 2016. "The city provided us a solution to a problem we didn't know how to solve," said Rebecca Ethington. "We can't sell the business because it's a family business and we never wanted to close and allow the building to become an eyesore, but this building is not repairable."
Many of the store's older items can now be seen at the John Hutchings Museum of Natural History in Lehi.
#4 Fire station 83 opens
NICOLE KUNZE
Lehi's third fire station, Station 83, was completed and dedicated during December 2017, and started taking calls on the very last day of the year. Everything from the location to the design of the building was thoroughly and thoughtfully researched.
"We were getting more and more calls from the Traverse Mountain area and we're response-time driven. To us, time is loss. This was the perfect place to put a station to serve this part of town," said Fire Chief Jeremy Craft. Already Station 83 has hosted a recruit school, making the young station home to over 150 man-hours of training before it was even dedicated.
Lehi's Station 83, which is 14,206 square feet, is equipped with a fire engine and an ambulance, as well as a brush truck equipped for handling brush and grass fires. The city is required to provide an appropriate level of fire protection to all areas of the city because the ISO (Insurance Service Office) rating can affect residents' fire insurance costs.
"I find it curious that just over a year ago we broke ground right over there. At that point, it was a steep hill with lots of weeds, and to be honest it was hard to envision how this station was going to come to be in such a short amount of time. But with a lot of hard work, sweat, and admittedly a few tears, here we are today. It's been a big project with a lot of help from a lot of people," said Chief Craft at the dedication ceremony for Station 83 on December 14, 2017.
#5 Legislature passes billion dollar transportation bond
SALLY F. FRANCOM
Traffic issues continue to plague many parts of Lehi, including a large swath of I-15 that bisects the city. The Utah State Legislature was aware of traffic problems along the corridor near Lehi and in other areas of the state. In the past legislative session, a billion-dollar transportation bond was passed in literally five days.
At least three years in the making, the bond effort involved elected officials at state and local levels, UDOT officials, business leaders, and key leaders from Lehi to organize a successful public information campaign.
The bill, SB 277, was introduced on Friday, March 3; heard and passed in the Senate (28-0-1) on Monday; and heard and passed in the House on Tuesday, two days before the end of the session.
House Majority Whip Representative Francis Gibson sponsored the bill in the House. All of Lehi's representatives, Senator Anderegg, Rep. Christofferson and Representative Cory Maloy, were active advocates throughout the session. Gibson pointed out that the bond covers several needed projects around the state in addition to the Tech Corridor near Lehi, which will claim the bulk of the funds at $450 million.
The $1 billion in bonds will be issued over the course of four years in equal increments of $250 million per year. Senator Anderegg noted that the bond is net neutral, which was a main goal of Senate leadership. Rep. Christofferson said there was general agreement that the cost of bonding was balanced by "the cost of inflation and the cost of sitting in traffic."
Lehi City will benefit greatly because of the bond passage. While I-15 and connecting roads are upgraded however, delays will occur which will test locals' patience.  Initial construction work is expected to commence in the spring of 2018, with three to four years of construction until completion.
#6 Controversial Traverse Mountain Development
AUTUMN COOK
As soon as the plans hit the table in April, there was controversy over a proposal to excavate a large portion of north Traverse Mountain in preparation for development. Opponents called it mining – pointing to the official definition in city code – while supporters called it mass grading and export. After multiple revisions, concessions, meetings between residents and developers, and several trips back to the Planning Commission, the proposal was finally approved at the end of October.
Opponents, consisting mainly of TM residents along with Utah Physicians for a Healthy Environment, expressed strong concerns about the health effects for residents under the plan, which will involve three to three and a half years of moving earth on land directly adjacent to homes.
Opponents accepted the original plan for a cut and fill operation to level the area for development but, as resident Elias Faraclas said, "We just don't want it turned into a mining operation," which opponents projected will increase exposure to dangerous dust both because it will involve moving more earth and moving it over a longer period of time.
Proponents, consisting of TM residents along with developers, saw the proposal as an improvement over the original plan. They pointed to decreased traffic from earth-moving trucks and the benefits of the dust mitigation system that will be used by Geneva Rock (the company which will be conducting the operation) as reasons the newly-approved approach is likely to reduce exposure to dust.
Proponents are also enthusiastic about proposed sites for a church, a school and a trailhead included in the revised plans. "We can take an additional few months more of dust and wind up with [facilities] which really meet unmet needs of the community," said resident Rob Ludlow.
Lehi City is currently reviewing the final plans and developer Rob Clauson said the City Council is expected to consider them at their next meeting, on January 16.
#7 Holbrook Farms under construction
NICOLE KUNZE
The 686-acre parcel of land known as Holbrook Farms just off 2100 North in Lehi has been steadily adding homes since the development was approved in the Spring of 2016. The sounds of power tools and excavators can be heard along the Jordan River Trail as workers start and finish the new homes west of Thanksgiving Point.
"Some people are missing the old Lehi and the farmland, but the next generation – our kids – need a place to live. If there's anything I feel bad about it's that agricultural isn't economically attractive enough for anyone to stay on the farm. A guy doesn't have to scratch his head for very long if a buyer is interested in his land," said Scott Holbrook. Scott is the youngest of the four Holbrooks who sold their farmland to Ivory Homes and the Boyer Company. No one in the next generation of Holbrooks wanted to keep farming and the siblings felt it was the best thing for their family to sell the land. The Holbrooks still have farmland in Cedar Valley, but it's a much less complicated operation without irrigation.
Along with the homes in the Holbrook Farms area, the Utah Military Academy has begun construction. Alpine School District has purchased land within the parcel for an elementary school and The Church of Jesus Christ of Latter-day Saints has also purchased land for a church building, but neither of those projects has started construction.
The Holbrook Farms development is one of the many new large-scale projects in Lehi that made serious progress in 2017. Near the Lehi-Saratoga Springs border at 3600 West 2100 North, Edge Homes new development "The Exchange" consisting of townhomes and condos, is also well underway. New homes in west Lehi are in high demand thanks to their quick access to Redwood Road and I-15. Long-time residents are naturally concerned about the added traffic to an already hectic commute, but Lehi's growth doesn't appear to be slowing any time soon.
#8 FamilySearch moves into Lehi
NICOLE KUNZE
The Church of Jesus Christ of Latter-day Saints' online family history research program, FamilySearch, moved its headquarters to Lehi in October 2017. The new facility accommodates about 500 employees.
When the FamilySearch building project was announced in 2015 it was met with considerable opposition by some residents living near the Thanksgiving Point Golf Course. Thanksgiving Point sold the land being used as a driving range to the LDS Church. Representatives from the LDS Church held meetings and open houses, adjusting their original plans from two four-story buildings to one four-story building and a new stake center.
Part of the new FamilySearch headquarters at 3201 Garden Drive in Lehi is a Family Discovery Center on the ground floor. There will be an open house for the Lehi Family Discovery Center on Thursday, January 18, from 1:00 PM to 9:00 PM, Friday, January 19, from 9:00 AM to 8:00 PM and Saturday, January 20, from 9:00 AM to 1:00 PM.
Like the Family Discovery Center on Temple Square in Salt Lake City, visitors can discover where they came from geographically, what was happening in the world the day they were born, they can record memories in state-of-the-art sound booths and enjoy many more experiences that combine technology and history. The new center will offer classes and research assistance as well.
#9 Lehi deaths in 2017
Many notable and beloved individuals passed away in 2017, including many with Lehi roots.  The following are individuals whose obituaries appeared in the Lehi Free Press in 2017
Alva Evans
David LeRoy Mott
Kristine H. Broadbent
Mar Lee H. Gordon
Sylvan Kenly Clark
John Haws
Faye R. Tuttle
Marcille G. Cox
Beverlee T. Peterson
Irene Holland
Alva L. Sorensen
Lois B. Sunderland
Lisa Ann B. Chamberlain
Jay C. Bell
Edward R. Frandsen
Nancy W. Hunter
Ken M. Russon
Wayne J. Tew
Claudia A. Smart
Gerald L. Mann
Jeanne M. Fondell
Ranae B. Lewis
Robert S. (Toby) Adamson
Danien L. Martin
DeVere A. Fowler
John Knollin Haws
Mildred Webb
Mildred Arvilla Latimer
Jacob Sterling Broadbent
June E. Smith
Kelly C. Gaisford
Albert Mitchell
Connie Nielsen
Robert D. Park
Gregory Jed Workman
Janet Davis
Marge Colledge Harris
Nancy Hawks
Karl Zimmerman
Bernard Cook
Vivian Seastrand Evans
Zina Jenkins
Murlene Woffinden
DeRae Darling
Oaks Evenson
Jason Reimchessel
Cynthia Johnson
Lawrence O'dell Butterfield
Jon Arnold
Jalaine Carson
Evelyn Woffinden
Mary Vilate Wilkin
Darlene Gray
Alva Ralph Wing
Tony Peck
Dora Ashby
Neil Carson
Gari Brems
Derek Todd
Beverly Crabb
Richard Stoker
Leonard Ault
Zachary K. Zimmerman
Relva Laney
Glen Parker
Christopher Norman Long
Von Holmstead
Jeff Allred
Helen Berry
Harold Fox
Van Wagoner
Sharon Jane Turman
Roxie Russon
Whitney Peterson
Lornell Bateman
MarLee Hobbs Gordon
Ray Black
Jennie Jo R. Thomas
#10 New Skatepark Opens Spring 2017
KAYE COLLINS
As the weather warmed up last spring many of Lehi's youth were thrilled to have a new Skate Park to hone their skills. The Skate Park is located at 2000 West 2100 North in the Pointe Meadows area and was designed by Spohn Ranc, Inc.
Some residents of the area were not as excited about the new addition which used to have a neighborhood library, play equipment for small children and basketball courts. By the time the residents realized that their neighborhood park had been slated for the Skate Park, the decision had already been made by the City Council and the residents felt their concerns fell on deaf ears. "We got the feeling that they'd already made up their minds and we wouldn't be able to stop them from putting the skate park here," said Janelle Ehat, a resident of the neighborhood just north of the skate park.
Concerned neighbors were assured that the curfew and noise ordinance would be enforced. It took about a week of skaters enjoying the park around the clock and residents of the townhomes right next door calling the police multiple times a night before the curfew was respected.
There were a number of car break-ins around the same time the Skate Park opened, but there was no clear correlation between the two. Warmer weather often brings an uptick in petty crimes as people are out later at night.
The new Skate Park boasts a quarter pipe with a sheer 12-foot vertical drop. It is intimidating to even experienced skaters, but many of the obstacles are appropriate for riders of all skill levels.