Restaurant Review: Roll With It Creamery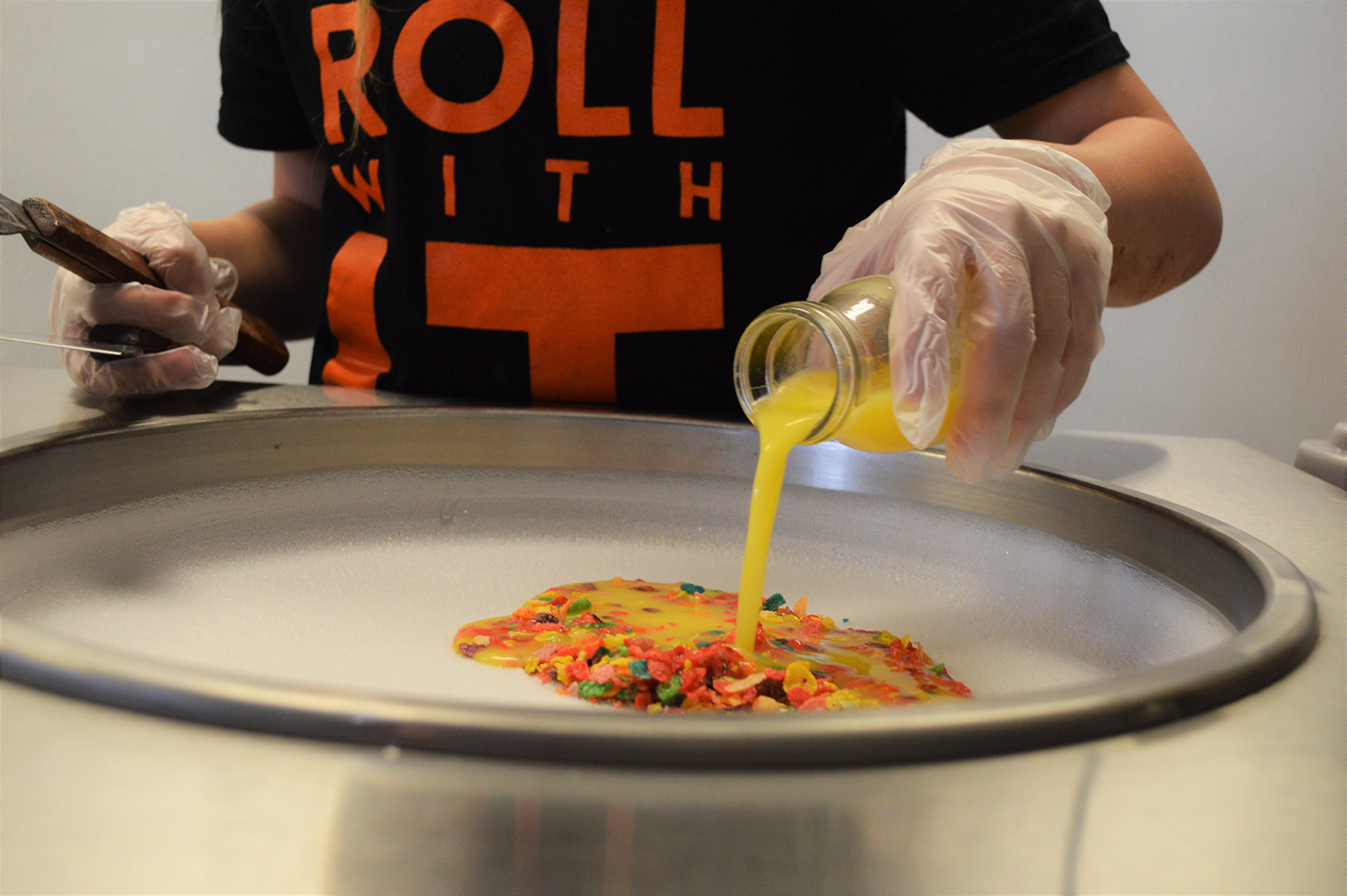 Roll With It Creamery started in Provo with friends who fell in love with the rolled ice cream on the streets of Thailand. Their new location at 496 North 990 West in American Fork (by Jimmy John's and across from Popeye's) is a welcome addition to the options for a cold treat on a hot day. Roll with it Creamery is open Monday-Thursday 11a.m. to 10 p.m., and Friday-Saturday 11 a.m. to 11 p.m.
The ice cream is made on a chilled stone behind a glass guard. Employees pour vanilla or chocolate custard, or pineapple sorbet over the mix-in that has been chosen, then they chop and smooth out the custard until it is flat and has hardened into ice cream. The ice cream is then rolled up with a spatula and tucked into a cup where a topping is added. The vanilla and chocolate custard or pineapple sorbet are the base. "Mix-ins" include everything from chocolate chips, Oreo cookies, chopped up candy bars or berries, to Fruity Pebbles cereal. Toppings for the rolled ice cream and mix-ins include fudge, caramel, peanut butter, and Nutella.
Our group ordered a wide variety of rolled ice cream dishes, including pineapple sorbet with Fruity Pebbles and whip cream. That was a fun-tasting combination, but the two favorite desserts for our table were vanilla with raspberries topped with Nutella and chocolate ice cream mixed with Oreo cookies and topped with peanut butter. The ice cream is creamy and a little bit crunchy and the mix-ins are throughout the serving since they were spread by hand. The Nutella topping was a revelation on the berries and vanilla ice cream. Each cup contained a generous amount of ice cream, roughly the equivalent of two big scoops, and the cost is $5 for a cup with one mix-in and one topping.
Roll With It Creamery has a playful, contemporary vibe with white tables and orange chairs and accents. There are a few outdoor tables as well as plenty of indoor seating. While we were there, '80s music was playing and sometimes customers would dance or sing along. Because each order is custom-made, the wait will be long if the creamery is busy, but the delicious Thai-style rolled ice cream is worth it.