Vintage Vignette: To the memory of Doug Grant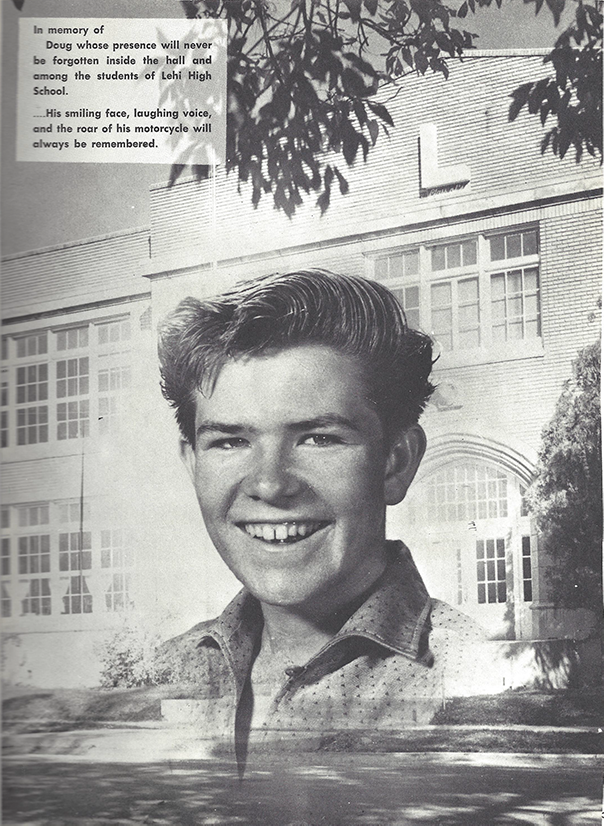 I think we all do this when we pick up a newspaper. At least most of us do. That is…read the obituaries to see if someone we know has passed away. After I read of Pauline Grant Cedarstrom Pugh's death, my thoughts turned to her brother, Doug. Years ago, when I saw the movie "American Graffiti" with cool dude John Milner driving his yellow customized Model "A" Ford Coupe, I immediately thought of Lehi teen-idol Doug Grant, who looked a lot like Milner.
Doug was Lehi's James Dean (the movie star who died young in a tragedy marked by fast cars and motorcycles.) Doug died of "carbon tet" poisoning when he was just seventeen years old. He was my cousin Mick Allred's best pal. Both Doug and Mick had been polishing their motorcycles with the highly effective cleaning agent carbon tetrachloride, in Doug's garage. The fumes rendered both young lads unconscious. Mick barely recovered. Doug did not.
His tribute in the Lehision yearbook portrays a handsome young man who, like James Dean, tragically died too young. His big smile and Elvis Presley-like image haunted me. When I turned to that page in my sister Donna's LHS yearbook, I cried. I cried because he was young, tough and full of life. I cried because it nearly cost Mick his life too. Mick was always my favorite older cousin. He could do anything and was kind of a silent, strong, independent guy who always treated me like I was his favorite cousin too, even though I was much younger.
The reality of death is shocking for young people about that age (I was eleven) and the impact of Doug's passing hit me hard. I had only met Doug a couple of times. The first was on the Lehi Bench when he "thundered" up to the farm on his motorcycle to help Mick with one of my dad's farming tasks. I don't remember exactly what that project was, but he was rugged, good-lookin' and could ride a motorcycle like it was simply an extension of his charismatic self. Mick was the same.
I recall one Sunday when we rode up to the Point-of-the-Mountain and watched Mick and Doug try to scale what was called "The Widowmaker." It was a very steep grade on the north side of the Point of the Mountain just south of the Utah State Prison. If I recall, Mick was the one who gave it the "Widowmaker" title. The name was aptly applied. Most motorcyclists crashed on the way up and could not scale the slope, but on that day, Mick incredulously disappeared over the ridge with clouds of dirt spinning from his rear tire. The crowd of  "church-skippers" cheered loudly then yelled even louder when Mick came back down the near vertical face of the Widowmaker and skidded to a stop as the gathering of bikers hooted and hollered at his amazing feat.
This event was later broadcast on national TV's "Wide World of Sports." Mick and Doug were heroes, perhaps not as well-known, but certainly on the same level as Dick Felt in football, Karl Ingram in basketball or Jay Lambert in boxing. So, when Doug Grant succumbed to the poisonous gas, I was devastated. I wanted to go to his funeral but didn't because I didn't want to see a tough guy gone. I didn't want to see him dead. However, I did ride my bike to Wing Mortuary during the memorial services and said a silent prayer for him and his family.
A week or two later, dad filled our '53 Dodge pickup at Grant's Beeline Service station on Main Street. Doug's dad, "Francy" Grant, the station owner, filled the truck with regular and began to clean the windshield as dad got out to pay. "Sorry about your boy," dad said. "He helped me on the farm a while back and I sure liked him. Hard worker!" Mr. Grant nodded. I watched as two strong men shook hands firmly and looked into each other's face with tears running down their cheeks. I had never seen my dad cry before. We drove away in silence. I knew he was thinking about both Doug and his sister's oldest boy, Mick.
Vehicle-related deaths had a huge impact upon my young life. I recall the horrific Sunday morning crash that took Service Station owner Frank Bailey, and the T-bone collision on Redwood Road that claimed Keith Glover's life. I remember vividly the sudden shock of hearing that Lehi star athlete Brent Dorton had drowned in a boating accident at Lake Mead the day after his high school graduation. My friend Johnny Gray's dad nearly perished in a car crash below American Fork while coming home from work at Geneva Steel. I remember going to his home to see him after he came back from the hospital to recover. He was lying in bed with bandages all over and was banged up pretty badly but survived.
I vowed to drive carefully my whole life as these events happened to young Lehi people I knew. Doug Grant personified a youthful zeal for speed, a bit of danger and certainly living a little close to the edge, but his accidental death made us appreciate life more fully. We all knew each other, and in many ways, in those days Lehi was like an extended family where one's sadness was felt by all. Doug Grant's tragic, premature death, like many others, had a huge impact upon our little town.