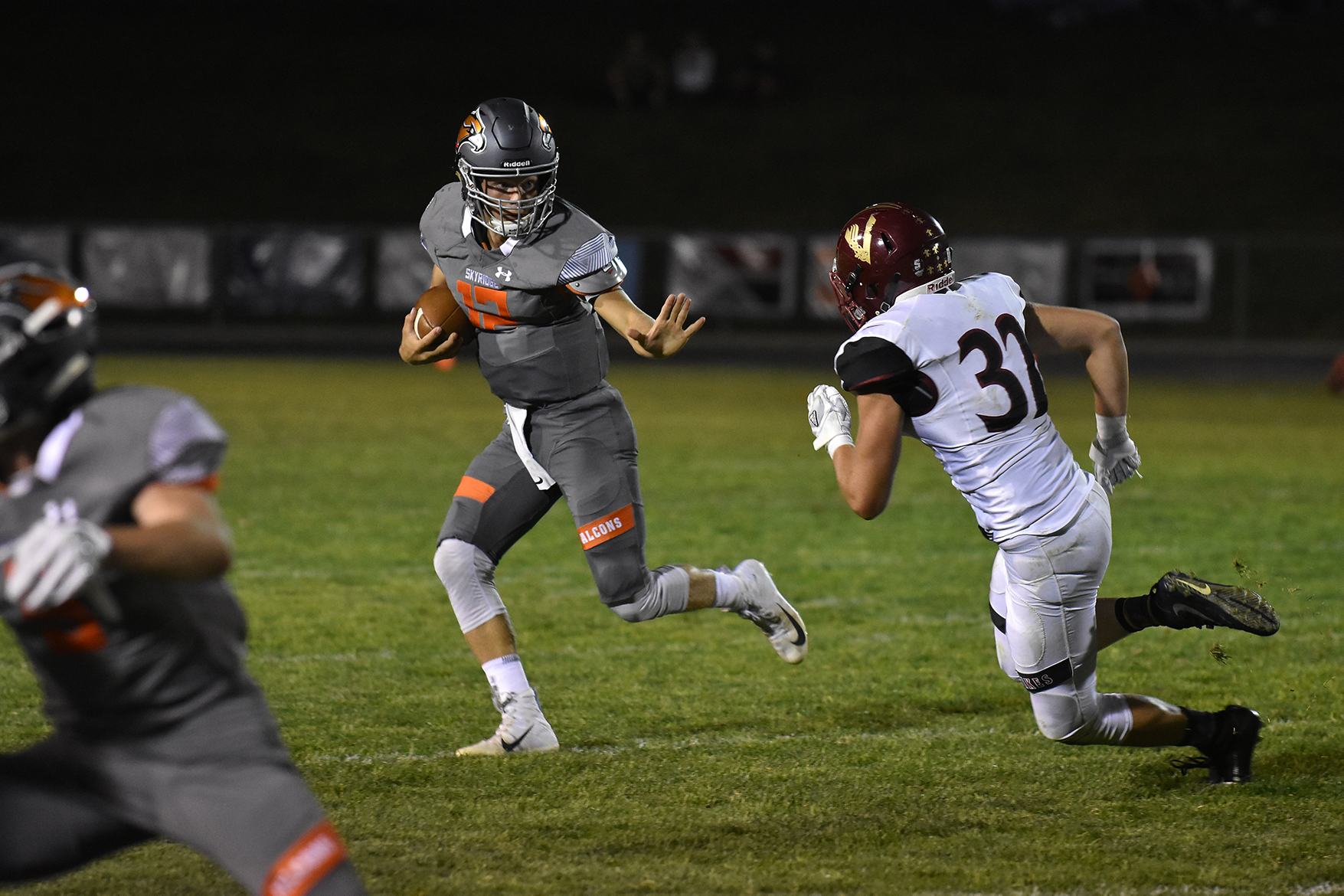 Falcons ranked #2 in class 5A
The Friday night lights shined brightly on the Skyridge home football field as the Falcons knocked off another tough opponent last week. The Viewmont Vikings had a few moments of good play in the early stages of the game, but Skyridge scored 28 points in the second quarter alone to dominate the Vikings in the first half.
The Falcons started off strong with a 50-yard run by James Palmer on the kickoff return. The domination didn't stop there as Ma'a Notoa carried the ball for a touchdown early in the game. Kicker Connor Harris completed the PAT and the scoreboard lit up with a 7-0 Falcon lead.
Viewmont came back in full force as quarterback, Dutcher Lines ran the ball into the end zone for a touchdown. The hard-wearing Falcons quickly responded on defense as Blayden Togiai tackled behind the line of scrimmage for a quarterback sack. The Viking defense worked hard to prevent the Falcons from putting points on the scoreboard as Graham Wright reacted with a Falcon quarterback sack. The Falcon domination was too much for the Viking defense as Jayden Clemons connected with Nathan Upham on a 35-yard pass.
Clemons then ran the ball 22 yards for a Falcon touchdown. Full force Falcon domination continued through the second quarter as Notoa carried the ball across the goal line with a 7-yard run. The PAT was completed by Harris for a 21-7 Falcon lead. Clemons showed no Viking mercy with a 61-yard touchdown run. The Falcon defense followed suit as Malae Tanuvasa got a pick and the Falcons gained possession of the ball. Receiver Dylan Samuels completed a 60-yard pass from Clemons for another Falcon touchdown. The scoreboard showed a 35-7 Falcon lead at the half.
The third quarter started off with Falcon control by Jaxon Peck with a pick. The Viking defense didn't let up as Cole Bangerter intercepted a Falcon ball. The Falcons responded by putting pressure on the Viking offense and ended the third quarter with a score of 42-7.
The Falcon domination was complete at the end of an exciting fourth quarter. Brandon Shimp gained yards with a 30-yard run. Emmett Call scored a touchdown with a 5-yard run. The scoreboard reflected the lopsided 49-10 Falcon victory. "I loved how the Falcons answered to the Vikings touchdown," said Skyridge head football coach, Jon Lehman. "The team was focused and played well," Lehman added.
The Falcons hope for more bright lights when they take on the Provo Bulldogs at their homecoming game scheduled for September 21.
This slideshow requires JavaScript.