Lehi Free Press interviews Rob Cuff, Director of Utah High School Activities Association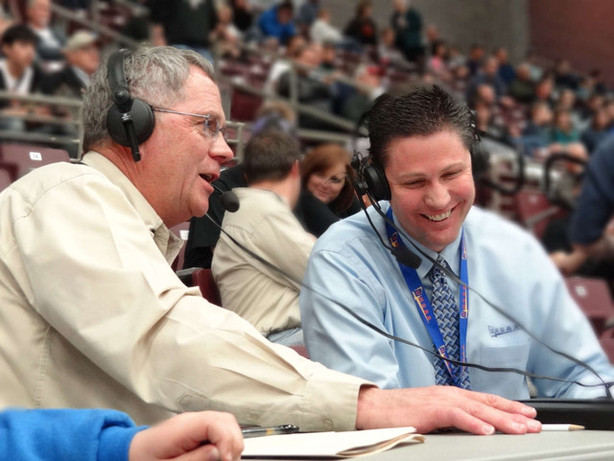 Editor's note: The Lehi Free Press recently interviewed Rob Cuff, Director of the Utah High Activities Association, about a wide variety of topics relating to high school athletics.
Longtime Lehi resident, Rob Cuff has lived most of his life involved in high school athletics. He played for Richfield High School where he was a four-sport athlete. His father, Bob Cuff, coached basketball 38 years. Rob served a mission for the Church of Jesus Christ of Latter-day Saints in Texas after which he graduated from BYU as an English major. He was hired to coach basketball at Mountain View High School where he coached and taught English. His teams won back to back state championships in 1998 and 1999. He has an impressive career record of 126 wins and 44 losses.
Cuff received many honors for coaching and was chosen Coach of the Year three times. He was also a high school official for 12 years. His multi-faceted involvement in high school athletics made him an ideal candidate for his position as Executive Director of the Utah High School Athletics Association. He was appointed Assistant Director of Utah High School Activities Association in 2001 and later became Executive Director of the organization.
Lehi Free Press: We know there is always a shortage of coaches in high school sports and a high turnover in the coaching ranks. Is there a remedy for this on-going problem?
Rob Cuff: Stipends for coaches have been a problem for many years. In the past, coaches coached more than one sport and received compensation for coaching two or more sports. When coaches starting specializing, they lost money and support. Now parents demand that coaches conduct summer programs for each sport. There is pressure on coaches and students to earn playing time and recognition that leads to college scholarships. School spirit is lost when all athletic programs are not successful. The UHSAA encourages multi-sports participation.
LFP: How has the UHSAA dealt with the open-enrollment and the transfer dilemma for high school athletics?
RC:  In 1993 the Utah State Legislature mandated that all schools have an "open enrollment policy." The idea of school choice was very important and popular with many elected leaders. This has created some unintended consequences, particularly in athletics. "Out of area kids," were creating super teams in certain high schools. We feel it is important to have a level playing field for all athletic teams. We know that recruiting has been a problem but it is very difficult to prove. There are policies governing undue influence on students by parents and coaches.
We have developed policies that govern transfers. There are only two ways a student can establish eligibility to play sports in an out of area situation: 1) Attend the first day of school as a ninth grader and 2) Try out and make varsity level as a 9th grader.
We deal with 2000 -3000 transfer requests a year. We have five criteria for approving varsity level transfers. All requests require documentation:
Full family move
Change of legal guardianship (full and complete)
Change of school because of death in the family
Divorce
Hazing or bullying. This has to be documented by police or the sending school administration's recommendation. A panel then determines eligibility of the student.
LFP: Does the UHSAA anticipate sanctioning more sports in the future?
RC: We will have both boys and girl's lacrosse starting in the 2019-2020 school year. The competition will be in the spring. We have been working on this for about 20 years.
NCAA publishes a list of emerging sports. It is long and varied. In one area of the country, bass fishing is being considered. One criterion for sanctioning a sport has to do with the club scene. We look at club participation in the area. If there is large club participation we look at it. We want sports where there is a large percentage of girl participation. Girls are underrepresented in many sports. We want to create more opportunities for girls. We are looking at girl's wrestling. It is an emerging sport. In 2007 we separated golf into both girls and boys. Girl's golf has become popular.
LFP: Lately, much has been written and debated about school fees. Do you see this as a problem for you?
RC: School districts establish the fees. The UHSAA has no individual fees for students. We charge the schools $40.00 for each sport. No legislative money or state money is used for our programs. Eight percent of our budget comes from post-season ticket sales. Fifteen percent comes from corporate sponsors, less than five percent comes from member schools. Dues to belong to UHSAA are $250. We use our money to rent facilities. These do not come cheap. We pay mileage for high school's post-season play, pay officials and other expenses associated with the tournaments and festivals. We appreciate the support of our sponsors, Mountain America Credit Union, Deseret News, Dairy West, MaxPreps, and Tik-A-Tap.
LFP: Some areas of the country have eliminated some high school sports because of student's participation in clubs. Do you ever foresee this becoming a reality in Utah?
RC: You take out high school sports and many kids would be left out because of finances and opportunities. Sports add school spirit to the area. For some, sports are everything. The best thing about high school sports is passion, the worst thing about high school sports is passion.
LFP: What are some critical issues you are facing?
RC: Most of our officials and referees are 55 or older. We need to recruit new people willing to officiate the games. I would love to get players who have played in high school or college. They play and understand the game. Interested athletes can go on our website UHSAA.org and get more information.
Right now, Cuff is heavily involved in volleyball and football tournaments and playoffs. It is evident he loves what he does and is heavily invested in Utah high school athletics, drama, and music events.
Cuff is married to the former Sonya Garner and is the father of four sports-loving kids.