Falcons score dramatic come-from-behind win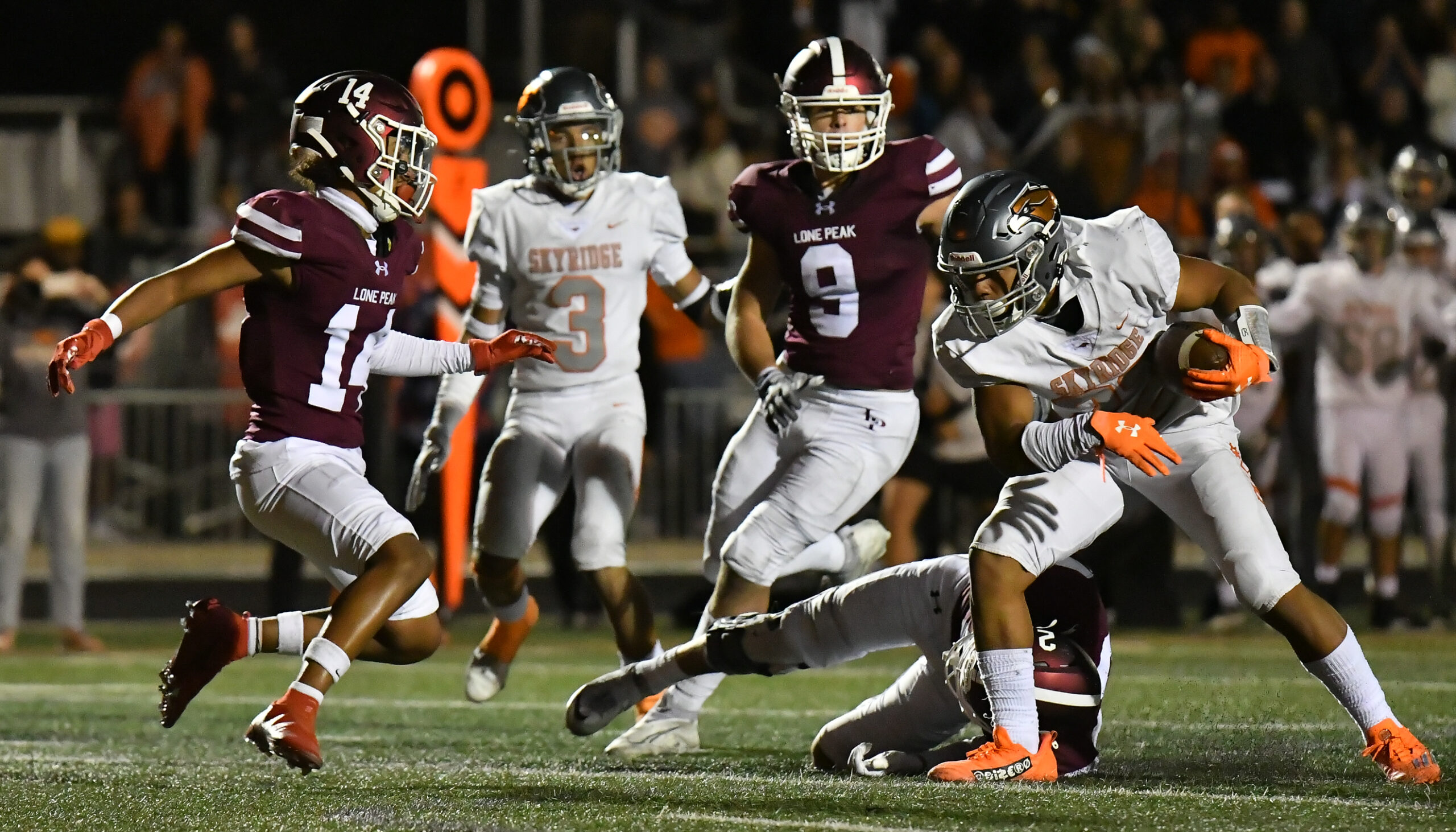 One week after a disappointing loss, the Skyridge football teamlet all that frustration out on the Lone Peak Knights on Friday nigh (Sept. 30). The Falcons scored 21 unanswered points in the final quarter of the game in a heated Region 4 rivalry to earn a critical win for playoff positioning.
Skyridge was trailing 10-30 early in the fourth quarter, but Falcon senior speedster Smith Snowden changed the momentum of the game with a 96-yard kickoff return for a touchdown.
On the ensuing Lone Peak possession, senior linebacker Collin Sheffield made his second interception of the game to help set up senior running back Tate Walker's two-yard plunge into the end zone.
Walker followed up with another 4-yard rushing touchdown after Skyridge's defense held the Knight offense and forced a short punt.
Lone Peak had late opportunities to get into field-goal position but were thwarted by untimely unsportsmanlike-conduct penalties as well as an offensive pass interference call that cancelled a long catch and run.
In the first half, the Falcon's offensive efforts were hampered by drops, errors and overthrows which kept Skyridge out of the end zone until senior Jace Doman's diving 18-yard catch in the corner of the end zone from junior quarterback Trent Call.
Senior kicker Ian Keeslar had made a 33-yard field goal towards the end of the first quarter to get his team on the board and also converted on the critical PATs.
The gritty Call played through what appeared to be a left leg injury as he limped through the rest of the half. The Falcon training staff treated the injury with a knee brace and sleeve to allow Call to place pressure on his plant leg and deliver the ball more efficiently.
Skyridge Head Coach Jon Lehman said, "Call played well tonight; he sat in the pocket and battled. We needed him to make plays for us in the fourth quarter and he did that with nice throws and he made good decisions. I could not be more proud of him for playing through adversity tonight."
Snowden said, "This is a big win. I think halftime was a big thing for our team, we were down 20 points and everything came together after that. We knew we weren't playing to our potential and the second half we did, and it was really big for us."
The Skyridge defensive effort held the Lone Peak offense in check for most of the game. The defensive line and linebackers put pressure on the Knight quarterback and stopped their rushing attack.
The Falcon defense forced three turnovers with two interceptions by Sheffield and one by senior safety Dalton Young. Senior linebacker Mason Anderson made tackles all over the field including a sack of the Knight quarterback on a crucial third down
Senior linebacker Sione Westover played another outstanding game, registering multiple tackles including a critical 4th-and-1 stop in the fourth quarter.
"Smith Snowden did everything tonight," Lehman said. "He was in all three phases. He made a nice catch down the sideline and gave us a little spark for our offense and obviously the special teams play when he took it back to the house and everything he does for us defensively.
"He's a really tough-minded kid," the coach continued. "Smith plays his best in the biggest moments when things are the toughest and he always has and he always will."
Sheffield said, "This was a game of emotion, and we were in it. I'm super proud of my team. Defense was tough. Smith came out and gave us the spark we needed, Tate Walker ran hard and our O-line clenched up when we needed it.
"Trent Call battled while being a little banged up and everyone on the sideline giving us our energy. It was the best team win,"the player said.
The Falcons will continue to battle it out in region play with their leading 7-1 record as they take on the Vikings of Pleasant Grove on Thursday (Oct. 6). This game will be another rigorous test of strength.
Lehman said, "We stepped into adversity in this game; it was not an easy road. We made it as hard as we could for ourselves, Lone Peak made a lot of really nice plays and had us on our heels. I am happy with the way the guys re-grouped and attacked during the fourth quarter.
"This win helps with our record and the RPI, but ultimately during the regular season this helps with being tested and getting stronger and hopefully, reaching our peak at the end of the season," he continued.
"To make it through the playoffs and win, you have to have guts and be tough and really believe in each other and these types of games are the tests that make you stronger.
"Region 4 wins are hard to come by. We've been in Region 4 for a long time and top-to-bottom it is a test all the time," Lehman said. "We are grateful and appreciative of any region wins and this is a big one for us."